I'm in love with this peach season. For one, it gives me an excuse to take a trip down to Niagara or any local markets to pick up a few baskets (and some local wines). I'll make a day out of it, by creating some unique jams and syrups, and obviously keeping my hump day cocktails in mind for Liquid Culture. I'll be honest, this week I was a bit stuck and couldn't figure out what I wanted to create. I thought I finally hit my peach wall and couldn't create another cocktail, but that was quickly shut down when I opened up some Fino Sherry. I am ASHAMED that I don't use Sherry enough, because it brings such a unique brightness and dry profile to a cocktail. I'll get better, I promise, but for now I'm pretty excited to bring you a recipe combining some Cachaca Rum, Fino Sherry, Fresh Peaches and Honey!
Sherry comes in a ton of different varietals, but for the purpose of summer, I've been sticking to some bright and dry styles to pair. There's a ton of versatility when it comes to pairing with this wine. It's flexible with pretty much any clear spirit, and once you start to use an Oloroso Sherry, than that opens up a whole new world of cocktails. I'll be definitely pushing some Sherry knowledge with everyone in the next couple months, but for now, just do yourself a favour and have a sip this weekend. Whether on its own, with soda or in a cocktail, start to open up your palette to the idea of Sherry and you will be pleasantly surprised with what it will bring!
This cocktail isn't all about Sherry. I've been on a Cachaca craze right now, which if you're unfamiliar is a Brazilian-based Rum. The second I debated what to pair the sherry, I knew that Cachaca would make a stunning pair. Now I have to stress, there's a big difference between quality Cachaca and the cheap varieties. In Ontario, we are a bit limited when it comes to our Cachaca selection, but you can NOT go wrong with the Leblon brand. I don't typically like to highlight my preferences with spirits, since my knowledge is still fairly limited living in Ontario and with our very restricted selections. I do my best to always purchase liquors abroad, but there's only so much space in my suitcase and taxes I want to pay. Needless to say, Leblon is an excellent example of what a true Cachaca should taste, and if you want to put in the effort and buy Cachaca for the first time, then THIS IS A MUST.
Obviously with the bright and herbaceous notes coming from the Sherry and Cachaca, peaches are a perfect pairing and will bring that summer sweetness that we know and love to this cocktail. I decided to not stress out my community by creating another syrup, instead you are using just a bit of fresh muddled, RIPE peaches, with a touch of honey. This is the real deal here folks, and I'm sure if you couldn't get on Sherry before or didn't know about it, then you will now! Cheers XO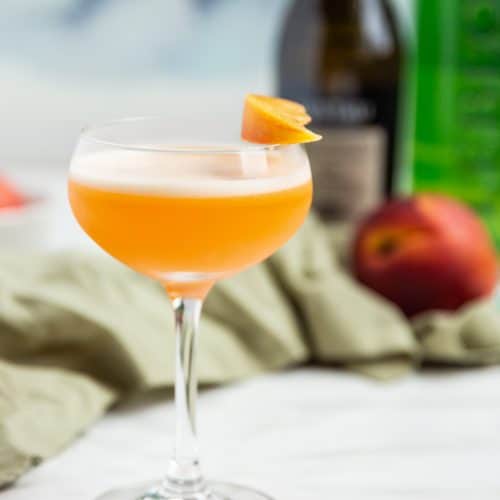 Cachaca and Sherry Peach Sour
A unique combination of Brazilian Cachaca Rum with a Fino Sherry, Fresh Peaches, Citrus and Honey.
Difficulty: Intermediate
Ingredients
3/4

oz

Cachaca

Leblon Used Here

1

oz

Fino Sherry

Tio Pepe

1/3

Ripe Freestone Peach

1/3

oz

Lemon

Freshly Squeezed

1

tbsp

Honey

1/3

oz

White Cranberry Juice
Instructions
In a shaker, muddle the ripe freestone peach. Add the rest of the ingredients with ice

VIGOROUSLY shake this cocktail, until the shaker is almost too cold to touch. Double Strain into coupe glass.
Recipe Notes
Avoid the White flesh Peaches with this cocktail. It already has a ton of acid from the sherry and lemon, and hence why I stress that the peaches must be ripe. The sweeter varieties such as yellow or freestone peaches are definitely the way to go. Anything that you would use for a jam, could definitely be used here.