This concept caused a WHOLE lot of hype in Toronto, and lucky for you, the recipes finally here, it's delicious and it's all for the love of Amaretto Day!
I know the title may seem a tad confusing. What do you mean it's a float? And it has booze? I need to learn more! If any of these statements came to mind, then you are my kind of people, because you're always curious on how you can step up your alcohol game.
This week I got a chance to work with Disaronno as a way to rebrand a bit with some Spring Inspired Cocktails. The concept of a boozy beer float is not something new to Liquid Culture, but it always stirs up a conversation. I even featured it in my first episode of CTV's The Social, and you can bet that everyone was all over this! The idea you need to get your head wrapped around is the concept of a Root Beer Float. Thing is, I was never big on Root Beer, so I never got into this trend. Plus, I'll have a gelato or sorbetto any day of the week, and real beer? Yes please!
---
---
When it came to choosing the flavours for this boozy dessert, I got pretty excited to bring out my OG love for Peaches. For those of you that have been following Liquid Culture for a while, I've always had a love and obsession for anything peaches. With peaches and amaretto having such a natural flavour pairing, I knew I could create a delicious refreshing dessert with my float concept. It isn't meant to be a drink, simply just a small bowl of gelato that has a dash of beer and Disaronno here and there. In addition, I got to use some fresh new Lemon Thyme I have in my herb garden that I am currently obsessed with. This thyme is best served fresh, because cooking it out tends to destroy the zesty lemon component. Peach and Thyme are outstanding together, and with a bit of Disaronno…we're winning!
Wit Beer is also an important component to this dessert. Technically, I won't hate you for picking up a Pilsner or Lager, but avoid the bitter IPAs. It's just not as friendly and a bit too overwhelming for it to work. Keep to the lighter style of beers when putting this together. Also, please don't stick to my ratios if you want a more fluid product. Add a bit more beer, I know I would, but don't go too crazy, because you'll need the sweetness of the Disaronno and Peach Sorbetto to balance.
Now I've mentioned this before and I'll say it again, you HAVE to check out the gelato section at Toronto's Cheese Boutique. And if you're giving me a confused look why I'm sending you to a place called Cheese Boutique for Sorbetto, well you just need to visit yourself to understand the epicness of this shop. I'm lucky enough to live in the city and I try to go as often as possible. So make sure to pick up this locally crafted brand because it is worth the trip and the hype!
With all the cocktails live on Liquid Culture, which will you have for #AmarettoDay?!
---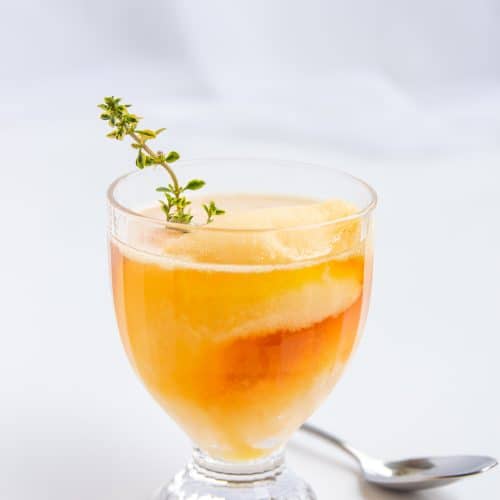 Boozy Peach Amaretto Float
It's a dessert and cocktail all in one! Combining Peach Sorbetto with a dash of Disaronno and Wit Beer, topped up with fresh Lemon Thyme.
– Difficulty: Easy
Ingredients
2

Scoops

Peach Gelato/Sorbetto

3/4

oz

Disaronno Amaretto

3/4

oz

Wit/Wheat Beer

1-2

sprigs

Lemon Thyme
Instructions
Grab a small ice cream bowl and fill it up with 2 scoops of Peach Gelato/Sorbetto

Pour Disaronno and Wit Beer over top
Recipe Notes
I would recommend de-stemming the Lemon Thyme. If you are looking for Lemon Thyme, make sure to hit up the St Lawrence Market, or any other market closest to you. There's truly a difference between the regular stuff so don't miss out!