I can't tell you how many times The Aviary in Chicago has inspired one of my cocktails, and this is no different. It has nothing to do with recipe, but everything to do with style, and they had the most outstanding presentation when it came to infused cocktails. I took that concept and made it my own, and I'm excited to bring you some infused cocktails with an item you may already have in your home. Say hello to the French Press Series.
First off, let me explain to you what inspired this cocktail in this first place, which involved a visit to The Aviary. If you've never been to this bar in Chicago, you need to add this to your list of places to check out, because there are few places quite like it. The Aviary is part of the food group that's well recognized around the world and that is Alinea. What I would recommend is having your first experience in the dining room. Go for the casual 3 cocktail tasting so you can get a feel for what they're all about, and then head over to Roister for Dinner, or really any restaurant in the West Loop because they are all a hit.
Anyway, they had one cocktail that I would never forget, which was placed into what looked like the clear, circular tea kettle pictured above. This got my juice flowing, thinking of all the wonderful infusions I could make for one single cocktail. Now the only problem I ran into was the fact that this device, called the Porthole Infuser, is pretty much impossible to get into Canada or just wildly expensive. With that, and reasons to be a touch more original, I scoured the internet for inspiration and something similar to have at home. Nothing clicked, until I broke down the essence of what this was…a fancy, clear tea kettle. With that said, I ended up picking an item that is easily accessible and almost as stunning; the French Press.
I'm not a coffee drinker, so this isn't something I would have in my house. But I know it's a staple for a lot of you in the morning, and it's one way to look at something you've had in your home in an entirely new way.
---
I've been dying to use some of the Lemon Thyme I picked up from the St Lawrence Market. I also need to give a big shout out to the people at Urban Fresh Produce for always hooking up the incredible produce. Bianca knows that when anything cool or different comes in such as unique herbs, spices or fruits, I'll want it. So with this Lemon Thyme in mind, I decided to mix it up with some warming flavours, which lead me to working with Rye. Since I wanted a bit of a tea infusion to match the vessel, I infused the cocktail with loose dried chamomile, and a touch of clove for spice. These flavours married SO well together, and just give it time to chill and you'll be very happy with the results.
Back to the Lemon Thyme. Cooking out the Lemon Thyme is a bit out of the question. You lose a lot of the citrus notes that make it special, which is why this french press "technique" is ideal for matters like this. Just think of this as an all in one infusion, that doesn't ask for days of infusions, just 10 minutes to really let the cocktail set and open up. How you would put it together is have a "dry ingredient" portion, and the cocktail base poured over top. Leave it in the fridge for 10 minutes and when you're ready, start pouring. Now I served this in a martini glass. The rye is warming and reminds me of a manhattan and I don't LOVE it too cold. I get it chilled enough that it can be slightly chilled for the approximate 20 minutes it takes me to finish the drink (I'm slow). That's it! There's so many possibilities when it comes to this French Press Infusion, so don't be surprised if I drop a weekly infusion. Cheers!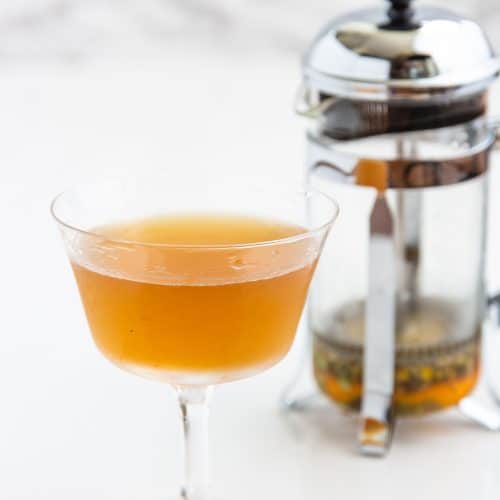 Rye Thyme – French Press Cocktail
A beautifully spiced cocktail, infused with the household French Press – Combining Rittenhouse Rye, Honey, Nutty Solera, Dry Vermouth, Chamomile, Lemon Thyme and Ginger.
– Difficulty: Intermediate
Ingredients
Cocktail Base
2

oz

Rittenhouse Rye

1

oz

Honey Syrup

*

1

oz

Gonzales Byass Nutty Solera

1

oz

Dolins Dry Vermouth

2

dashes

Peychaud Bitters
Infusion
3

sprigs

Lemon Thyme

1

Orange Zest

1

tsp

Dried Chamomile

3

slices

Ginger

thin, approximately 1/4 inch

2

Cloves
Instructions
Infusion
Place all ingredients (listed in infusion) inside the French Press.
Cocktail Base
In a mixing jar, fill with all ingredients in cocktail base and ice. Give it a short stir (approximately 15 seconds)

Strain over Infused French Press ingredients.
Constructed Cocktail
Once the cocktail base is poured over the infused French Press, leave it in the fridge for approximately 10-15 minutes until well chilled.

Pour into your favourite coupe glass.
Recipe Notes
* The Honey Syrup is simple to throw together – create a 1:1 ratio of honey and hot water and make sure it's well dissolved before use.