Morten is an OG when it comes to the #Drinkstagram community, and I'm chatting all about him and his initiative with this #LCFeature.
How #LCFeature works, is that you simply tag a photo or recipe with Liquid Culture or with the hashtag #LCFeature, and I'll recreate or create a cocktail and launch it on my socials and website! It doesn't even have to be a recipe, it can simply be a bottle that you found and you have no idea what to do with it and I'll create something in honour of you. This time around I decided to do something different in honour of one of my favourite accounts on the gram.
If you don't follow Morten of @Thecocktail.blog, well I gotta say you must give him some love. He's one of the first accounts I ever followed when it came to the #Drinkstagram community, and he's been so impactful for me since day one. From his martini's and now his #cubesincoupe initiative, I think he is still one of the most genuine accounts out there.
The reason I'm featuring him for my #LCFeature is because we had a recent heart to heart, and I wanted to shed some light on an issue. I've dealt with this well before my cocktail Instagram days and it's time I shared.
Shocker number one: A lot of people think that just because I'm a home bartender I have never tended a bar. Wrong.
I have a good 8+ years in my belt, shaking, stirring and LEARNING the entire way.
Shocker number two: Even as bartenders, a lot of them are closed minded.
That's right. I said it. Before you right me off, let me explain. If you're unfamiliar with Mortens #CubesInCoupe concept, he's breaking the mold of how a cocktail is served in a martini/coupe glass by placing some amazing clear ice. Traditionally, cocktails are never served this way, and as Morten opened up, he talked about some of the haters and heat he was getting with this concept.
For me this blew my mind. We as bartenders are the most CREATIVE, NON-TRADITIONAL, RULE BREAKERS OUT THERE (okay, type casting a little), but you get the point. What truly great chef isn't at all creative and breaking the mold? So to think that Bartenders can't be open to a new idea, completely rights them off in my mind. I don't care how talented you are, because if you aren't willing to at least listen or understand, then I'll gladly move on to the next bar. And the thing is…you have to create cocktails TO YOUR needs, and that's what he has done, created cocktails to HIS preferences and showing people a new way to look at a coupe glass.
---
---
That's what this is all about. That's what Liquid Culture is all about. My recipes are here for you as a guide. Don't have a particular product? That's okay! I'd rather you tried and adapted it to your preferences, then being too shy or intimidated to try. The point is, we (I think Morten can agree) just want people to start educating themselves and becoming more comfortable with their home bar. It doesn't have to be intimidating and the more you learn, the more you APPRECIATE what real mixologist do, every single night.
Now before you start thinking I'm completely careless with my methodology when it comes to cocktails, I'm painfully annoying to my friends, and rarely breaking those traditions. You wouldn't catch me putting a large ice cube in my manhattan on any day, but if someone else says they love it that way, that's okay! Everything is OKAY. Alright, the rant is over. I'm exhausted and I'm going to need one of Morten's amazing martini's for all this hard work. So with that I bring you his original recipe: The Rose Coasts of Malfy.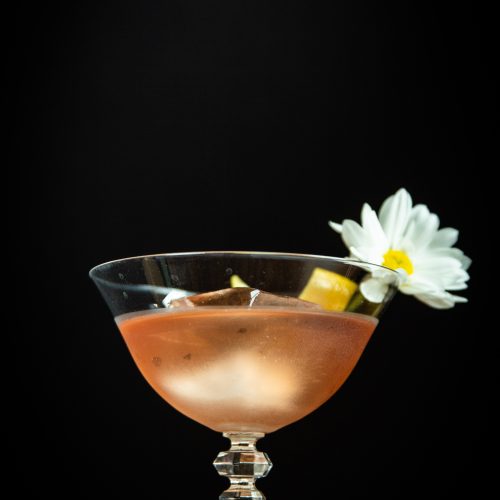 The Rose Coasts of Malfy
An original recipe by Morten Krag of @Thecocktail.Blog, adapted slightly to include Sicilian Pink Grapefruit Gin, Cocchi Rosa and Benedictine.
– Difficulty: Intermediate
Ingredients
1

oz

Sicilian Pink Grapefruit Gin

1

oz

Cocchi Rosa

1/3

oz

Benedictine Liqueur

1

dash

Orange Bitters

1

dash

Olive Brine
Instructions
Stir all ingredients with plenty of ice

Strain into coupe glass over a large ice cube

Garnish with Lemon Peel and Flower of the day (we all love a good florist* as per Morten and I concur)
Recipe Notes
For the Original Recipe, follow this link here. Because I didn't have any Belsazar Vermouth (believe me, I looked), I used the Cocchi Rosa instead. Also I didn't have any Olive Bitters, so for this recipe I use a drop of Olive Brine which was absolutely DELIGHTFUL!