Whether or not the Motherly figure in your life chooses to drink or not, it doesn't mean they shouldn't be treated to the glitz and glamour that is a cocktail! I show off one of my favourite products behind the bar that supports a local Winery here in Canada. Mixed with Lemon, Basil, Elderflower Syrup and Glitter, you'll definitely want to check this out!
If you'd like to see how this cocktail is made, make sure to check out the link HERE as we chat all things Mother's Day on CTV's The Social.
Choosing Alcohol-Free and Benjamin Bridge's Piquette Zero
I think it's important to make note that whether we choose to drink alcohol or not, sophisticated options are available and we should celebrate that! Having gone through pregnancy and looking for more options when it comes to the Alcohol-Free category, there's a TON of new options available to everyone. So please, if you're hosting a party, don't just serve the typical soda and gingerale. I can't tell you how boring it is, when you have so many delicious Alcohol-Free products out there!
With that said, I have a whole category for you to dive through for your Alcohol-Free inspiration, but today I'm talking about two products I ADORE.
First let's talk about Benjamin Bridge. If you're familiar with the wine scene here in Canada, then you know just how special Benjamin Bridge is. Out in Nova Scotia, this incredible Winery has recently started offering Alcohol-Free solutions with their Piquette Zero Cans. It's a Bubbly Wine Inspired Beverage that has a ton of citrus, slight dash of bitter with some sea salt. This product is so easy to enjoy on its own, and I did. A lot. While I was pregnant. I was connected to Benjamin Bridge thanks to Soft Crush INC. Folks, if you want to find the PREMIUM and best Alcohol-Free Solutions to find here in Canada, you need to check them out!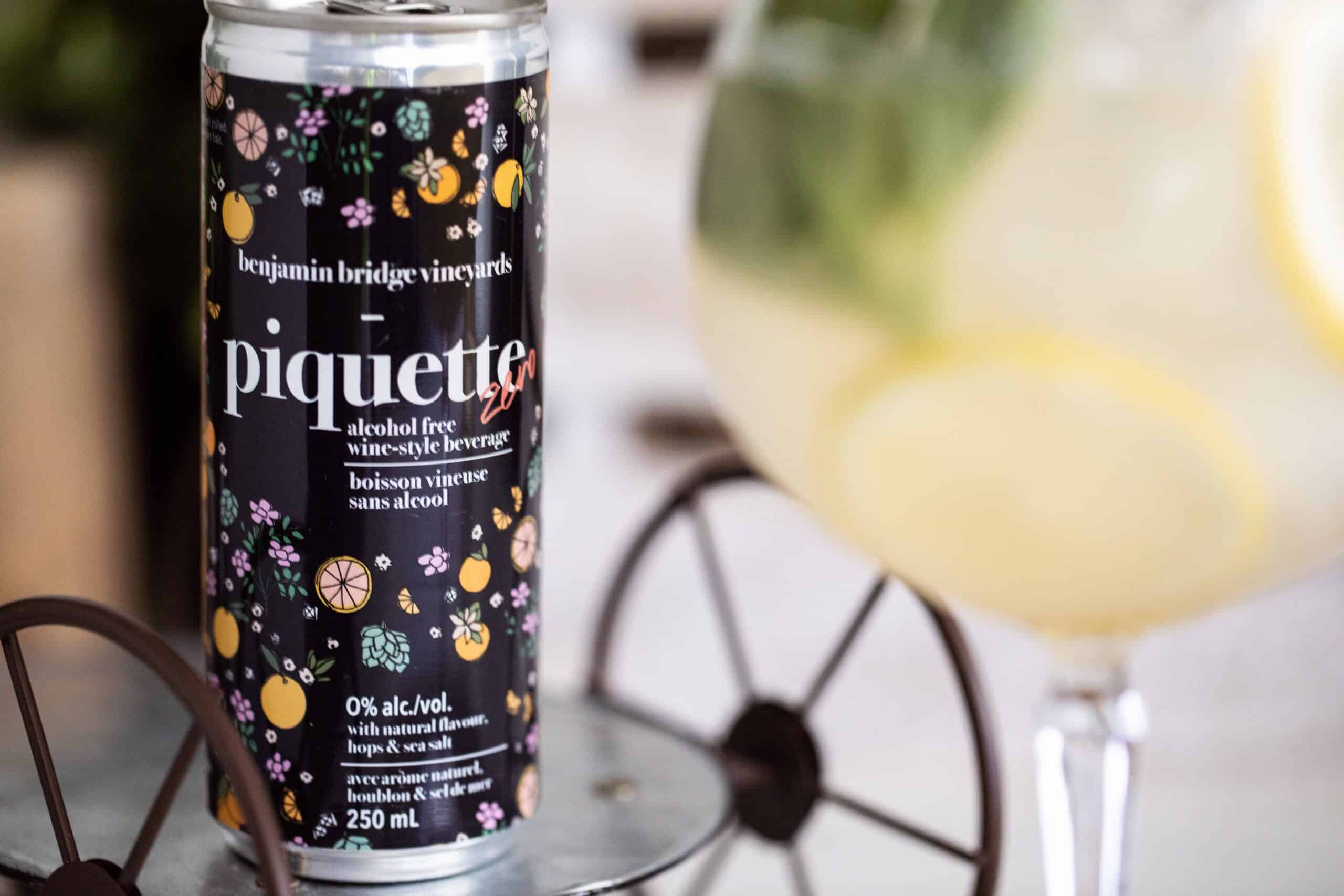 Elderflower Syrup
I wanted this product to be the star of the show, with some complimenting flavours, which goes into my next favourite product: Ikea's Elderflower Syrup. Friends. I was not expecting much when it came to this Elderflower Syrup. With it's very affordable price point, I thought I would have that artificial, cloying sweetness I can't stand in most store-bought syrups. But I can honestly say, this product came out and IMPRESSED! This is great product to have, especially if you've been eyeing the St Germain Elderflower Liqueur for your home. I understand that the price tag can seem a little steep for here, and this is a WONDERFUL substitute here in Ontario.
I brought these two items together to bring a bright Beverage that won't feel or taste like it's Alcohol-Free. It's full of fresh Citrus, Basil and for that extra bit of love, you can add some edible glitter to your cocktail! YUP! That's right. Glitter in your cocktail has that air of trendy that I typically avoid. But to celebrate a special occasion like Mother's Day, go all out! You can find this glitter online with my friends at Cocktail Emporium!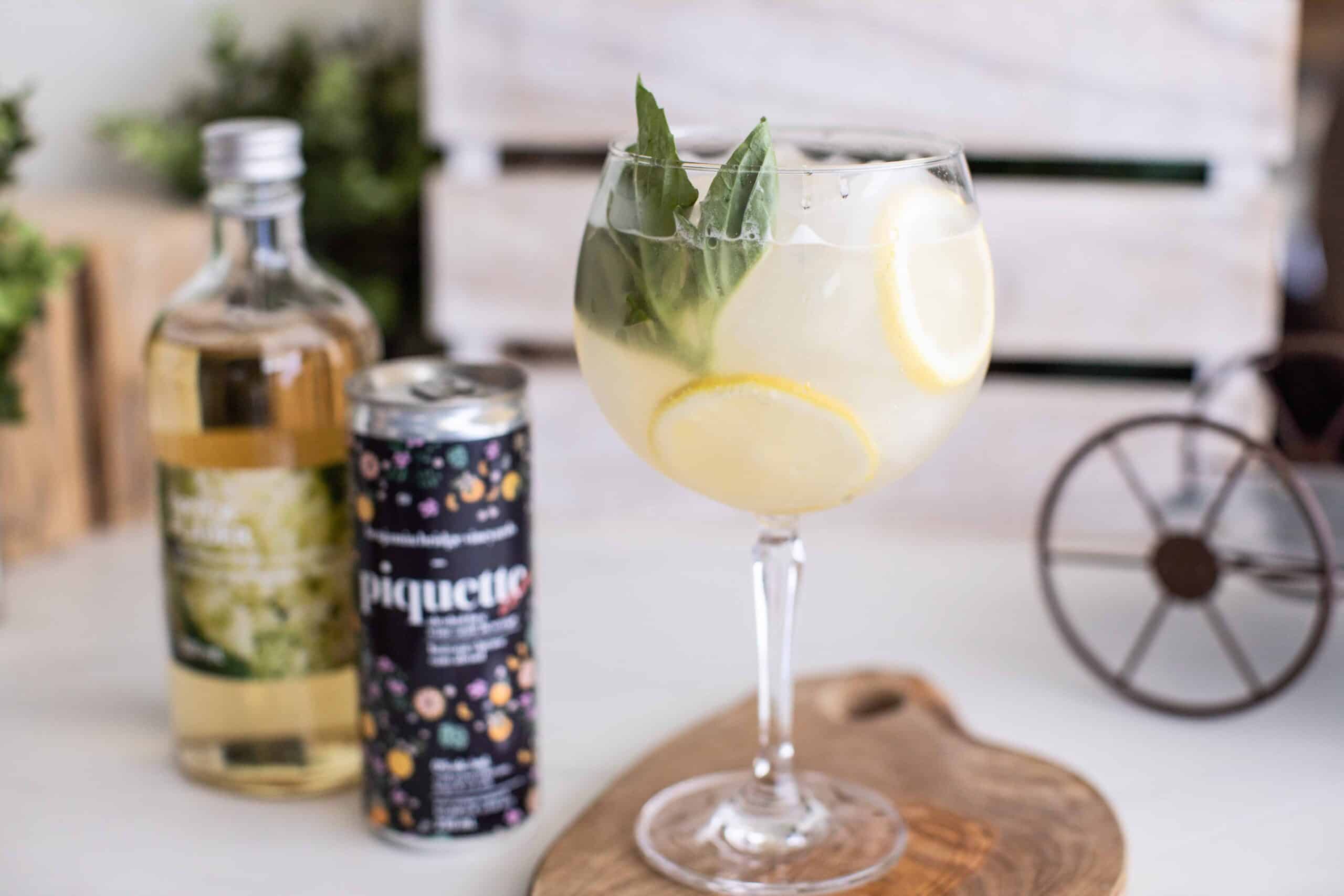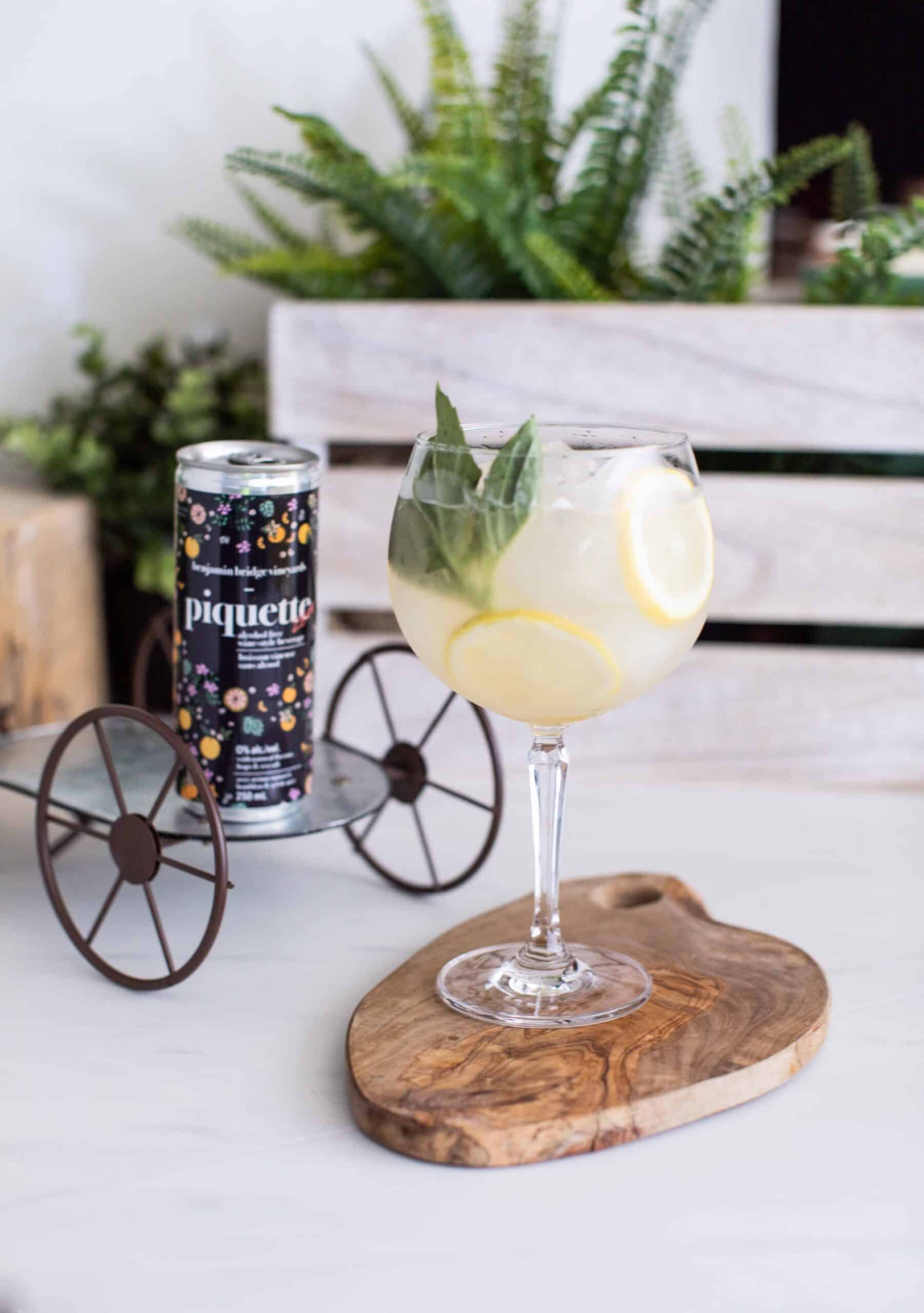 By the Sea Side
A tasty, refreshing Alcohol-Free Beverage that uses Benjamin Bridge's Piquette Zero, Elderflower Syrup, Lemon and Basil!
– Difficulty: Easy
Ingredients
0.5

oz

Ikea Elderflower Syrup

0.5

oz

Lemon Juice

5

oz

Benjamin Bridge Piquette Zero

1

Sprig Basil

1

Lemon Wheel

*Optional Edible Glitter
Instructions
In your large wine glass, fill with ice and add all your ingredients (finishing with Piquette Zero).

Stir in Basil, Lemon Wheel and Optional Glitter.