We're honouring the innovation and diversity when it comes to creating Canadian Whisky, with this VERY special infusion. As part of the Bearface Wilderness Series, it starts off its series by infusing foraged Matsutake Mushrooms. I know it may sound strange, but this incredible Whisky is worth sourcing, especially since it will be a very limited release. And of course, what is a cocktail page without sharing a recipe I created and LOVED! See how the odd pairing of Peach, Sherry and Bearface Matsutake Whisky quickly became an instant classic here on Liquid Culture.
Let's Talk about the Matsutake Mushrooms and Why
Chatting with Master Blender Andres Faustinello, I quickly became obsessed with the story behind the Bearface brand. He isn't your typical Master Blender. His roots in Venezuela, France and Italy makes him stand out from the typical Whisky crew. With an EXTENSIVE history in Whisky Collection and Distribution, out of all the places he wanted to create a Whisky from around the globe, he chose to put his name into Canada.
Now why is that? That's because Canada has some of the most flexible laws when it comes to Whisky Production. Which is exactly what he needed to bring innovation and change in the category. This is what shapes his every decision, every casks he carefully chooses, every grain that is picked. And what sold me is that he wants to bring this innovation to the international stage, and give Canada the recognition it deserves.
So when it came to choosing Matsutake Mushrooms for this infusion, it was by pure surprise. With a local forager, they foraged the Monashee Mountains for inspiration and weren't sure how things would end up. They tested MANY mushrooms (and other secret ingredients for future series), most giving a heavy, porcini palate that he didn't want. What ended up being the winner was the extremely rare and expensive Matsutake Mushroom. That's because the mushroom brought a surprising bit of brightness and citrus notes you wouldn't expect. And on the palate, you'll fall in love with what it offers.
Getting to know the Bearface Matsutake Whisky
So on top of that infusion, Andres had freedom in choosing his casks and ageing process. Here you find a Whisky that is aged in French Bordeaux Casks for 6 months. He picks these very rare casks, ones that have a ton of wine skin contact, which tends to bring out dried fruits and balsamic to the whisky. Then we have the finish, which is my favourite. He uses a blend of Sherry Casks from an Oloroso, PX and Cream.
You're probably wondering what the final result of this whisky tastes like. Well, I'll use Andres words for this one "Matsutake is to whisky, what an olive is to a martini". It has the dried fruit and warming spices, while also adding a raw earthiness and umami to your palate. I can't say ENOUGH AMAZING THINGS about the Bearface Matsutake Whisky.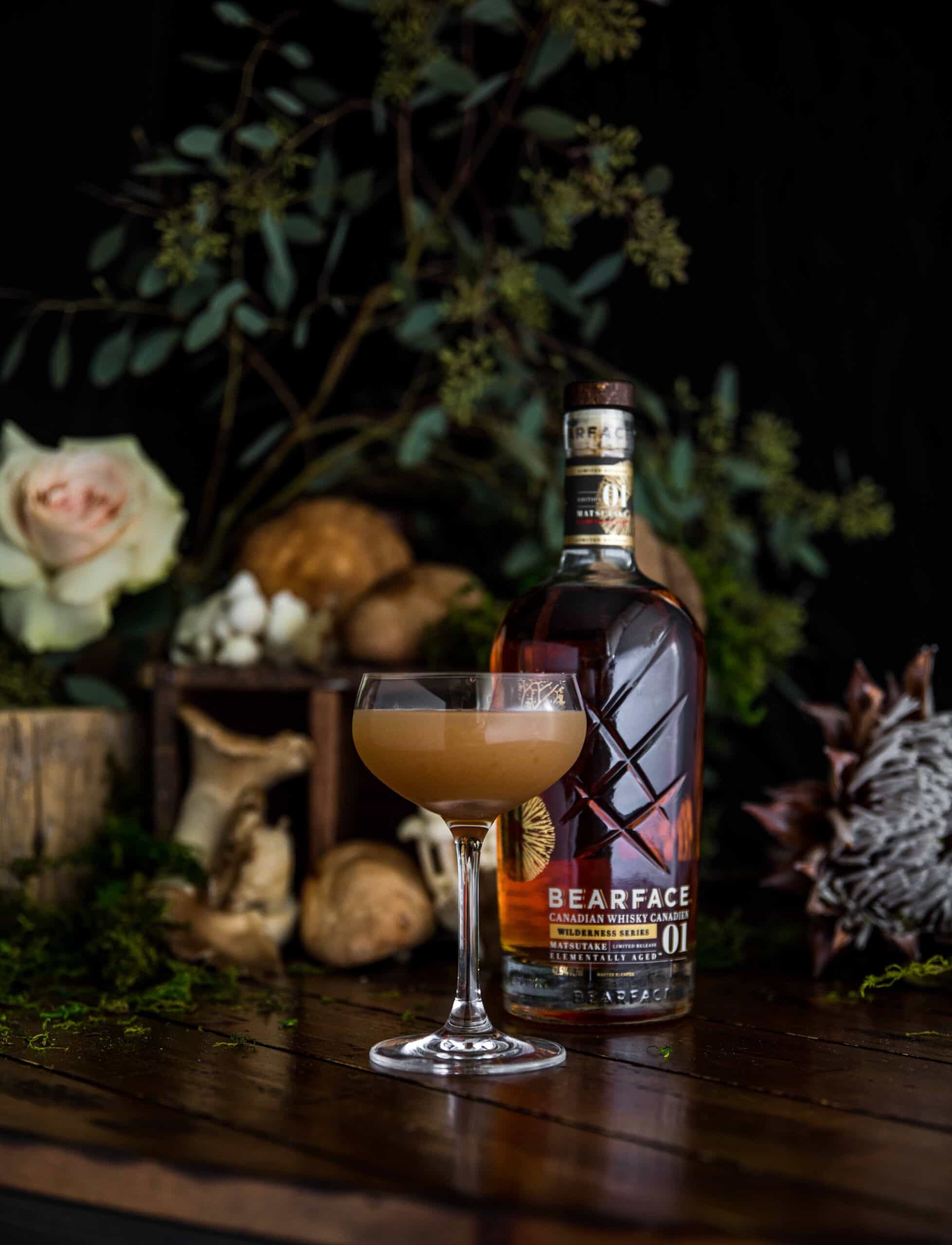 The Odd, yet Delicious Peach and Mushroom Cocktail
I know. You're probably thinking how can Peach work with all these flavours? Well, it was a surprise to me as well. I experimented a ton, but I knew I wanted a few key ingredients for this cocktail. For one, there needed to be a sherry. Whether I was going to go with an Amontillado, Fino or PX was still up in the air, but I wanted to honour the sherry casks it was in.
Then, I really wanted to pair with some Orgeat. It's funny because Andres and I had the same idea in mind with cocktails. Orgeat, being an Almond Syrup, has that nuttiness that would only accentuate the flavours of the whisky.
When you think of it, Almond and Peach work. Whisky and Peach Work. Sherry works with pretty much anything. So I decided to bring out the RinQuinQuin, a delicate, yet bright wine based Aperitif that is bursting with Peach flavour. This is a must have for my bar, and once you taste it, you'll know why. But if for some reason you don't have access to RinQuinQuin, I would suggest maybe a Peach Schnapps with a mix of citrus. Or maybe doing half Peach Schnapps with Lillet Blanc. It's not the same…but it will do the trick.
The rest of the cocktail fell into place, with a dash of Vanilla Bitters to warm up all the amazing flavours already in this cocktail. I can't say enough about the Bearface Matsutake Whisky and this cocktail I created. I will be back, shaking up a lot more with this whisky!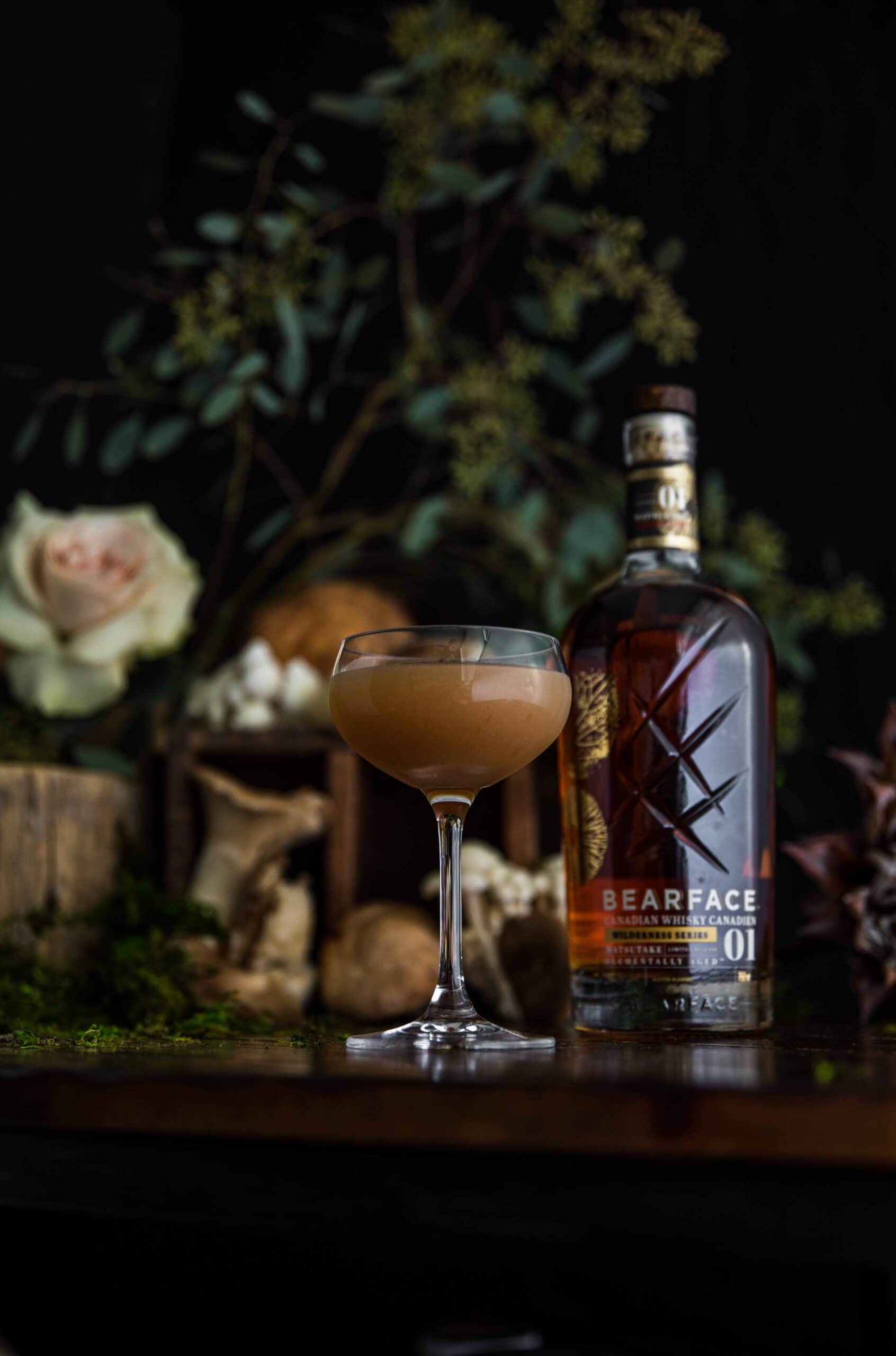 Nutty Ranger
Bearface Matsutake Whisky is shaken in this outstanding Peach, Orgeat and Sherry Cocktail.
– Difficulty: Intermediate
Ingredients
2

oz

Bearface Matsutake Whisky

1/2

oz

RinQuinQuin

1/2

oz

Amontillado Sherry

1/3

oz

Orgeat Syrup

2

dashes

Vanilla Bitters

El Guapo Barrel Aged Vanilla Bitters used here
Instructions
In a shaker, add all your ingredients and fill with ice. Give this a good shake.

Double Strain into your favourite coupe glass.
Want to find more Canadian Whisky Inspired Cocktails? Head over to this link HERE for all the Canadian love.