This cocktail is dedicated completely to my mom. It's one I made in honour of her for our upcoming Mother's Day Drink Segment on CTV's The Social. We're talking about a women that I NEVER would have thought she would appreciate Spirit Forward Cocktails. But here we are, years later of the Liquid Culture influence and she truly understands the balance and beauty of this classic. Curious how this Tequila Rose Negroni Cocktail is made? See how below!
If you'd like to see how this cocktail is made, make sure to check out the link HERE. We chat all things Negroni for Mother's Day on CTV's The Social.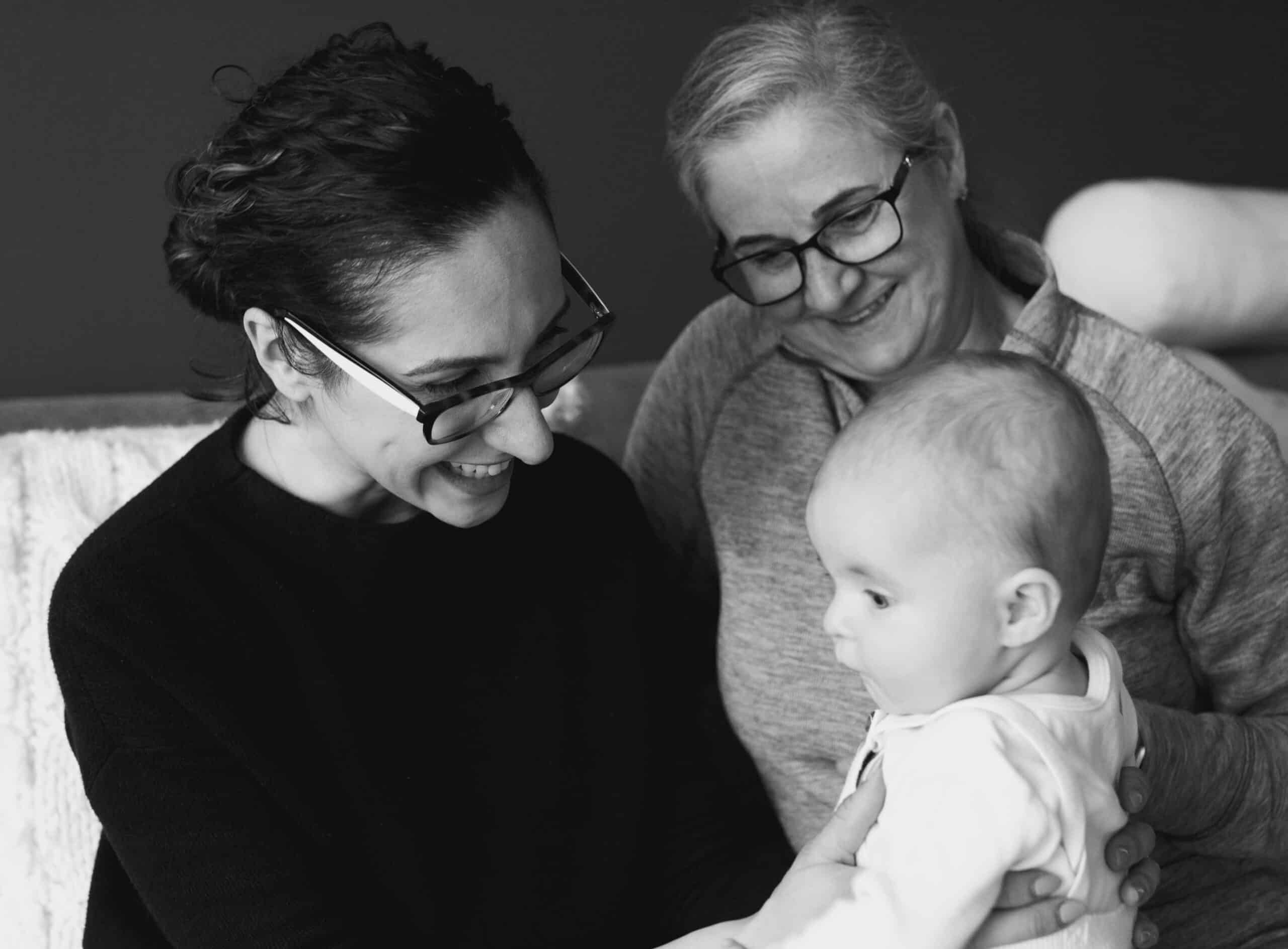 A Little Bit of Story Time First
I can't stress this enough. My mom was never a drinker. We never had alcohol in the house. And whenever we did, it was gifted to us from family friends who just wanted something to sip at the party. So if I'm able to get her to sip on cocktails now and understand its balance, you can too! That's why when most women approach me saying they don't like to drink much, I know typically it's just a lack of opportunities to try GREAT cocktails. 9/10 will complain about the taste (and aroma) of alcohol that hits them. But it's all about slowly opening up your palate to understand and recognize the other flavours going on. Only then do you realize a cocktails true potential.
Choosing your Tequila
The traditional Negroni is made with Gin. There is NOTHING wrong with this classic, and if you want to stick to gin, do it. But I know my mom loves tequila now and Tequila is a perfect spirit to substitute in this classic. When choosing your Tequila, you want to ensure quality and something either unaged or lightly aged. A Blanco and Reposado would work for this cocktail, but for today's special Mother's Day cocktail, I'm using cada dia Reposado Tequila.
Few things to note about this very special Tequila, it's actually run by a couple here in Ontario! Their passion is very evident through this premium tequila, as they're constantly working side by side with the distillers to bring an exceptional Tequila to the market. Sustainability also plays an important role in everything that they do, and supporting these brands is vital. Plus, I wanted a sophisticated Tequila for my mom, because she deserves the best for this Tequila Rose Negroni. You're getting a ton of baking spices with this Reposado which makes it great for this cocktail. It compliments the Vermouth so well, while tying in the strawberry garnish I use in this cocktail.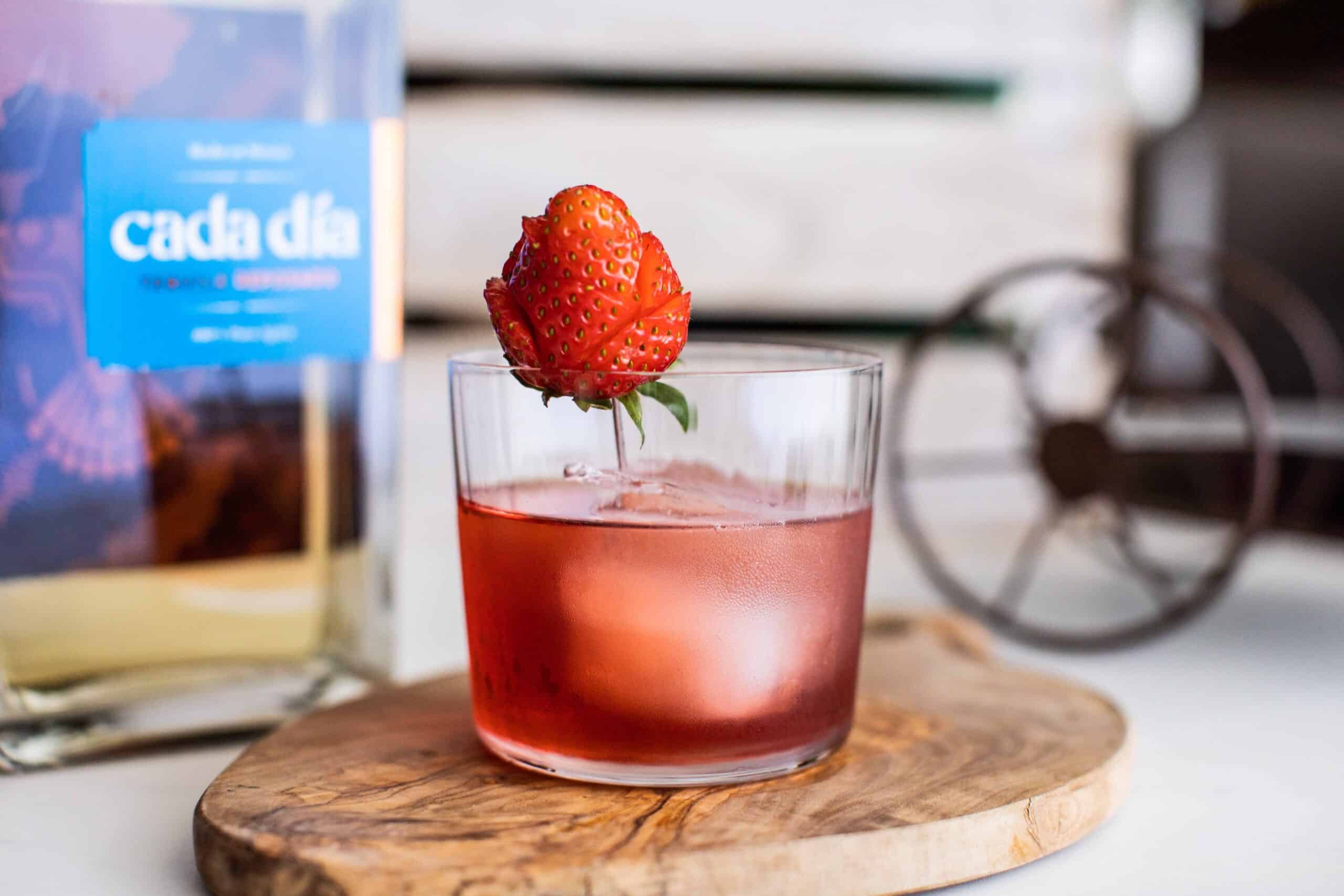 Rose Vermouth
If you know me well, then you know my obsession with Vermouth. Before I even got into the cocktail game, I already loved vermouth on its own, which is not something you hear often. So when I tell you, this is probably the best Rose Vermouth I've ever tasted…ya…it's some amazing stuff. And I was only going to bring out the best for my mom's Negroni. The Lustau Rose Vermouth also got 98 points at the International Wine and Spirits Competition in 2020. That was their top rated vermouth of the year. Need I say more? Try this on its own, and discover how you can mix with this at home!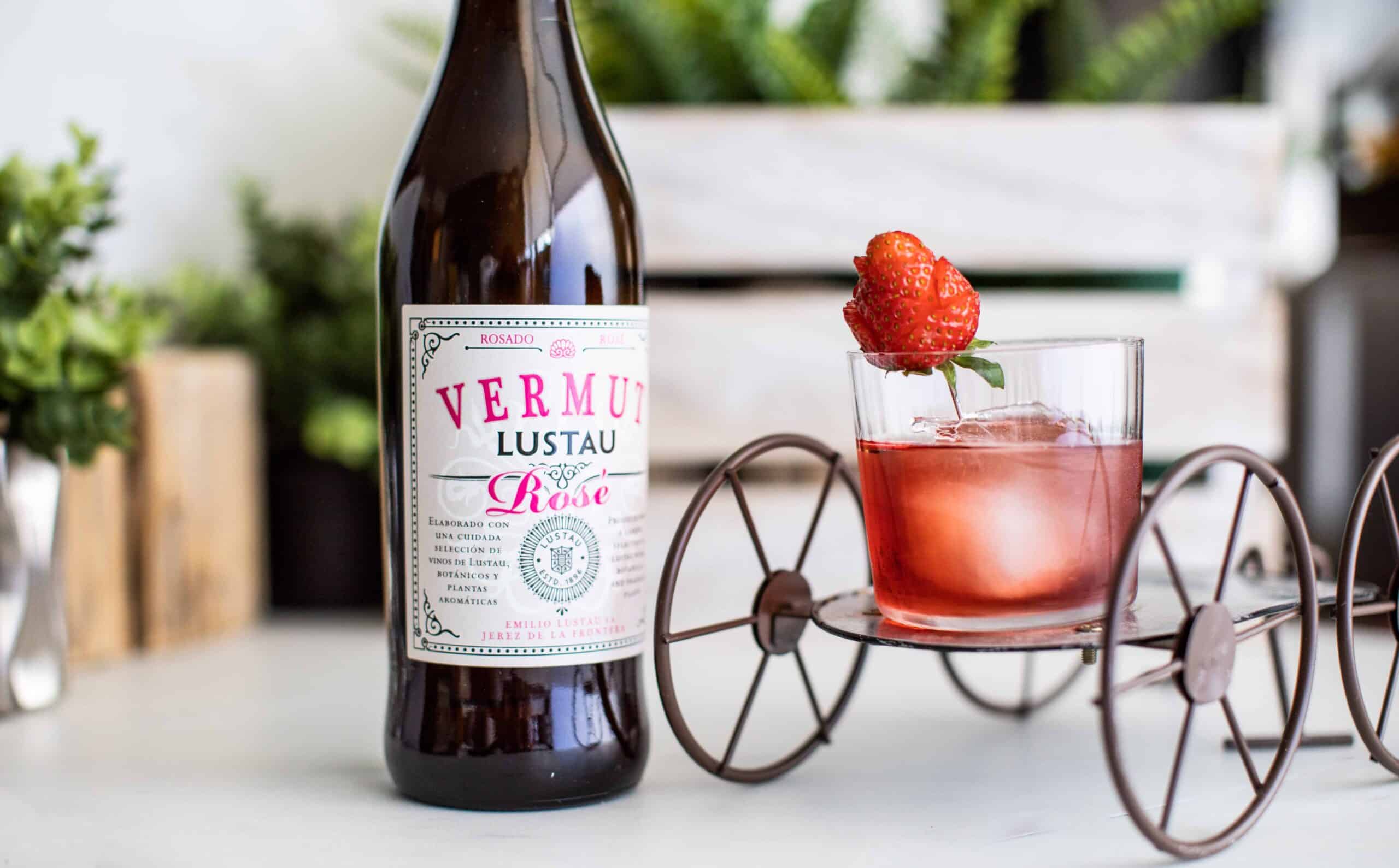 The Quinessential Campari for this Tequila Rose Negroni
What is a Negroni without Campari? Not something I want to toy with. But I did adjust the ratios from your traditional negroni here. I wanted it to be less bitter so the notes of the Rose Vermouth and Tequila came through a bit more dominantly. With that said, adjust this to you! If you find that this cocktail is too sweet, add a little less of the Vermouth and increase the Campari slightly.
The last thing I want to note with this cocktail is the Strawberry Rose Garnish. I want to thank @cheerstohappyhour for first showing me this cute little trick. Plus Strawberries work hand in hand with the Vermouth and Campari here. If you don't have the time, use an Orange Peel instead, or muddle a strawberry before stirring the rest of the ingredients. You'll love how the Strawberries merry the flavours!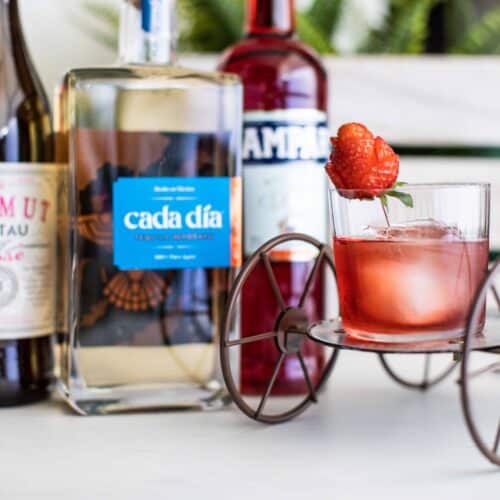 Rosalinda
The perfect Tequila Negroni made in honour of my mom for Mother's Day
– Difficulty: Intermediate
Ingredients
1.25

oz

cada dia Tequila Reposado

1.25

oz

Lustau Rose Vermouth

0.5

oz

Campari

Strawberry Rose for Garnish
Instructions
Fill a Mixing Glass with Ice and add all your ingredients (except Garnish). Give this a good stir (approximately 40 seconds).

Strain into a glass with one large ice cube and garnish with Strawberry Rose.