This World Gin Day, I decided to highlight some of the amazing distillers here in Canada creating some world class gin. Of that line up, you can't leave Ungava Gin out of the picture, and I decided to step out of the classic Gin cocktail realm and whip up a summery Julep instead! Curious how it's made? Make sure to scroll below for the recipe!
When it comes to Canadian Gin, Ungava needs to be discussed. It's one of the few gins crafted ONLY from native Canadian botanicals, giving it it's natural hue and flavour. Of the pack of Gins discussed for World Gin Day, this has a truly unique taste you won't find elsewhere.
On the nose you'll find a ton of floral and citrus notes, but on the palate is where the party really begins. Juniper is evident, but so much more comes through. A hint of Jasmine tea leaves, rose water and lemon peel, plus some sharp acidic berries which reminded me a lot of Haskap Berries. With all the flavours going on in this Gin, I figured, why not let it shine through and I decided to step out of the traditional.
Juleps are typically made with Whiskey, but I thought with the weight and body of this Gin, a nice floral Julep could actually be tasty! I should really stop calling it a Julep, because it can also be referred to as a Cobbler. We've seen it with Sherry, so why not Gin? I used Grapefruit Peels and Mint, and I tied the cocktail together with some Luxardo Liqueur which I RARELY use, but it was an essential here! I never would've thought I would love this cocktail as much as I do. Technique is SO important here and make sure you use crushed ice or you won't like this cocktail. Ready to start mixing? Check out the recipe below!
Curious what other World Gin Day Canadian Cocktail recipes were created? Head over to the link here!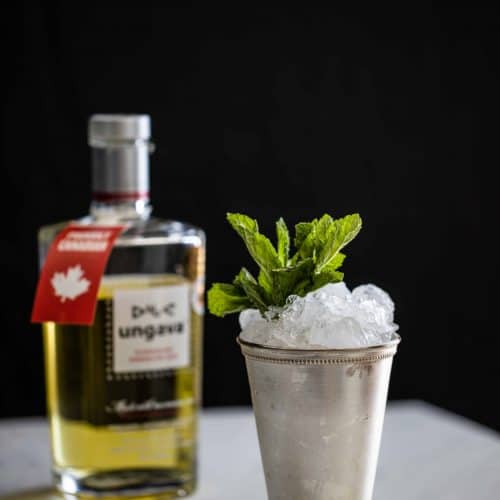 Canadian Gin Julep
The weight and flavour of the unique Ungava gin, makes this the perfect candidate for a delicious Julep paired with Luxardo Maraschino liqueur and citrus!
– Difficulty: Intermediate
Ingredients
1.5

oz

Ungava Gin

0.50

oz

Simple Syrup

1:1

1/3

oz

Maraschino Luxardo Liqueur

2

Grapefruit peels

2

large sprigs of Mint

Crushed Ice
Instructions
In a julep tin, muddle your grapefruit peel and 1 sprig of mint.

Add your Ungava Gin, Simple Syrup and Luxardo Liqueur.

Fill the Julep tin 3/4 of the way with crushed ice. Swizzle or Stir until the liquid comes to the top. Add more crushed ice until it creates a dome on top. Garnish with remaining Mint Sprig.