For today's #DrinkYourGram feature, I asked my community what type of Iced Tea cocktail they'd like to see and the results were magical. The best part is, it's easy to make a batch of these so it's the perfect summer imbibe. See how I mix Mango, Pineapple, Mint, Mezcal and Gunpowder Green Tea in this beverage here!
Today's #DrinkYourGram votes made things very simple to create the cocktail made here. Here were the results:
Vote #1 – Nestea (63%) vs Brisk (Their really want no point to this, I was just curious to see who actually liked Brisk. BUT I will say, it helped create the balance in sugar that I needed because I find both very different.)
Vote #2 – Made with Traditional Orange Pekoe vs Surprise me (81%)
Vote #3 – Paired up with Tropical Fruits (52%) vs Berries
Vote #4 – You wanted it Sweet (73%) vs No Sugar
---
---
As mentioned above, it's easy to make a pitcher of this iced tea flavour, and then let your guest decide what they would like to mix as a spirit. Create your own Bar Station in your backyard and let the guests garnish to their preference!
Now I chose Mezcal, because I fell in love with a product I found at the LCBO called 'Mezcal Amores Verde Momento'. It isn't overly aggressive with the smoke flavour, and just pairs BEAUTIFULLY with the green tea. You don't have to choose Mezcal for this though. You can easily suppliment it with your favourite clear spirit, which is why this is the easy cocktail to have at a party.
---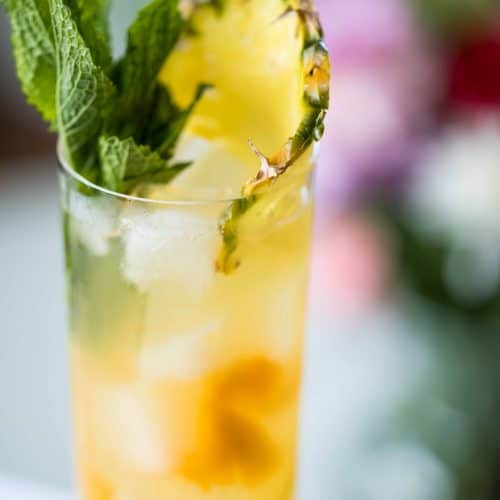 Tropical Iced Tea Pitcher
Here's how to make 2 cups of this iced tea before creating your cocktail!
Difficulty: Easy
Ingredients
2

cups

Boiled Water

1/4

cup

Granulated Sugar

2

tea bags

Kusmi Tea Gunpowder Green Tea

1/2

Mango

sliced

2

sprigs

Mint
Instructions
In a pitcher or glass, muddle the mango and mint.

Add the rest of the ingredients and stir. Let this steep for 20 minutes before straining.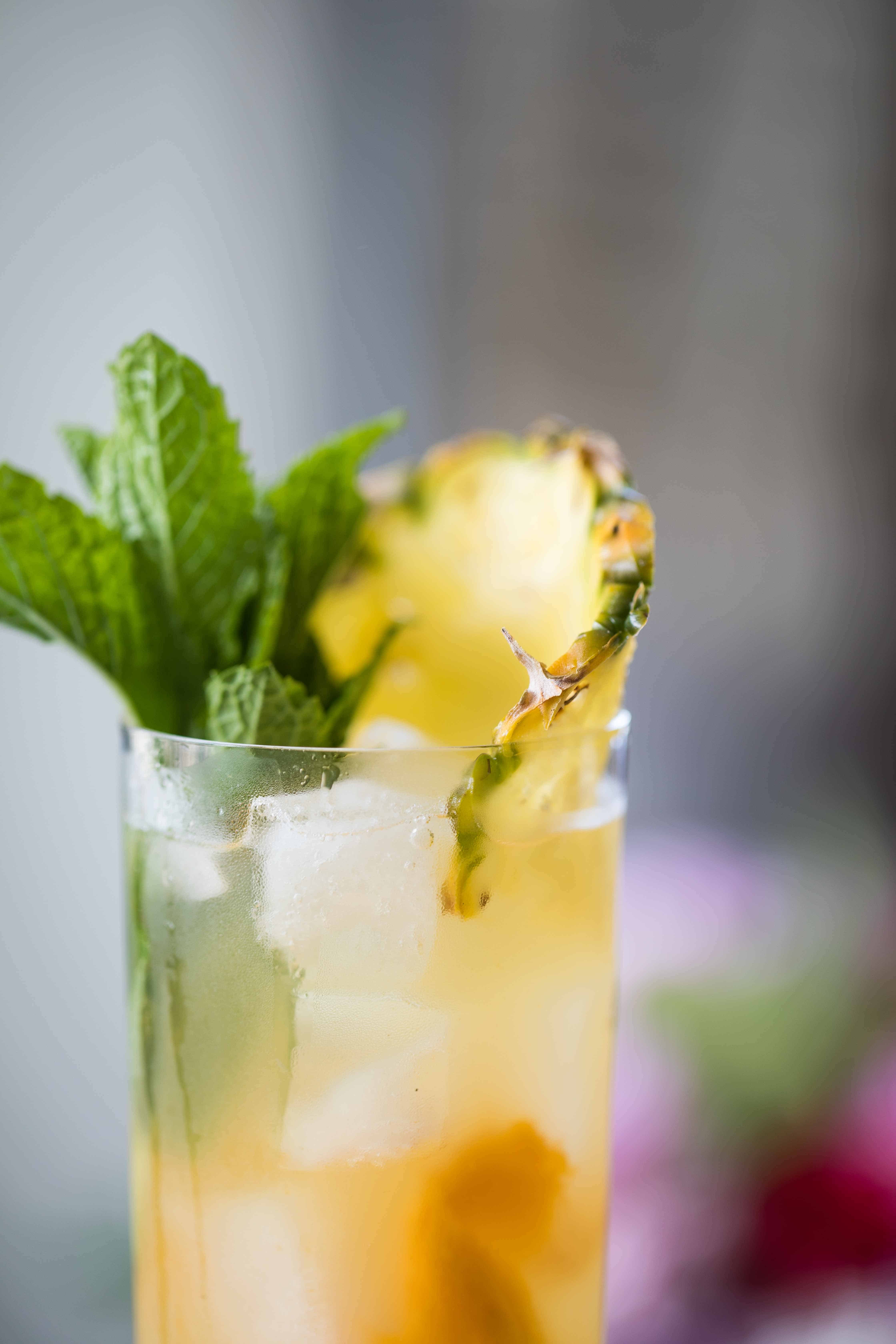 The recipe above shows you how to make two cups of the iced tea, but to make the cocktail you see above, see below for detail!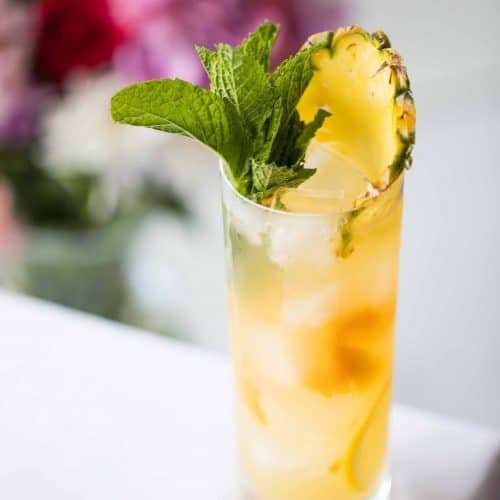 Tropical Green Iced Tea Mezcal Cocktail
You can be flexible with what spirit is used as a base, but for me, this was a winner and I'll show you how to make it at home!
– Difficulty: Easy
Ingredients
1

oz

Mezcal Amores Verde Momento

2

oz

Iced Tea Mixer as stated above

1/2

oz

Pineapple Juice

1/4

oz

Lemon Juice

2

slices

Lemon

1

sprig

Mint

2

thin

Mango Slices
Instructions
Layer your Collins Glass with ice, lemon wheels and mango slices.

Add the rest of the ingredients and give it a stir before garnishing with Mint Sprig.