It's Caribana Weekend and the city of Toronto is BUZZING right now. Today I wanted to celebrate this weekend with some of my favourite caribbean flavours, all in one glass!
For those of you that don't know about Caribana, it's a famous weekend in Toronto, where we celebrate the heritage and culture of the Caribbeans. It lasts a whole month, but it's grand finale includes a stunning parade down Lakeshore. It's been a dream to actually participate in the parade, but I'm blaming age for my very lazy nature to plan ahead and get the costume.
Anyway, let's get back to the reason we are all here, and that's for a cocktail. This cocktail combines some of my FAVOURITE flavours. From a Guava Demerara Syrup, Mount Gay Rum (obvs), with Ginger freshly grated, and Grapefruit Ting. If you don't know what 'Ting' is, well it's probably my FAVOURITE carbonated grapefruit beverage, and believe me I'm a tough critic. I avoid carbonated beverages at all cost because they tend to be overly sweet and the carbonation gives me insta-bloat-ness. That's why it's amazing when I can find a refreshing imbibe, to quench that hot summer day. If you EVER see ting around in your market, and you've never tried it, make sure to pick it up…also if you see Pink Ting that's even better. So with this layer of some of my favourite Caribbean flavours, I'm officially addicted to this imbibe. Don't believe me? Well, it's easy enough to make on the whim, so what are you waiting for?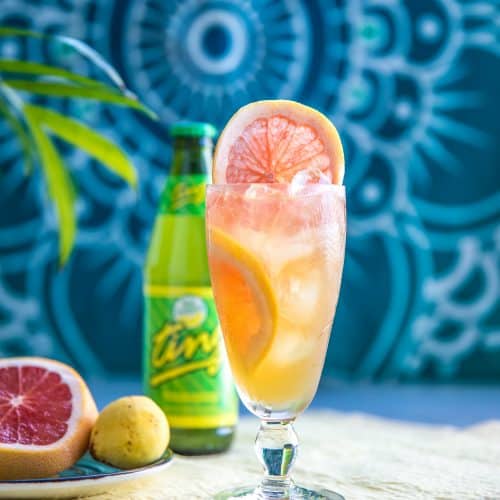 Caribana Ting
A cocktail inspired by Toronto's famous Caribbean Festival. Incorporating some of my favourite caribbean flavours, including ginger, guava and grapefruit Ting!
– Difficulty: Intermediate
Ingredients
3/4

oz

Mount Gay Silver

3/4

oz

Mount Gay Eclipse

2/3

oz

Grapefruit Juice

1/2

oz

Guava Demerara Syrup

1.5

oz

Grapefruit Ting

1

inch

Fresh Ginger

grated
Instructions
In a shaker, add all your ingredients except Grapefruit Ting. Fill your shaker with a handful of cracked ice, and give it a shake.

Dump everything in the shaker into your pilsner glass, top with more ice and add Grapefruit Ting.