The Spooky Season is finally here, which always inspires my creative cocktail side! With the Halloween season already feeling busy enough as it is, I try to keep the concepts of my Halloween cocktails simple. And the other major component when it comes to Halloween cocktails is to avoid as much artificial colours and flavours. All year round, I treat this body like a temple, I won't accommodate for Halloween. So I'm bringing out my favourite local Gin from Collective Arts, with fresh celery juice, sugar, lime and a splash of soda. And for an added effect, black lava sea salt is rimmed, as well as crushing blackberries into ice cubes. Can't wait to share this Halloween Gin Cocktail with you here!
Building your Halloween Gin Cocktail
You may be like my brother, who hates celery. But if you're like me who welcomes this flavour, this cocktail will not disappoint. Even my brother didn't hate this as much as he thought he would, especially once the blackberry ice cube started to dilute and blend the flavours.
Now the point of the celery for this cocktail is because it's green. That's pretty much it. You can also go the route of matcha, or fresh pressed granny smith apples for that gorgeous green colour you'd want for this cocktail. The Green against the Purple/Redish hue of the ice cubes just calls for DRAMA in the glass that I was looking for this Halloween.
I do love my gin, and it goes a long way in this cocktail, but in case you're not a Gin fan, you do have options. A Blanco Tequila would work wonders, as well as Vodka, and a tasty lightly aged Cachaca. I would even put my money on some Flor de Cana 12 yr for this one. After tasting what this rum did to a mojito, I've been replacing clear spirits with this rum and being PLEASANTLY surprised. But as always, my Liquid Culture family knows my love for Collective Arts Artisanal Gin. So when you can, try to support LOCAL.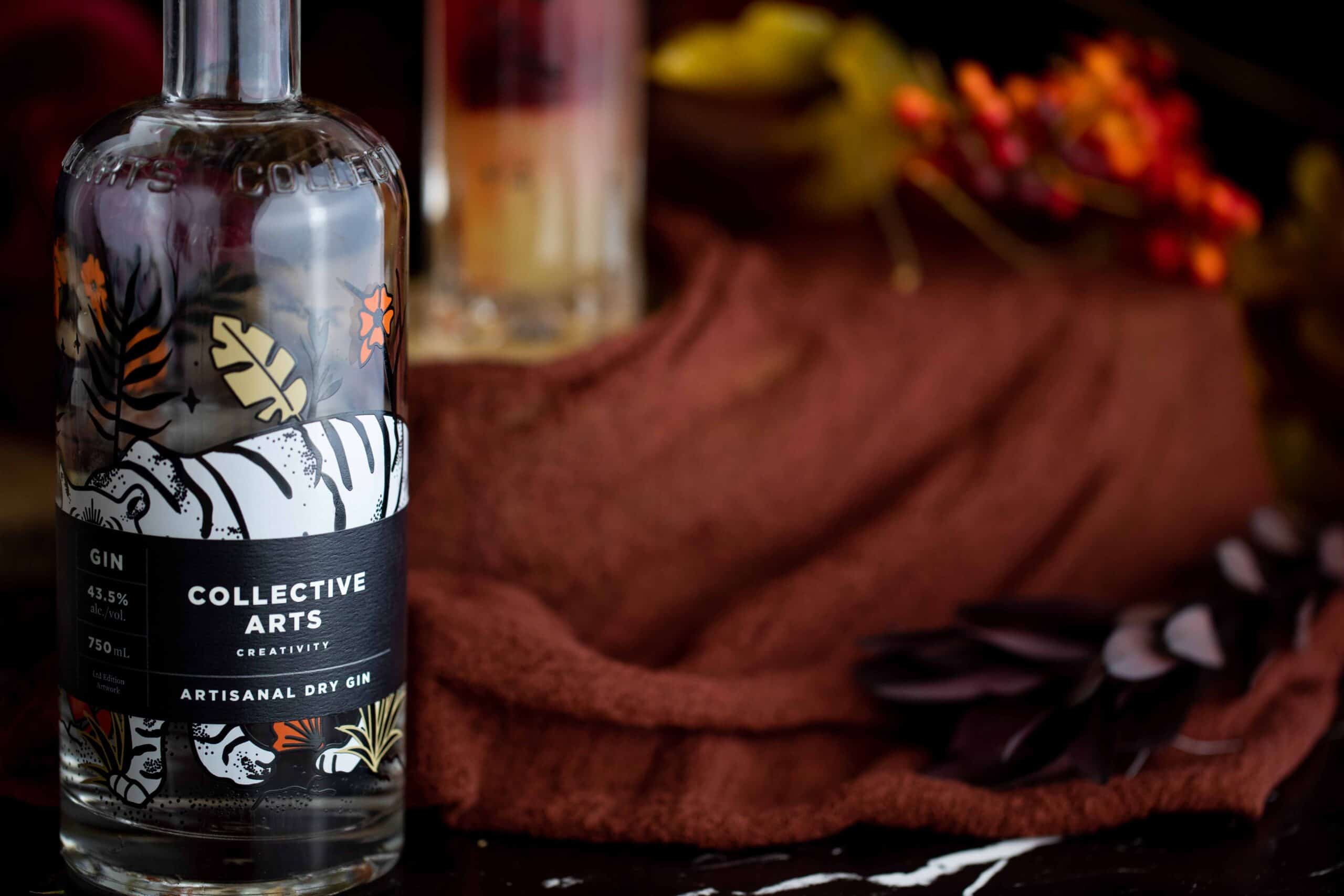 Black Lava Sea Salt *Optional
In my head, I had a Gin Margarita sort of situation. But I wanted it long with a sparkling component, and obviously infusing some different flavours. So calling it a Margarita is a reach, BUT with that sprinkle of salt for the glass, it brings me right back. The other reason I wanted to work with Black Lava Sea Salt for this one, is because I knew how well it would get the flavours of celery to POP. Think of Simple Syrup and Salt doing the same thing to cocktails as it does with food; enhance! Just a touch goes a long, long way.
My only advice is to try and keep the salt to one part of the glass. There's nothing I hate more than when a drink gets too salty, or you're trying to lick around to get to the drink. Just leave it in the corner, especially if you plan on serving this to friends. If you don't know their preference, be safe with just having it rimmed on one side.
Making the Blackberry Ice Cubes
I'm not even going to bother sharing a separate recipe for this because it's so simple. Smash a blackberry to break it down a bit, put it into your ice cube mold and pour water. That's it. I used about 1 blackberry per square ice cube. Okay, maybe it was half. I can't remember, but trust your instincts with this one. Plus, I do recommend this is prepped a day in advanced.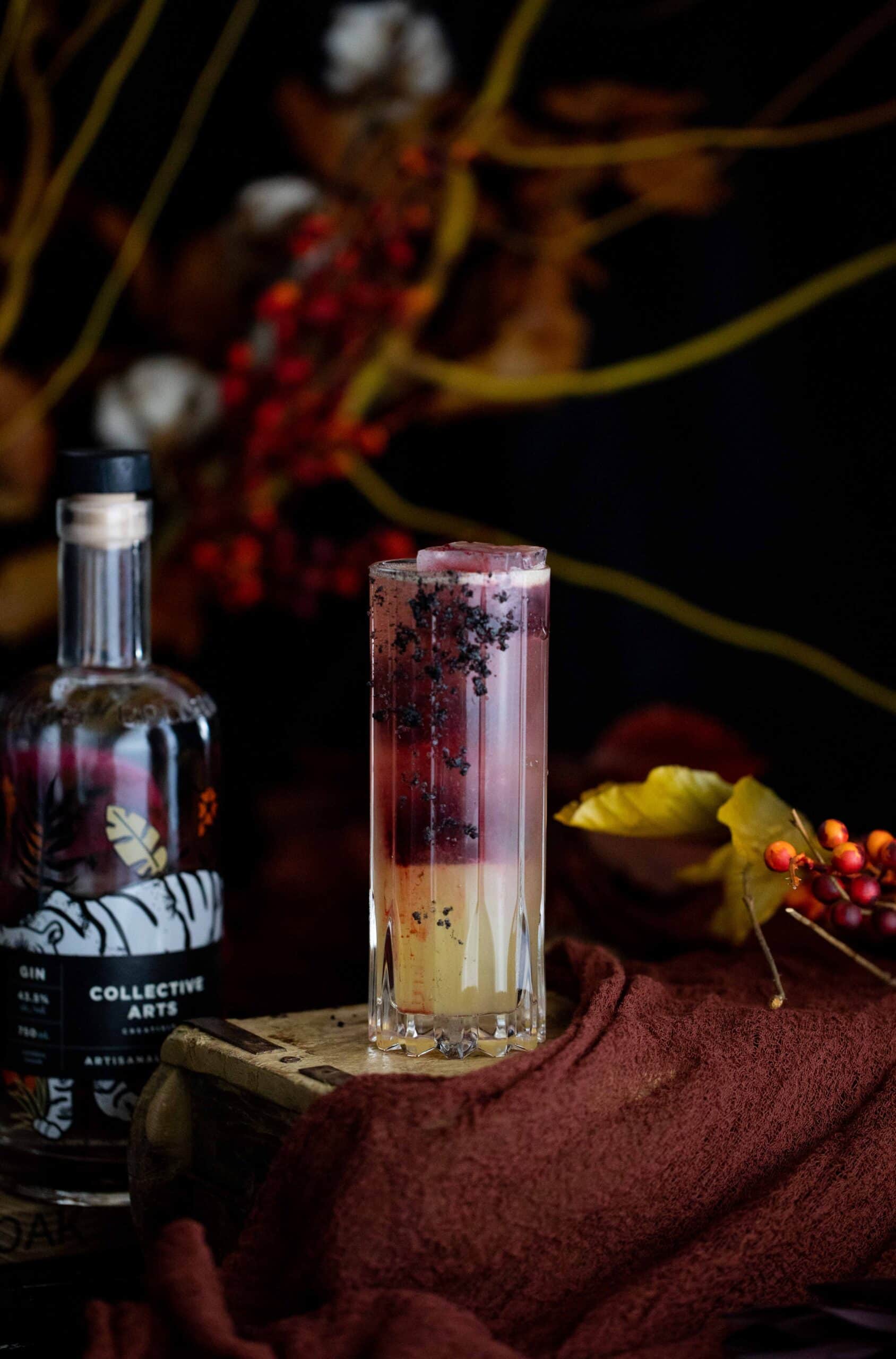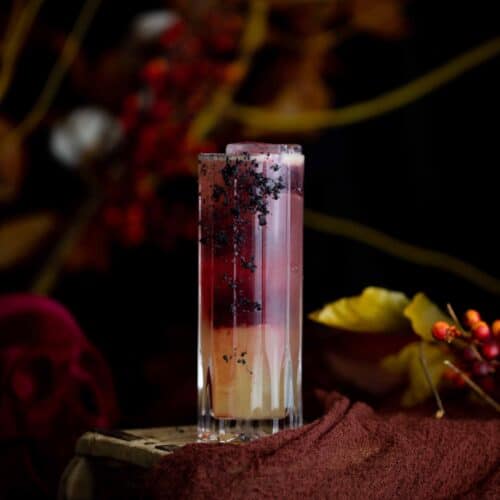 Celery de Vil
Halloween Gin Cocktail using Collective Arts Gin, Celery Juice, Lime and special Blackberry Ice Cubes.
Difficulty: Intermediate
Ingredients
1.5

oz

Collective Arts Artisanal Gin

1.5

oz

Celery Juice

0.5

oz

Lime Juice

0.5

oz

Simple Syrup

1:1

0.5

oz

Soda

Black Lava Sea Salt for Rim
Instructions
Line your glass with optional Black Lava Sea Salt.

In a shaker, add all your ingredients except soda.

Add a handful of ice and shake.

Prep your glass with blackberry ice cubes (square ice cubes with smashed blackberry fruit), and strain over top.

Top with Soda.
Want to find more Halloween Inspired Cocktails? Check out our list of choices here!