This cocktail has all the tricks and treats. You've got a dash of smoke from the mezcal, brightness of orange and pomegranate, shaken with mint and the star of the show…Flor de Cana 12 year old Rum! I would have this cocktail any day of the year, but throw in a skeleton hand and you've got a Halloween Rum Cocktail. So let's get to the recipe shall we?!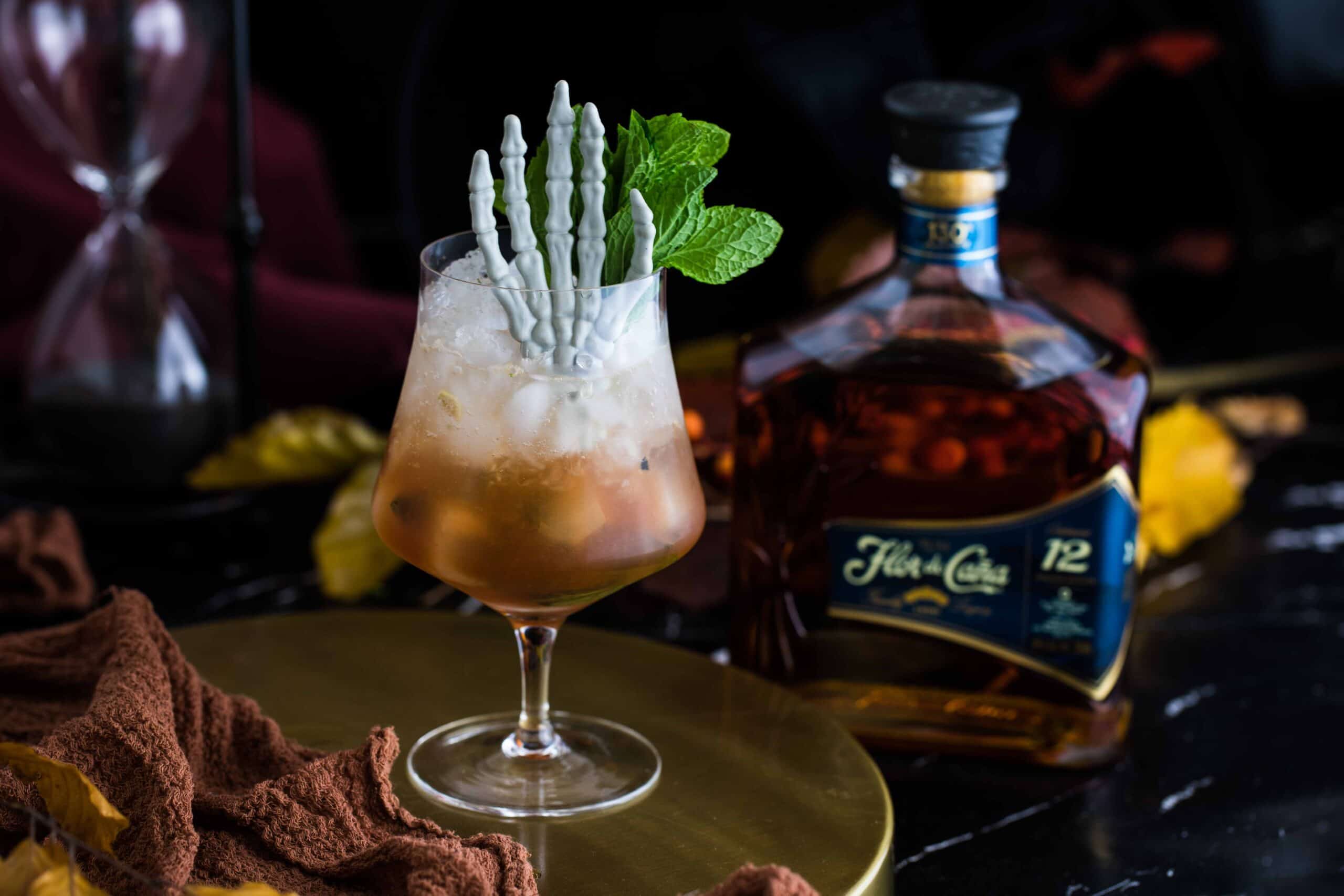 Choosing your Rum of this Halloween Rum Cocktail
I'm partnered up with Flor de Cana Rum, and let me tell you how excited I am for this collab! Flor de Cana has long been a favourite of my moms, and I genuinely love the spirit myself. Plus the initiatives they take to create a completely sustainable product is something we should all be more mindful of when purchasing our spirits.
But first, let's talk about why you should never switch Rums Styles/Brands when it comes to Rum cocktails. R(h)um has so many identities to it. You've got the Spanish Style Rums, Jamaican Rum, Rums from fresh pressed sugar cane juice, blended rums, spiced rums and the list goes on. I know it can all seem a bit confusing, and I'm going to tell you something you likely won't like to hear, you can't just use them interchangeably. Every rum has their own unique identity and taste, that you will get a completely different cocktail if you switch the styles of rum. So PLEASE, follow your bartenders recommendation, and if they don't follow this ethos…well I can tell you now, they don't know r(h)ums.
With that said, if for some reason you don't have access to Flor de Cana's 12 yr rum, try and stick to a Spanish-style Rum. Brands from Cuba or Puerto Rico would be ideal and just ensure that it's aged!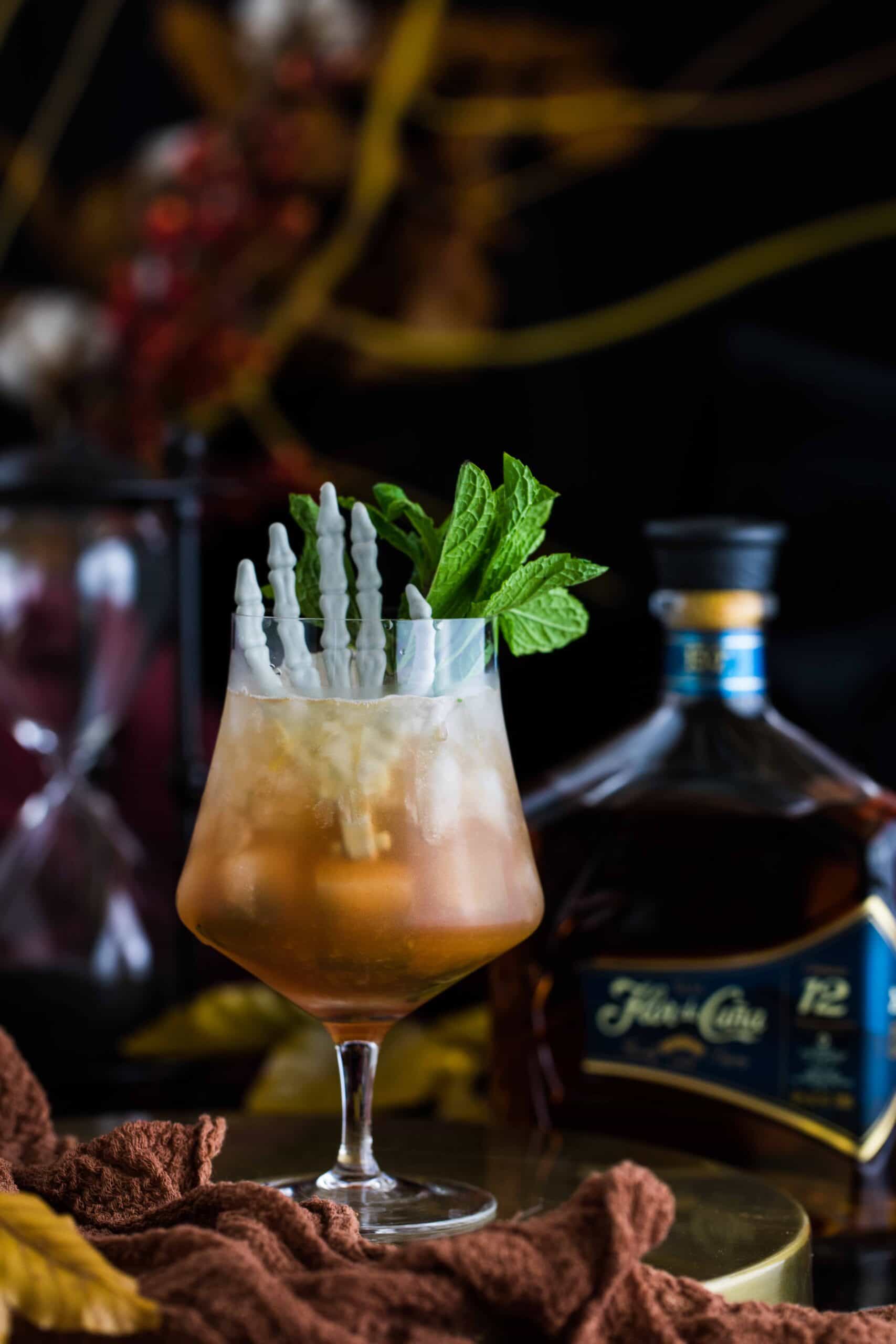 Orange + Pomegranate vs Blood Orange Juice
So initially, I actually wanted this cocktail to use Blood Orange juice instead. But the fact is, I couldn't find any, and why would I share a Halloween Recipe with you if it's not available here in Ontario. That's why I improvised and used a bit of fresh Orange Juice with a splash of Pomegranate Juice. Pomegranate brought the acid and bitterness that I was looking for, which you typically find in Blood Orange. I was very happy with this substitute for this Halloween Rum Cocktail. But you can also do a Fresh Cranberry Juice as well!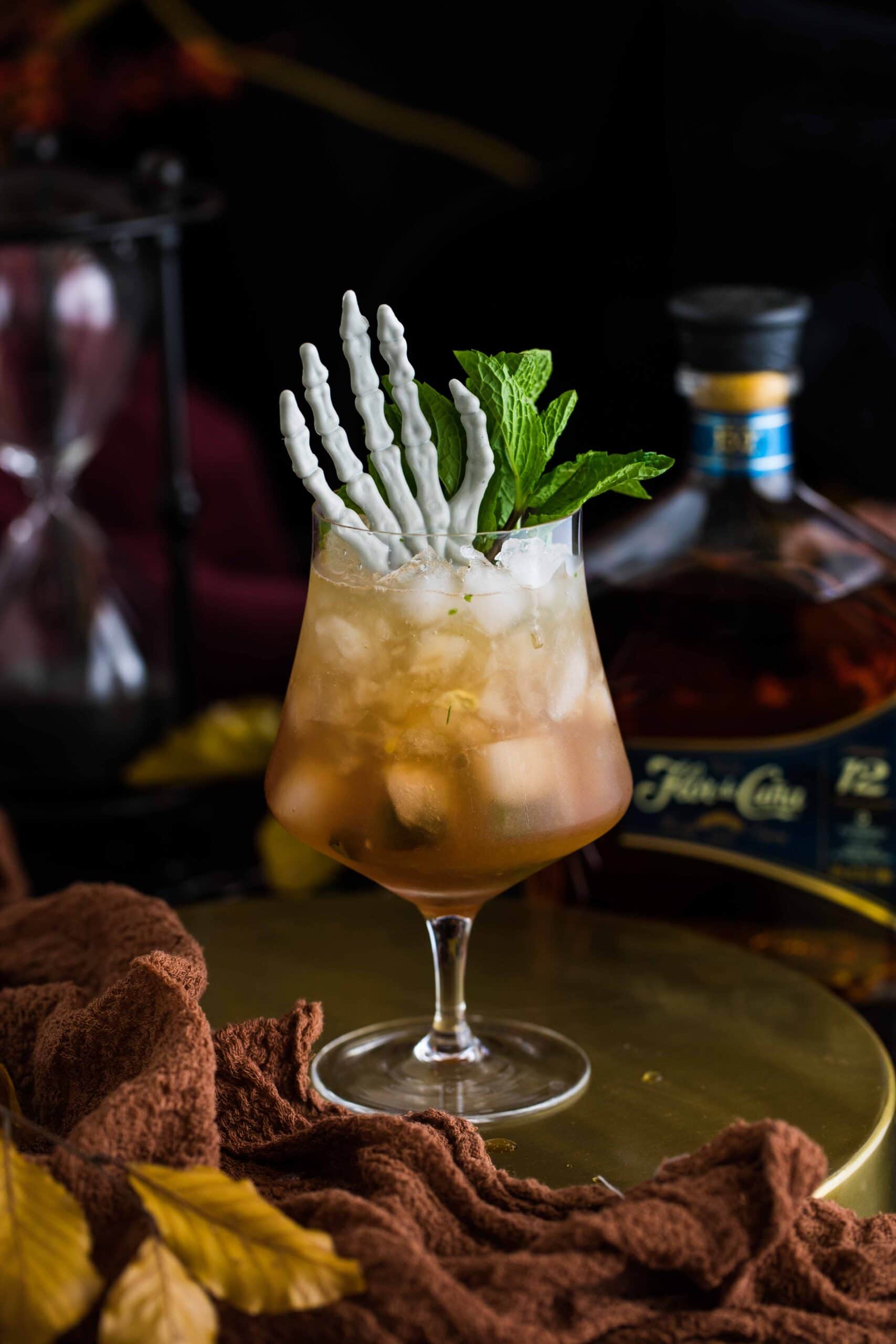 Ghouls and Smoke
A delicious Halloween Rum Cocktail that uses Flor de Cana 12 yr old Rum, Mezcal, Orange, Lime and Pomegranate juice!
– Difficulty: Intermediate
Ingredients
1.5

oz

Flor de Cana 12 yr

0.25

oz

Mezcal

1.5

oz

Freshly pressed Orange Juice

0.5

oz

Pomegranate Juice

0.5

oz

Brown Sugar Simple Syrup

1:1

0.5

oz

Lime

3

Sprigs Mint

1 for garnish
Instructions
In a shaker, gently muddle 2 sprigs of Mint (stems removed).

Add the rest of your ingredients and a handful of ice.

Short Shake.

Dump into glass and top with crushed ice.

Garnish with ghoulish hand and remaining mint sprig.
Curious to find more Halloween Inspired Cocktails? Check out our list of recipes here!