I wanted to make sure my Alcohol-Free Audience was getting some love for the Halloween season. That's why I created a recipe that is easy to serve Alcohol-Free and for those looking for some Adult fun, adding in some Sake goes a long way in this beautiful creation. Combining Butterfly Pea Flower Tea with Lemonade for an Alcohol-Free Halloween Drink. Or spruce it up with your favourite spirit. We're sharing your options here for this Purple Drink!
Alcohol-Free Halloween Cocktail
It's important to promote balance and make sure everyone is feeling welcome for your Halloween festivities. That's why I wanted to create something that wasn't just juice mixed with soda. Or other flavour dyes that won't do any good to the body.
This is why I decided to mix with Butterfly Pea Flower Tea which is naturally a blue colour, but once mixed with acid, becomes a stunning purple! When it came to the acid component, I wanted to keep things easy with a lemonade. I love to use President's Choice Original Lemonade (or yuzu lemonade!), but I do find I need to add a dash of fresh lemon and simple syrup to make it pop. The moral is, I want you to taste test and adjust it to your preference. You may not need the lemon or sugar depending on what brand you're using or making it from scratch. So keep that in mind when it comes to this recipe.
Choosing your Base Spirit for this Halloween Purple Drink
You have a ton of flexibility when it comes to choosing the alcohol you want to work with. Clear spirits work so easily. For example, vodka, sake, shochu, Gin, Tequila, lightly aged cachaca and rum and more! I wouldn't even go past something like Flor de Cana's 12 yr old rum. I couldn't believe what it did to my mojito, so don't be afraid to experiment.
Personally, I wanted to see more Sake cocktails on my website, hence why I use it here. Let me know what flavour combinations end up being your favourite!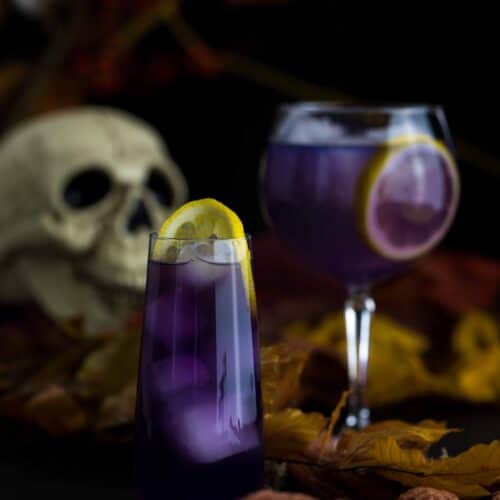 Purple Punch
Sharing an Alcohol and Alcohol-Free version of this delicious Purple Punch Recipe combining Butterfly Pea Flower Tea and lemonade!
– Difficulty: Easy
Ingredients
1.5

cups

Steeped, unsweetened Butterfly Pea Flower Tea

0.75

cup

Lemonade

Used PC Original Lemonade here

1.5

oz

Freshly Squeezed Lemon Juice

Approximately 1-2 lemons

1.5

oz

Simple Syrup

(1:1)

5

oz

Sake

*Optional
Instructions
In a small pitcher or mixing glass, add all your ingredients and stir.

Fill with large ice cubes, or leave in the fridge for chilling.

For individual serves, add one lemon wheel and ice to your glass.
Want to find more Halloween inspired cocktails? I share it all here!