You can bet that the classic JT 'Cry Me A River' track was on the entire time during this cocktail photoshoot. But no one will be crying about this new addition to the French Press Series, except when the cocktail is almost done. This delicious Whisky based cocktail infuses Chai, Apricots, Raisins, Ginger and Honey!
---
---
I've been itching to use Signal Hill Canadian Whisky for a French Press cocktail. Now there's a few reasons why I love this product.
Canadian – Yes, I will be biased to my own countries wonderful spirits, but I truly love what the team has created here from St John's Newfoundland.
Value – This whisky is SO approachable, and outstanding for the value. It's great for mixing with cocktails, while still keeping within budge. So the next time you have a party, and you're looking for a new whisky to feature, definitely give this a try!
Flavour – When it comes to French Pressed Cocktails, layering spirits and flavours really adds to the whole cocktail journey and experience. The longer it infuses with the cocktail, the more you're going to get out of the flavours, and it tastes better with every passing SIP! Now what I love about Signal Hill is the underlying tasting notes you get from the spirit. I get a ton of vanilla, toffee, raisin and caramel, with a hint of the barrel aging. With all these flavours, it makes it easy to choose this whisky for a French Press Cocktail concept.
It's Canadian…it deserves to be said twice!
---
---
So I decided to create a cocktail that has a bit of weight to it, that's rich in flavour, and perfect to sip at the end of the day (or if you need it earlier, no one's judging).
Because this whisky has a bit of body to it, I knew it could handle the weight of some loose leaf Chai Tea. I've been wanting to mix with Chai for some time now, but I had to make sure it wouldn't overwhelm the spirit. You still have to be careful when mixing with Chai, because what may seem unapparent in flavour, will quickly overtake the cocktail in about 5 minutes. So don't feel tempted to fill your French Press with a ton of Chai Tea, because believe me, it will get there.
Once I had the base decided, picking the accompanying flavours was easy. Chai works well with heat, so I decided to use ginger, and throw in a cinnamon stick. Then we have the dried fruit which adds an amazing layer of depth to the cocktail. Sweet Vermouth became an apparent choice to pair with the base spirit, and we needed the orange zest to cut through some of the richness of the cocktail. If you haven't started drooling yet, well I guess you'll just have to make this one yourself to see what you're missing!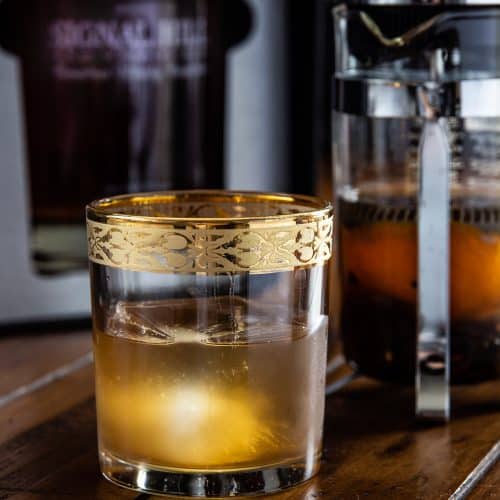 Chai Me A River
A delicious French Press Cocktail that uses Canadian Whisky Signal Hill, with Chai tea leaves, dried apricots, raisins, ginger and honey!
– Difficulty: Intermediate
Ingredients
Cocktail Base
3

oz

Signal Hill Canadian Whisky

1/2

oz

Honey

1

tsp

Boiled Water

3/4

oz

Dolin Sweet Vermouth

1/3

oz

China China Liqueur

4

dashes

Bittered Sling Kensington Market Bitters
French Press Infusion
2

tbsp

Chai Oolong Tea

1/3

cup

Dried Apricots

Diced

1/4

cup

Thompson Raisins

Diced

1

Orange Peel

1/2

inch

Ginger

Thinly Sliced

1

Cinnamon Stick
Instructions
French Press Infusion
You'll want to prep your French Press before mixing the cocktail. Place all dried French Press Infusion ingredients into your French Press
Cocktail Base
In a Mixing Glass, add Honey and Boiled Water and give this a stir to break down the honey, before adding the rest of the ingredients.

Add the rest of the spirits, fill the mixing glass 2/3 of the way with ice and stir well (at least 30 seconds)

Strain into French Press with the infusions already inside. Cover and leave in the fridge for 5 minutes before serving.

When creating the cocktail, simply pour over 1 large ice cube in a small rocks glass. Or you could have this served straight up in a martini/coupe glass.