Okay, so maybe this recipe doesn't include "Battlestar Galactica", but we all know that famous saying, and you can't have The Office Inspired cocktails without having some Beets. Maybe one of the activities at Schrute Farms Bed and Breakfast will be to whip up this cocktail? Anyone else thinking this is a brilliant idea?
Think about a world where The Office didn't have Dwight. Don't worry, that was a trick question, because if you're a fan of The Office, than you know how important Dwight's role is to the dynamic of the show. The reason this whole week started was because I had a friend reach out when I was teasing the idea of The Office Inspired cocktails, and he said I had to do something with Beets and Ginger. Well, here it is!
We also know that Dwight fancies a beer or two (recap to Season 7 when Jim is personally serving him a beer and feeding him pizza…priceless). So I figured a Beer-tail would be right up Dwight's Alley if there had to be a cocktail made in honour of him.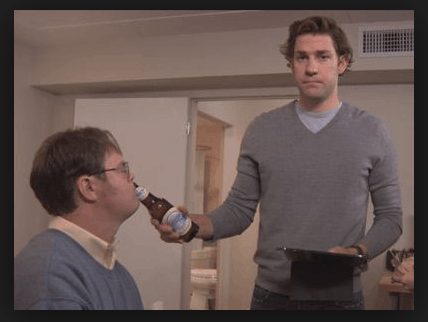 If you've followed Liquid Culture for a while now, you know how much I love experimenting with Beer and Cocktails! This mix includes Beet Juice, Ginger Syrup, a London Dry Gin, touch of Grand Marnier and topped with an IPA. This is SO damn refreshing and reinvigorated my appreciation for Beer. The one thing I'd keep in mind with this cocktail, is making sure your IPA is on the lighter side of things. There's nothing wrong with a hoppy, bitter IPA, but for this cocktail, keep things on the more delicate side. You could go with an ale, but I wanted the beer to come out a bit more. In the end, it's okay to experiment and adjust this to your taste!
---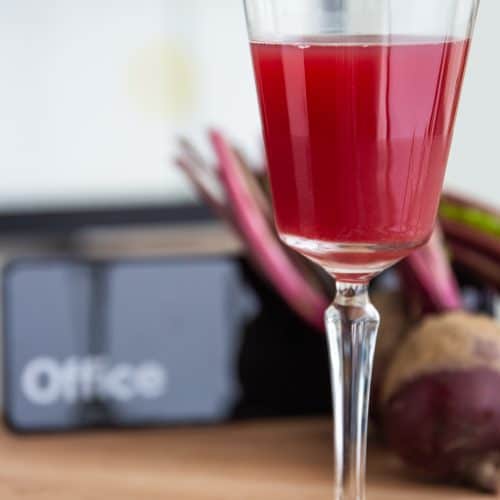 Beets, Beer, Battlestar Galactica
A cocktail inspired by the character Dwight Schrute of The Office. This cocktail mixes with Gin, Beet juice, Ginger Syrup and an IPA!
– Difficulty: Intermediate
Ingredients
3/4

oz

London Dry Gin

Beefeater Used Here

3/4

oz

Beet Juice

1/2

oz

Ginger Syrup

1/3

oz

Grand Marnier

1

oz

IPA Beer

Goose Island Used Here
Instructions
In a shaker, add Gin, Beet Juice, Ginger Syrup and Grand Marnier. Fill the shaker 2/3 with ice and give this a shake.

Strain into Nick and Nora Glass and top with IPA Beer. Large Ice Cube optional.
Recipe Notes
This ginger syrup is fairly simple to put together. Use a ratio of 1 cup boiled water to 1 cup Granulated sugar. Have this simmer in a small saucepan, with 4 tablespoons of freshly Grated Ginger, for 5 minutes before straining. Let this come to room temperature before use. Can last in the fridge for up to 1 week. 
The Dwight way would be to make the Beer, Gin and Beet juice, but for this recipe, it's easy and I simply picked up Cedar Juices Beet Juice. Any fresh pressed juice can work, or you can make it yourself!