We have another classic episode that touches on so many things I love about the characters and dynamics within the show. This particular cocktail is inspired by Toby's recent camping trip with Ryan…and Michael wasn't invited.
Michael Scott's man crush for Ryan is very real, so the fact that Michael wasn't invited to Ryan's "Bro Camping Trip" was almost too much to bear. And to top it all off, Toby was invited, which we all know is Michael's archnemesis.
So we have a hysterical and jealous Michael, who goes into the woods by himself to prove that he's a man meant for the wild. Dwight who's secretly watching Michael the entire time so he doesn't get into "danger". And back at the Office, Jim tries to consolidate all the birthdays. This is a CLASSIC episode of the season.
The one part that stood out for me was Toby commenting on how much S'mores they had on the trip, which if you know Michael well, he secretly LOVES S'mores (okay, maybe it's not so secret, but in this episode he seems to think so). It's brought up in the series a number of times. Think about the Diwali episode when Michael proposes to Carol (it didn't go well), and he eats a Samosa thinking it's a S'mores. Point is, Toby kept on repeating "No more S'mores, No more S'mores" which gets Michael into a jealous rage.
With all of that said, I had to create a S'mores cocktail. It would be a crime not too. Now for this cocktail, I've mixed up a ton of smokey and cinnamon flavour to make the ultimate S'more Campfire Cocktail. It combines some Mezcal for that smokey component, Blanco Tequila, Tawny Port, Licor 43 with a dash of Cinnamon and Angostura Bitters. This is a dessert and refreshing cocktail all in one! If you want to catch this episode, it's Season 4, Episode 7 called Survivor Man. While you're watching, you might as well whip this cocktail up.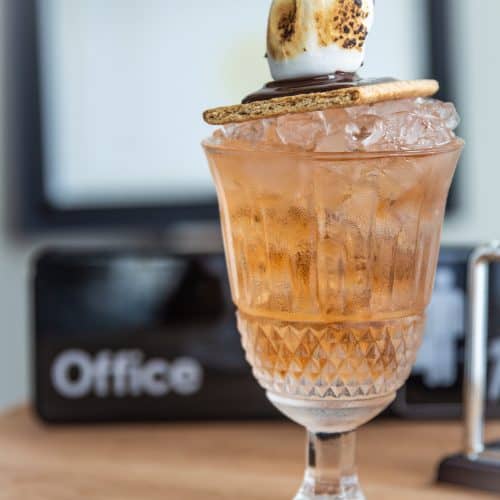 No More S'mores
Cocktail inspired by The Office Series Season 4, Episode 7 – Survivor Man and Michael's love for the wild and S'mores
– Difficulty: Intermediate
Ingredients
1/4

oz

Mezcal

Del Maguey used here

1.5

oz

Blanco Tequila

Tromba used here

1/2

oz

Tawny Port

Taylor Fladgate 10 yr Port used here

1/3

oz

Licor 43

1

dash

Angostura Bitters

1

dash

Cinnamon Bitters

Dashfire Cinnamon Bitters recommended
Instructions
Add all ingredients to Julep Tin, then fill 1/2 way with crushed ice. Churn/stir/swizzle until well mixed, and top up with crushed ice.

Garnish with S'mores sandwich on top!