I'm constantly looking back at my library of recipes and wondering why I don't create more sours! This one has been on my 'to-do' list of cocktails for some time now and I'm very excited to share this with the community today.
I have never been a big fan of cherries, but last year had me experimenting with Rainier Cherries and I have been hooked ever since! They have this wonderful sweet and tart balance that I don't find with most cherries. So when it's in season, my place seems to be swarmed with bowls of cherries, and obviously I'm going to create some delicious libations along the way.  
My overall theme here was to create something floral and delicate, highlighting a chamomile profile. Gin seemed like the natural choice here to highlight the chamomile, but I wanted an additional liquor to emphasize the floral, earthy components. My initial thought was to grab the St. Germaine Elderflower Liqueur, I even dabbled with the idea of Lillet Blanc, but the second I went to my bar cart, I noticed the Yellow Chartreuse and I grabbed it instead. Chartreuse is still a bottle I rarely touch, but I've been trying to get more comfortable with my 'unknown'. You have no idea how happy I am I did this. It ended up highlighting all the elements and components of this cocktail PERFECTLY.
The rest is history. With a touch of lemon and Liquid Culture's Chamomile Syrup, this has quickly become one of my ultimate refreshers for summer, with a velvety egg white to refine the whole experience.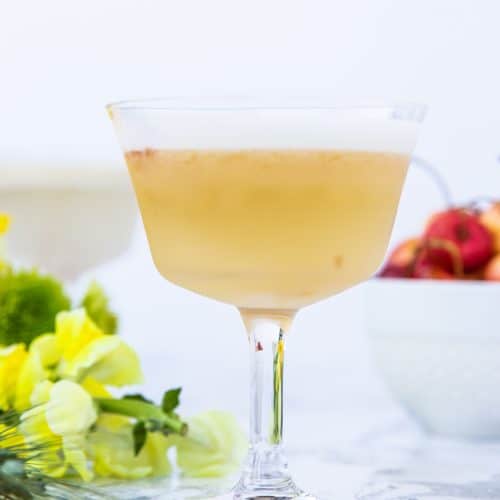 Chamomile and Rainier Cherry Gin Sour
A bright and floral gin sour utilizing some of the season's favourite flavours!
Difficulty: Intermediate
Ingredients
7

Rainier Cherries

pits removed

1.5

oz

London Dry Gin

Beefeater Used Here

1/3

oz

Yellow Chartreuse

¾

oz

Chamomile Syrup

½

oz

Lemon Juice

Freshly squeezed

1

Egg White

4

drops

Angostura Bitters
Instructions
In a cocktail shaker, muddle Rainier Cherries to a pulp

Pour the Gin, Chartreuse, Syrup, Lemon and Egg White into the shaker, WITHOUT ICE, and dry shake vigorously for approximately 20 seconds

Add ice and shake vigorously until shaker becomes too cold to handle.

Strain into a chilled coupe glass

Carefully place 4 drops of angostura bitters on top of the foam.
Recipe Notes
For details on how to create the Chamomile Syrup used here, follow the link attached.