As luck would have it, National Mojito Day lands on Liquid Culture's favourite day of the week; none other than good old Peach Wednesday! So instead of giving you the traditional recipe, I've spiced it up with some hump day vibes that is fresh, delicious and peachy!
I'll admit that as a bartender, I have a love and hate relationship for Mojitos. Secretly (clearly not a secret if I'm writing this now), I love Mojitos. I'm pretty much always looking for something fresh, and the classic recipe has that perfect balance of mint, lime and sugar. The problem is…I find most people don't know how to make it. Some make it way too sweet, while others are just drowned in soda and the balance is just not there. So IF and WHEN I ever order a mojito, I'm asking a bartender that I trust with my life!
Another bubble is about to burst…it is one of the most annoying cocktails to make. In reality, it isn't THAT difficult to throw together, but when one person sees a mojito, than the entire restaurant/bar wants a mojito. Also, there is a time and a place for a mojito…it's called a beach, or a tiki joint, and definitely NOT a club, or with your steak dinner. This is just simple club/bar etiquette, and I want my Liquid Culture community to be ordering and treating their bartenders right. That's right, it's not only about home bartending here. Instead I want you to understand the art, hustle and creativity of the cocktail game and appreciate those who work TIRELESSLY every night to create an unforgettable (slight chance you won't remember a thing) night!
So I went on a bit of a rant, but I wouldn't say it if it wasn't VERY important to know, and if I've taught at least 1 person how to act around a bar, then I've done my job. May this peach mojito day come with some happy memories and good vibes!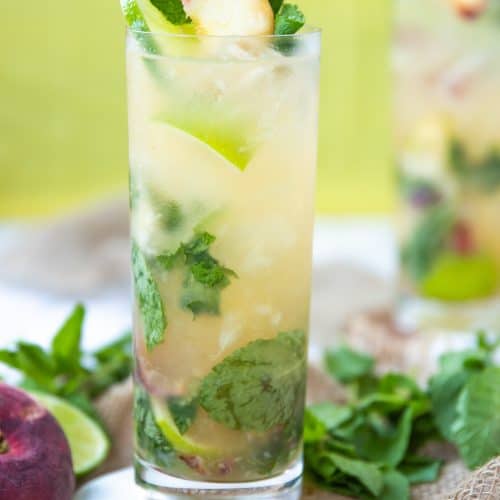 Peach Mojito
Here we have a special Mojito for National Mojito Day, which happens to land on LC's Peach Wednesday! Cheers to a perfectly balanced Mojito!
Difficulty: Intermediate
Ingredients
1.5

oz

Blanco Rum

Havana Club Used Here

1/2

oz

Peach Simple Syrup

1/2

Fresh Lime

1.5

oz

Club Soda

3

sprigs

Mint

1 for garnishing

1/2

White Flesh Peach

pit removed
Instructions
In a Collins glass, muddle peach and lime to a pulp

Lightly press the mint to extract its aromas and throw inside the collins glass

Add rum and syrup, top half way with crushed ice. Give this a stir, or the common swizzle method until the ice slightly dilutes and the cocktail is well distributed.

Fill the rest of the glass with crushed ice and give this a stir. Top with Soda and gently stir. Garnish with peach slice and mint!
Recipe Notes
I used White Flesh Peaches because I wanted to keep the flavours still bright and fresh. To find the recipe for the Peach Syrup, refer to this recipe link attached.