This journey with Liquid Culture comes with its many trials and errors. There's so much I've learned, and steps I wish I had taken sooner, but I don't regret a thing. Why am I being all sentimental for a friday post? Well I finally have some form of direction. I'm dedicating friday's as my creative outlet, the day where I step out of my comfort zone and show you how you can do it too! Throughout the week I'll be targeting health-conscious recipes, quick '3 Series' recipes and more, but Friday I am free to be my adventurous self. So for this week I'm combining some of my favourite flavours PERIOD; Coconut, mint and blueberry!
I'll pretty much always say yes to coconut. If a cocktail or food item has coconut in it, 9 times out of 10 I'm ordering it because I'm that predictable. Seeing as I had Coco Lopez opened in the fridge, and it would be a SIN to throw it away, I decided to create something delicious with it instead. With all the layered cocktails flooding the 'gram for July 4th, it inspired me to make an eye-catching cocktail myself.
The blueberry drizzle is in essence a syrup. It's a combination of fresh blueberries, lemon juice, sugar and cinnamon. Now I have a blueberry syrup already in the LC library, but I wanted to avoid an overly sweet liquid that would completely change the cocktail experience. Being as coconut is already naturally sweet, I knew I had to come up with something that would better compliment the cocktail. For details of the Blueberry, Lemon and Cinnamon Syrup, make sure to follow the link attached.
I know that rum is a natural pairing with coconut, but I wanted to create something that was a tad more fresh on the palate. So with that said, I had made a ton of creamy style cocktails with GIN, so I thought why not give this a try! To tie in the flavours of the blueberry in the base of the cocktail, I also use a touch of Hayman's Sloe Gin. It ended up being the perfect balance I needed to create this gem right here. So without further adieu, I bring you the Coconut and Blueberry Drizzle Fizz!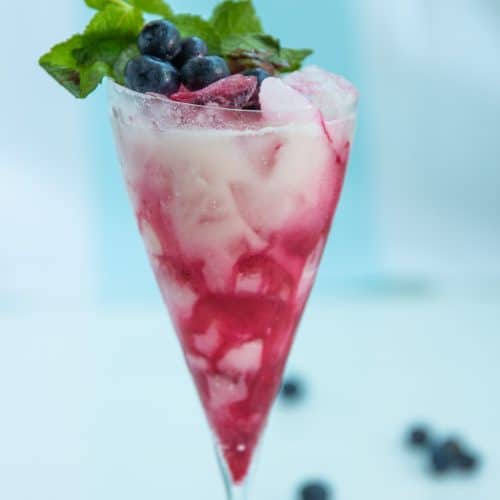 Coconut and Blueberry Drizzle Fizz
A delicious summery cocktail with your favourite summer flavours and London Dry Gin!
Difficulty: Intermediate
Ingredients
1.5

oz

London Dry Gin

Beefeater Gin used here

1/2

oz

Sloe Gin

Hayman's used here

1.5

oz

Cream of Coconut

Coco Lopez used here

1

oz

Coconut Water

1/3

oz

Lemon Juice

Freshly Squeezed

2

sprigs

Mint

1 for garnish

1/3

oz

Blueberry, Lemon and Cinnamon Syrup

Drizzled on top
Instructions
In a shaker, de-stem one sprig of mint and combine all ingredients (except the syrup) and shake vigorously

Strain over crushed ice in a pilsner glass

Drizzle blueberry syrup over top and garnish with mint and some fresh blueberries.