This is my very first successful clarified milk cocktail. It's been on my 'bucket list' for some time now, and after a bit of trial and error, I'm really excited about the possibility that this technique can bring. Pretty much any sour cocktail can be made into a 'clarified milk' product, which I'm starting to realize how many benefits it brings. There's the preservation aspect, a unique texture and richness, plus it's a great conversation piece when you tell your friends that this bourbon New York Sour is clear as day…because of MILK!
When two of your most trusted expert bartenders tell you to give this article a read, then just do it. Now this is for the truly big bar nerds out there that want to experiment at home and didn't know where to go (kinda like me). If you want to go in-depth of the science, trial and error when it comes to creating clarified milk cocktails, you HAVE to give this article a read: The Key to Crystal Clear Cocktails? Milk. (Really).
For those of you in a rush and just curious as to what I'm talking about, I'll give you a brief breakdown on some of the things I've learned. But first off, let's start off with WHY? Why would anyone want to do this? This was actually a very popular method in the 1700's and 1800's because lets think about the spirits back then. They didn't have a highly-developed filtration system that's available today, which distills spirits to a palatable proof. So one way to cut that sharpness was through this clarification method, which ALSO preserves a cocktail and/or spirit for months, even years on end. I don't know about you, but this was mind-blowing for me, and I'm really pissed I didn't get on this train sooner.
Now I will mention that higher proof spirits shine with this process because you will still get hints of it's unique character notes. Something such as a vodka or low ABV liquor would get muted fairly quickly with this technique, and for me seems useless and a shame to the true nature of the spirit. Next time around, I'm definitely going to experiment with mezcal to see how it compliments with this clarification method.
I said I would be quick, and I've rambled. Like I mentioned, you need to give this article a read if you really want to learn the in's and out's! But in the meantime, here's a short, quick list of the do's and don'ts when it comes to making clarified cocktails:
Any cocktail works as long as it has a strong citrus component. Think of a daiquiri or margarita. The skies the limit!
ALWAYS pour the cocktail INTO the milk
The milk should be a minimum 3.5% in fat content. Any filtered or skimmed milk will not clarify the cocktail.
Ratio from cocktail to milk parts is 4:1 (measure 4 parts cocktail : 1 part milk)
ALWAYS FILTER THROUGH A COFFEE FILTER (I thought I could get away with a cheese cloth but that was an epic fail)
Again this was my first attempt, and in truth, I know I can do better. But for my first time around and being unsure of how to put this together, I'm pretty happy with how this came together and I have this Drinkstagram community to thank. Anytime you're stuck, there's always someone to help along the way. Education is what it's all about, and guess what, we're all still learning from each other, myself included. I'm with you guys for the long haul, and we will be growing and learning together everyday!
For my cocktail of choice, I decided to make a punch that was similar to a New York sour. This time around I switched the wine for a port, and I wanted to highlight the milk components with an orgeat syrup to pair. The first batch turned out to be very sour, because I thought the more sour it was, the better it would curdle. That wasn't the case here. I brought down the citrus component slightly and increased the sugar and it hit a spot that I'm happy with.
As a side note, one of the reasons I absolutely love this concept is the fact that you can have a batch this in your fridge for months on end (if properly executed). This means you can have a quality cocktail hanging out in your fridge, with no effort but pouring the punch over 1 large ice cube. I can definitely live with this, as I'm sure you can as well! Ok, ok, enough chatter, and let's get to this delicious recipe!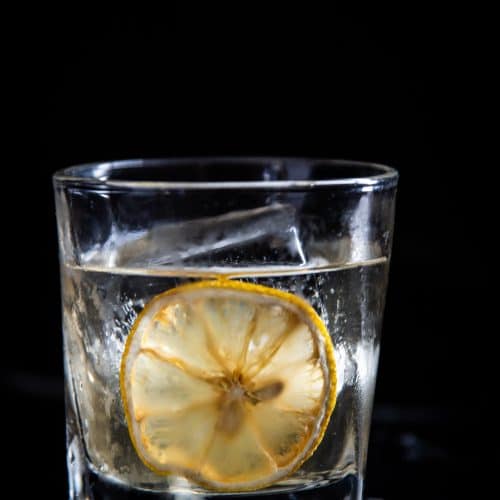 Clarified New York Milk Sour
Don't let this title confuse you. It's a rich, velvety, CLEAR cocktail made with bourbon, citrus, port and the obvious milk infusion!
Difficulty: Expert
Ingredients
3

oz

Bourbon

2

oz

Freshly Squeezed Lemon

1

oz

Orgeat Syrup

5

dashes

Angostura Bitters

2

oz

Taylor Tawny 10 yr Port

30

mL

Cold 2% Milk

30

mL

Cold 35% Cream
Instructions
In a mixing jar, combine bourbon, lemon, orgeat syrup, bitters and port. Stir with 1 ice cube.

In a separate container, mix milk and cream and pour the cocktail into the milk mixture. Give this a quick stir before putting into the fridge (wrap with cling wrap so the cocktail doesn't absorb other flavours in the fridge). Leave this for at least 1 hour in the fridge.

Pour the mixture through a coffee filter. I left this to strain for 30 minutes. Strain once more for a more refined cocktail. Pour over 1 large ice cube and garnish with dehydrated lemon wheel.
Recipe Notes
Note that the preservation method with clarified milk allows you to keep a cocktail when kept refrigerated for upwards of a few months to a year (although I would give it just a month to be safe).