I'm breaking the rules on this National Bourbon Day by leaving you with a Canadian-Inspired, Colourless Old Fashioned. It's mixed with White Owl Whisky, a wonderful Cinnamon bitter with granulated sugar and grapefruit zest!
I always knew that the Old Fashioned was open to interpretation, but not as much so until I read David Wondrich's Imbibe book. So whenever anyone is saying you're building an Old Fashioned wrong, there's a good chance that even they aren't creating the original cocktail. The reality is, the Old Fashioned Cocktail has been adapted in so many ways, INCLUDING Rye being the choice of spirit in the 1900s, that people should enjoy their Old Fashioned however way they please!
With that said, there are a couple things to note about the classic Old Fashioned Whisky Cocktail. This cocktail is never shaken, must include sugar and water, with 2 oz of spirits. That's correct. It's not just limited to Bourbon or all types of Whiskey. During Wondrich's research, the Old Fashioned Cocktail was often made with Brandy or even Holland Gin!
---
---
Why am I talking so much about the history of the Old Fashioned? Well that's because if anyone tells you an Old Fashioned can only be made with Bourbon, tell them that history and Liquid Culture says otherwise. The reality is, Bourbon is the preferred choice of our era and what we love to mix with Old Fashioned's (including myself!). So lets not get wrapped up around the history of the cocktail and start enjoying it.
Bourbon selection in Ontario has definitely improved in the last several years, but we still have a ways to go to get some "local" Kentucky gems. So with that said, I decided to go Canadian and colourless with this Old Fashioned, stirring up with my favourite White Owl Whisky! The technique I used to create this cocktail, mixes with traditional recipes and ratios with some of newer techniques used in today's modern Old Fashioned. It's bright, delicate, while leaving you with that warming feeling we love when it comes to this classic cocktail. Cheers to the ever adapting Old Fashioned and National Bourbon Day!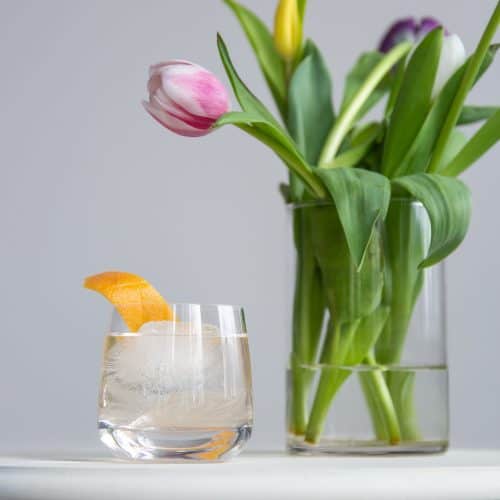 Clear Old Fashioned Cocktail
Combining old traditions with new techniques to make this colourless Old Fashioned, made with White Owl Whisky, Cinnamon Bitters and Grapefruit Zest!
– Difficulty: Intermediate
Ingredients
2

oz

White Owl Whisky

1/2

tsp

Granulated White Sugar

1/2

tsp

Warm Water

2

dashes

Cinnamon Bitters

Dashfire Cinnamon Bitters Used Here

2

Grapefruit Zest

Save one for garnish
Instructions
In a mixing glass, add the sugar and water. Once that has dissolved slightly add the whisky, bitters and 1 grapefruit zest.

Fill your mixing glass 1/2 with ice and give this a stir for approximately 20 seconds.

Strain over 1 large ice cube and garnish with remaining Grapefruit Zest.
Recipe Notes
Traditional recipes used either gum syrup, or the granulated sugar mentioned above. Typically it isn't stirred in a mixing glass and everything is simply made and served in an Old Fashioned glass. I combine two methods by using the granulated sugar and using less water, and giving the mixture a good stir before straining. It refines the cocktail so there isn't just sugar hanging out at the bottom of your glass.