Welcome to the wonderful world of Ice Cream SUNDAZEEE (#icecreamsundazeee that's right, I'm hashtagging this movement).
Every Sunday this Summer, I'm going to be whipping up new Boozy infused Ice Cream recipes made directly from scratch! With it being National Grand Marnier Day, I thought I would infuse this spirit with some very classic flavours. Ready for your mind to be blown? That's what I thought…
My first initial thought when I tasted this ice cream was, I'm about to break the internet with this fire recipe. Yes, I was this extra with my emotions, because I didn't expect to nail it on the first try. My first attempt with a sorbetto was a miserable fail. So I went back to the drawing board and thought I'd go a touch simpler for the next recipe by going back to the basics. I figured with this being my first time and all, let's build from the ground up. I referred to so many blogger recipes online and I combined all of it into this one delicious scoop.
---
---
The recipe itself is simple enough, it just takes time. So if you think you're going to be whipping this up for tonight, there's no chance (believe me, I tried). Unfortunately, you have to be patient, letting your ice cream maker chill completely (24 hours is best, or more), as well as chilling the 'base liquid' for a minimum of 8 hours. What I would do is, if you want the ice cream for the next day, throw your ice cream maker in the freezer as soon as you wake up, whip up the ice cream base and put it into your fridge. The next morning will involve the work of the ice cream maker, but it really doesn't demand much from you. Then it's another 3 hours in the freezer and voila it's over.
I can hear my generation wondering, who the hell has the time? Well I can honestly say, Paella takes more time and effort from me than this ice cream. Again, it's all about being patient.
---
---
When it came to choosing the flavours, I wanted to keep things classic. Plus, with it being officially National Grand Marnier Day, I knew I had a base that's very flexible to work with. I went traditional in terms of flavours, but MAN was it SO tasty! Coffee and vanilla extract (note that it's PURE vanilla extract) ended up being the base, with chunks of almonds, nutella swirl and the obvious Grand Marnier. I will mention, I think the second time around I would add a dash of cognac to bring out the notes of GM. I've added it to the recipe because I know it won't drastically change the product with an additional 1 tbsp Cognac.
All I have left to say is…you're welcome world. I'll be back next sunday xo.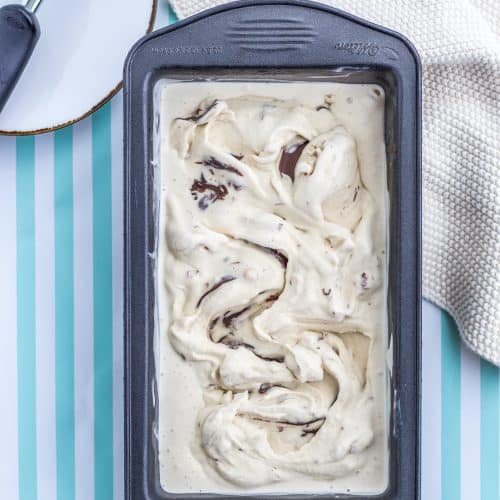 Coffee, Nutella and Grand Marnier Ice Cream
These classic flavours are bound to get you excited for this week's Ice Cream Sundazeee
– Difficulty: Intermediate
Ingredients
1.5

cups

Heavy Cream

35%

1.5

cups

Whole Milk

3.25%

1/2

cup

Granulated Sugar

5

large

Egg Yolks

1/4

tsp

Salt

1

tsp

Vanilla Extract

1/3

cup

Espresso

2

tbsp

Grand Marnier

1

tbsp

Cognac

1

tsp

Orange Zest

1

cup

Roasted Almonds

Roughly chopped

1/3

cup

Nutella
Instructions
Prepare yourself by placing your ice cream maker straight into the freezer right away.

In a medium saucepan, over medium-high heat, heat cream, whole milk, HALF of the sugar (therefore 1/4 cup), salt and espresso. Let this almost come to a boil and reduce down to low-med (you want a gentle simmer)

While that gets to a simmer, whisk together egg yolks in a bowl with the rest of the sugar (1/4 cup), until lighter in colour. Add 1 cup of the hot mixture base into your bowl and whisk to combine. Add the contents of your bowl BACK into the saucepan.

Cook this mixture until it reaches 175 degrees Fahrenheit and then take it off the stove.

Strain through a fine mesh strainer into a fresh bowl. Cover and completely chill the liquid in the fridge (approximately 8 hours)

The next day, you'll want to add the Vanilla extract, Cognac and Grand Marnier to the mixture and give a slight stir.

Position your ice cream maker, add the liquid and follow the directions of the manufacture. For me, I added the liquid, put the stand up mixer on 'STIR', and then I added the roughly chopped almonds and orange zest. Let this stir for approximately 20-30 minutes.

Dump the ice cream into a container and add spoonfuls of Nutella. Swirl with a stick or spoon to incorporate. Cover the ice cream and place it back into the freezer for an additional 3 hours before serving.
Recipe Notes
A lot of recipes I found online used whole espresso beans. Since I have nespresso at home, I didn't bother with this and made it easier on myself with a liquid form instead (no wasted coffee beans here).