The title can seem very confusing if you've never heard of Shochu, but it's my latest and one of my favourite additions to the French Press library of cocktails. You'll definitely want to stir this one up.

If you're new to my whole French Press Series, I've developed some unique infused cocktail recipes, served in your everyday household French Press. This introduces a completely new wave of infusions, and it's simply done in the glass. Plus the cocktail really starts to take shape the more you let it sit and infused! As you can imagine the Saffron shines through with a little time. I was obsessed with the idea after a trip to The Aviary, and since then I've tried to create some fun new recipes of my own. Including this Chai Me A River recipe here.

When it came to deciding what cocktail I'd whip up for another French Press concept, I knew I had to move away from whiskey and introduce a colourless spirit. Not that there's a problem with whiskey, I just need to change things up on the portfolio. Now, I've been meaning to mix with Saffron for some time now, because a girlfriend of mine brought it all the way back from Dubai. These kind of gifts mean the WORLD to me. Sure we can get Saffron here in our markets, but the time and research she did to try and get me some of the best threads out there, filled my foodie heart!

Saffron is one of those flavours where a little goes a long way, but I had no idea what I would mix it with. Then I thought back to the basics. What is Saffron usually served with? Rice! Having worked with Shochu and Sake recently, it only seemed fitting that I would work with it again here. Plus it solved my whole debate of working with a colourless spirit.

But why Shochu and not Sake? The hippie in me wants to spread some love and education on this misunderstood spirit. Little do people know that in Japan, Shochu is the spirit of choice. That's right. Not Sake, or their amazing Whisky, instead the drink of choice is always Shochu because it's so easy to mix. It also comes in a lower ABV than your Vodka or Gin. But don't let that percentage fool you, it can surprisingly creep up on you (a.k.a. this definitely happened to me). In terms of taste, the Moonlight Japanese Shochu is quite different from the store bought Shochu in the Japanese markets (and convenience store). It's a premium distilled option, and seeing as most shochu are barley, buckwheat or rice base, it really shines through, with a touch of sage! If you've tasted cachaca before, I found that they had similar properties, but less vegetal and sweet. It's a cleaner palate, best served chilled and sipped.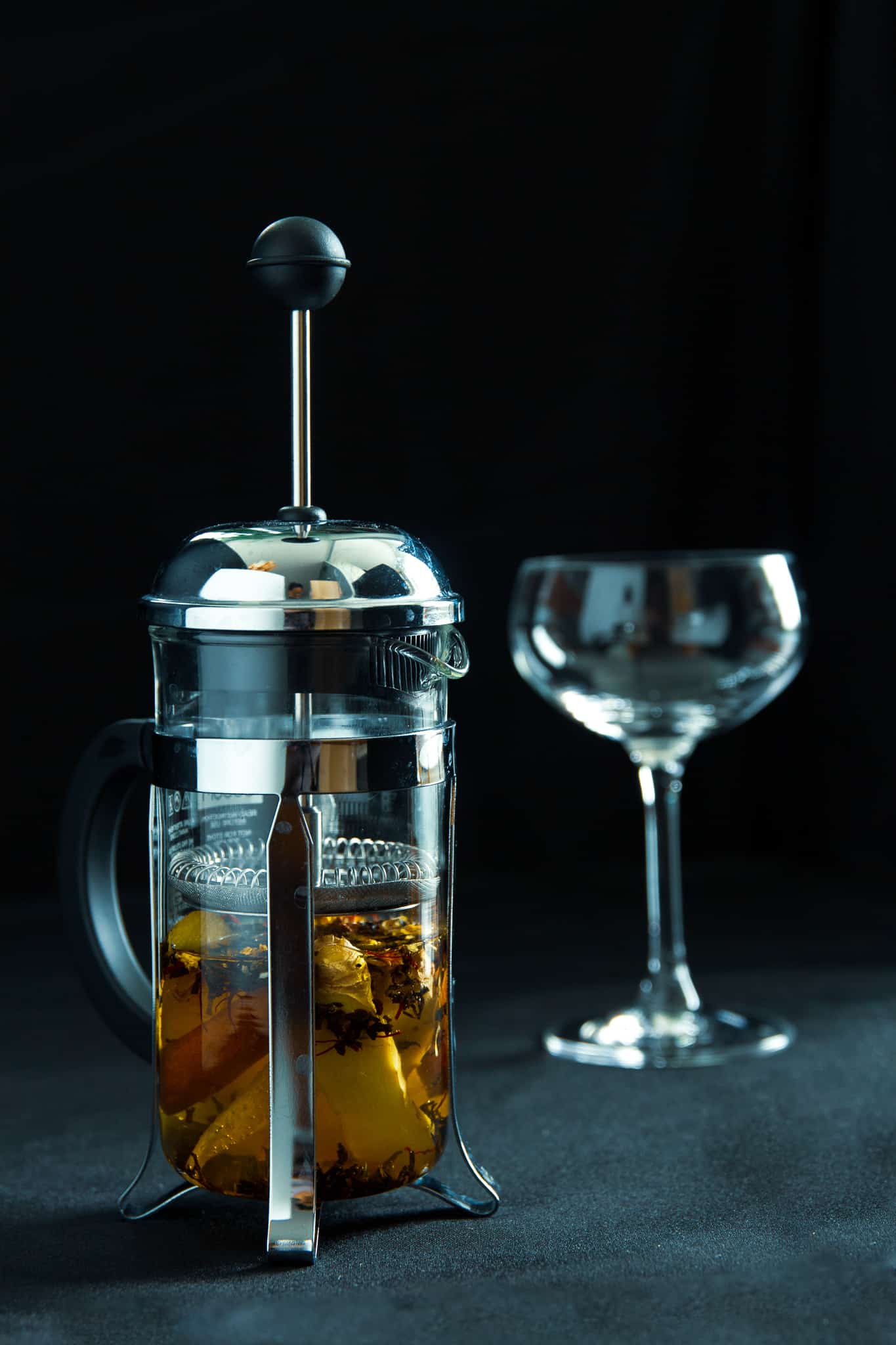 Now that I had those two flavours worked out, I could see the cocktail forming. Citrus had to be involved, so I used a Yuzu juice I had sitting in my pantry, and mixed with some of my FAVOURITE spices, including ginger and cinnamon. Then I had to choose the tea component. I went on a mission to St Lawrence Market to find a perfect companion, and I feel in love with this "Lady Londonderry Tea". This was purely based on my nose, and smelling through the entire section until I knew I nailed the right scent to pair with my Saffron. Going with a black tea, oolong or chai was just going to be too overwhelming. I needed something on the lighter style, but I didn't want to go green or white. There was a ton of citrus on the nose, with hints of strawberry and florals that made it the perfect blend.
With that, and time to let your cocktail chill, we have perfection, and I can sip on this all day long.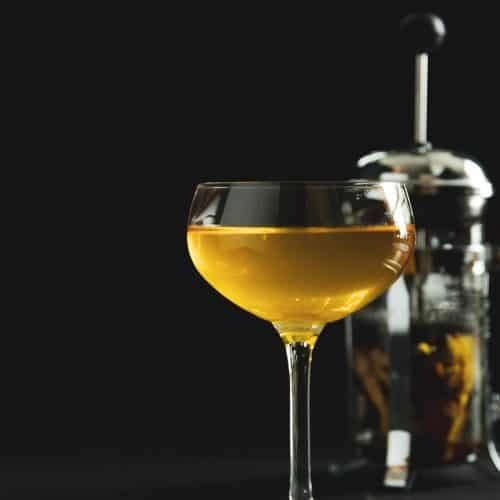 Rice and Saffron
Featuring a French Press cocktail that mixes Shochu, Lillet, Saffron, Lady Londonderry tea, ginger and lemon!
– Difficulty: Intermediate
Ingredients
Cocktail Base
4

oz

Shochu

1

oz

Yuzu Juice

1

oz

Lillet Blanc

2/3

oz

Simple Syrup

4

oz

Water
Dry Infusion Ingredients
1

tsp

Saffron

6

slices

Ginger

Thinly sliced for optimum surface exposure

4

Lemon Peels

1.5

tbsp

Lady Londonderry Tea

1

Cinnamon Stick

broken in half
Instructions
Cocktail Base
You want to start off my creating the cocktail base. In a mason jar, add all your cocktail base ingredients, give it a slight stir, cover and chill for approximately 1 hr in the fridge (or freezer for 10-15 minutes)
Dry Infusion – Cocktail
In your french press, add all your ingredients.

Pour the chilled cocktail base into the french press and leave it in the fridge for 3 minutes before serving.

Pour in chilled coupe glass.