Today's #LCFeature is going to highlight my love for Jack, Horses and my ladies of Whiskey. This cocktail is light, refreshing AND low in alcohol cocktail, making it the perfect start to any summer day.
It's pretty rare that I'm ever served a cocktail, especially one of my own. Let me explain. Last week, I got a chance to host a very special event at Copperwood Trail in Stouffville, Ontario, and we had a team of bartenders there to help welcome the women to a light Aperitivo Julep I created. Clearly, I had forgotten how delicious it was, because my face seemed way too surprised after my first sip.
You have to understand, I typically create these cocktails with a place, mood and setting in mind. You have to think of all these things, plus your guest demographic, the time of day, etc. But I never really get a chance to 'experience' what the guests are experiencing, and I had that a-ha moment last week. There's a reason why Aperitifs are the best way to start off a summer's day.
---
---
Now if you have no idea what I mean by Aperitivo, it translates to typically low in alcohol spirits that are sipped pre-function. Whether that is before dinner, or lunch, an aperitif is a great way to ease into a fun-filled night of libations (responsibly…). They're kind of like the "Amuse Bouche" of cocktails. In addition, if you ever have those guests that don't really like the taste of alcohol, apertifs are definitely the way to go. Examples include Vermouth, Lillet and Sherries that aren't too bitter and aggressive in palate. And if you've been following Liquid Culture for a while, you'll know my love for the Cocchi brand, which is what I've used as the base spirit.
So when it came to developing a welcome cocktail for the ladies, an Aperitivo Julep came to mind. If you're familiar, you know that the traditional Mint Julep is far from "light". It's simply a mix of Bourbon, sugar and mint, with a boat load of crushed ice, which is why this cocktail can creep up on you. So I decided to create a light version using my favourite Cocchi Americano and I FINALLY got a chance to mix with Jack Daniel's Honey!
You need to know that Jack Honey and I have a long, and somewhat destructive history together. But the wonderful, beautiful and talented National Brand Ambassador of Jack Daniels, Lucy Lamont, helped changed my mind one fateful night. I'm forever grateful to this woman because she lets me live my dream to teach, and I'm happy to share the wonderful world of Jack. That's right people. This isn't your average Joe spirit. There's quality, value and so much depth when it comes to this brand, making it a regular feature on my bar.
---
---
Back to the cocktail. The base of the cocktail is predominantly Cocchi Americano, with a touch of Jack Honey to harmonize all the flavours. Then we have the option of syrup. The day of the event, I ended up switching the flavour to my homemade ginger syrup, instead of Strawberry Rhubarb. That's the beauty of this cocktail, because you're not limited to just one flavour. Say you have left over peach syrup in the fridge, or whipped up a blackberry thyme together, they can easily be used to substitute the syrup! So with that aspect, I leave this one up to you. Personally, I had so much Strawberry and Rhubarb around that I threw a quick syrup together and it turned out amazing. But use your imagination here, it's encouraged.
Before I leave you with the recipe, I can't thank the Jack Daniels Team, the team behind Copperwood Trails and the lovely ladies we hosted. Last week was a dream, and I could only hope for more and more of these events <3
---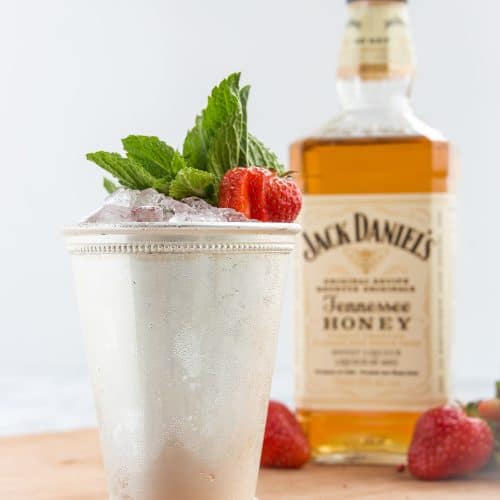 Little Honey Jack Junior
Serving up an Aperitivo Julep made with Cocchi Americano, Jack Daniel's Honey with fresh mint, lemon and a bucket of crushed ice!
– Difficulty: Intermediate
Ingredients
2

oz

Cocchi Americano

½

oz

Jack Honey

½

oz

Syrup

Up to your discretion!

¼

oz

Freshly Squeezed Lemon Juice

2

Handfuls of Mint

Approximately 6 sprigs of Mint
Instructions
In a Julep Tin, fill with 1 handful of mint (stems removed) lightly pressed.

Fill with Cocchi Americano, Jack Honey, Preferred Syrup flavour, Freshly squeezed lemon juice

Add Crushed Ice and give this a stir before garnishing with remaining mint sprigs
Recipe Notes
If it doesn't have a bouquet of Mint on top, and if you're not using crushed ice, you're doing a Julep wrong! Don't skimp out on these important details as they will change the cocktail for you. For suggestions on syrup flavours, I would try a Raspberry Syrup, Strawberry Blackpepper Reduction, Hibiscus Rose Syrup or Pistachio Lemon Syrup. The skies the limit here. At the event I mixed with a Ginger Syrup or Strawberry Rhubarb. See where your creative mind takes you and let me know what you whip up in the comments below!