I know I can make things complicated when I start introducing random spirits, liqueurs or syrups, but I gotta say, this is DEFINITELY one of the tastiest cocktails you can whip up at home, WITH NO PREP INVOLVED! All you need is a muddler, a shaker tin (or even a mason jar will do) and you are ready for one tasty imbibe. Plus, who wouldn't love a Moscow Mule with all these amazing summer flavours?!
I'm going to outline a few myths and suggestions when it comes to a Moscow Mule.
1) You DON'T need a Copper Mug
Think about it. The basic formula of a Moscow Mule is Vodka, Lime Juice and Ginger Beer, with a heavy portion of the cocktail carbonated. Because this isn't a spirit forward cocktail, such as a Mint Julep, the Copper Mug is kind of unnecessary. That saying…no one is telling you a copper mug is wrong, and they're pretty damn cute.
2) It's all about the GINGER BEER!
For those who know me well, I am very serious about my Ginger Beer. I even created my own ginger syrup that's heavily spiced with cardamom, thai peppers and cloves (sorry fam, not telling you this one). Real ginger will always have a ton of heat, so when I get a ginger beer that's overly sweet and/or you can barely taste the ginger, I throw it out. Some of my go-to brands for ginger beer is Grace Ginger Beer, Belvoir and The Great Jamaican Ginger Beer. Of course, if you can get a hand on my stuff that's even better, but that production line of ginger syrup is for the future.
You want to keep the ratio for Moscow Mules around 1 part vodka to 2.5 – 3 parts ginger beer. With this ratio, you want to make sure that the ginger beer packs a punch. So if you're ever unsure, make sure to always grab a bottle of these brands if you see it! You could also make a ginger syrup and simply top it up with club soda, which you will see a ton of bars doing this themselves.
3) A Whole Lot of Mules
There are a ton of classic mule recipes out there and I'm going to name a few and outline the difference of each!
Dark n' Stormy – The Vodka is substituted with Rum (my personal favourite)
Kentucky Mule – The Vodka is substituted with Bourbon (hence the name Kentucky Mule)
Mexican Mule – You guessed it…made with Tequila
Dead Man's Mule – This one was a new one for me, but it mixes with Absinthe, Cinnamon Schnapps, Orgeat, Lime and Ginger Beer
French Mule – If the french are involved, that means some Cognac will be in the mix. Plus a dash of angostura bitters is thrown in the mix
Southern Mule – Vodka is substituted with Southern Comfort! These are for my people looking for a sweet variant
Tuscan Mule – Uses Tuaca liqueur, lime and ginger beer (let's just say that's the first I've heard of Tuaca and I'm officially curious!)
4) Sugar or No Sugar?
There are so many recipes out there that reference sugar or no sugar in their recipes. For me, I would leave it out, especially for a Dark n' Stormy. But it really is up to your preference, I would just keep in mind that you can always ADD sugar to the drink, but taking it out makes things a bit more difficult.
---
Strawberry Pink Peppercorn
Now that you got a basic idea of a Moscow Mule, you've probably already figured out that there is a ton of ways to manipulate this classic! Whether it's introducing a new spirit, new fruits, herbs and spices, or even the introduction of bitters or syrups. The possibilities are limitless!
With that said, I've had strawberries on the brain. They are EVERYWHERE at the markets and I can't get enough of them. The timing couldn't be more perfect as I was inspired by blogger The Lemon Apron and her Strawberry and Pink Peppercorn cheesecake, which made me want to combine these two flavours.
What you need to know about Pink Peppercorn is that they can have the heat of black pepper without being as bitter. It has a slightly sweeter characteristic of the category, and I find that it's best in its raw form, because the peppers can get easily masked when cooked through. It's great for infusions, pickling and in this case, the perfect match for a Strawberry Ccoktail.
You could also EASILY switch out the Vodka used in this recipe for Gin, Blanco Tequila, or even a Pisco would be outstanding. Thirst yet? I know I am! Find the recipe for this Strawberry Mule down here!
---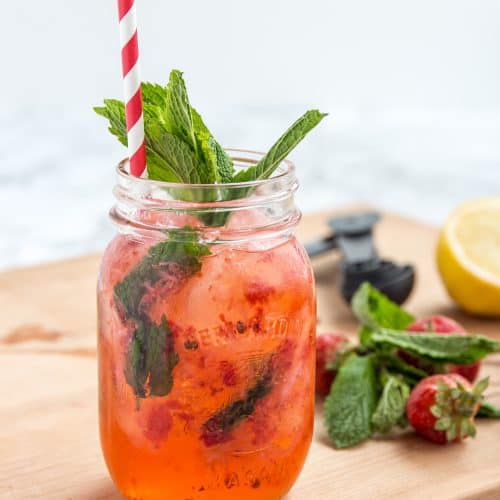 Strawberry Pink Peppercorn Moscow Mule
We're bringing a bit of Summer flavours to this delicious and spicy classic cocktail!
– Difficulty: Easy
Ingredients
1.5

oz

Vodka

Voga Vodka used here

1/3

oz

Freshly Squeezed Lemon Juice

3

oz

Ginger Beer

Grace Ginger Beer used here

3

Strawberries

Top removed and sliced in half

1

tsp

Pink Peppercorn

2

sprigs

Mint

1 for garnishing
Instructions
In a shaker, add your strawberries, pink peppercorn and mint and muddle to a pulp.

Add a few kold draft ice cubes (1-inch ice cubes) to the shaker, along with Vodka and lemon juice.

Give this a short shake and then pour all into your glassware (mason jar, collins glass or copper mug will do fine)

Fill glassware with ice and top with Ginger Beer. Give this a stir before imbibing.
Recipe Notes
I decided to switch the typical lime in a moscow mule to lemon to compliment the strawberry better.