Featuring one of my favourite Drinkstagram accounts on the gram for today's #LCFeature! She stirred up an amazing dirty martini infusing pickles, dill and chives for this lovely serve.
The concept of the #LCFeature is very simple. Tag a cocktail photo, recipe and/or bottle that you would like me to re-create or develop something new and I'll feature you on the Liquid Culture platforms! Tag Liquid Culture, or use the hashtag above, and it's as simple as that. At least that's what my girl Inka of @onthesauceagain thought!
One of her niches with the Instagram game is using stunning glassware, creating unique recipes and bringing women together for a night of classy cocktails. That's what it's all about right? There's few of us that establish a website and a brand, and I have to say, I really do love what Inka is doing, so make sure to check her out and her site here!
---
---
I do want to apologize that I didn't get this post up sooner on the website, but Barbados got the best of me, and vacation mode was not ready for me to open up my laptop. But I finally got around to typing up my creation here.
This is the thing about Ontario, we can be a bit limited to what comes in, in terms of unique, local spirit brands. So I couldn't get my hands on the original Vodka used in her recipe (Moskovskaya Vodka, a vodka distilled with pickle and dill), so I made my own infusion instead. You can find the recipe to my infusion here!
I kept the rest of the cocktail as close to her creation as possible, mixing with akvavit, and my favourite dry vermouth. We have access to Aalborg Akvavit here in Ontario, which is what I mixed with, but feel free to experiment with other Akvavit brands as well!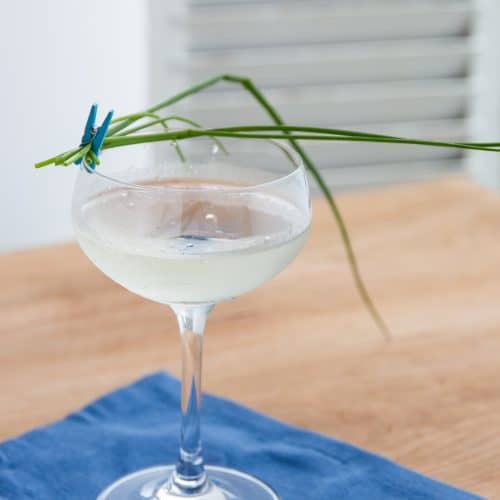 Dill Pickle Martini
A recipe inspired by Inka of @onthesauceagain and her outstanding Pickled Martini
– Difficulty: Intermediate
Ingredients
2

oz

Dill and Pickle infused Vodka

2/3

oz

Akvavit

½

oz

Dolin's Dry Vermouth

2

sprigs Chive
Instructions
In a mixing glass, fill with ice and your spirits. Stir well and pour into chilled coupe glass.

Garnish with chives
Recipe Notes
To find the recipe for the Dill Pickle Vodka, make sure to follow here!