The day has finally arrived and I made something extra special for Cinco de Mayo. As important as this day is for Mexico, I wanted to use an ingredient that is just as influential. And I thought of none other than maize, aka Corn!
I know corn may seem like an odd flavour to use in cocktails, but the combination of passion fruit and basil brought this together so well! There's a reason why I saved this for the big day and you will not be disappointed!
So I approached this cocktail in the form of a Julep. It may seem booze forward, but once diluted with the crushed ice, you have a wonderfully balanced cocktail. Tequilas can really shine with this beverage, so instead of a Blanco, I went with an aged tequila. Now if money isn't an issue, Anejos are the way to go. But I'm about that simple life and I have a few Reposados that do just the job. 
Corn and Basil are a classic flavour combination, so I quickly jumped on the opportunity to combine the two and….you know what, you just have to try it yourself to see!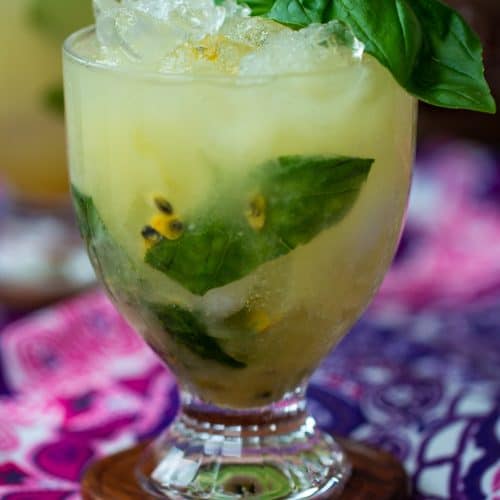 Cornita
A fresh cocktail inspired by a staple of Mexican cuisine; Corn. Combines Tequila Reposado, Basil and Passionfruit for a delightful treat!
Difficulty: Intermediate
Ingredients
2

oz

Tequila Reposado

or Anejo if you have the budget for it

1.25

oz

Corn Syrup

2

Passionfruits

1/3

oz

Lemon Juice

2

Basil Leaves + Sprig for Garnish
Instructions
In a small Julep Tin, rip Basil leaves in half and place in the tin with the insides of the passionfruit.

Add the Reposado, lemon juice and corn syrup inside the tin

Top with crushed ice and swizzle until the cocktail is well combined. Make sure put as much crushed ice as possible, creating a dome over top.
Recipe Notes
To find the recipe to the corn syrup, make sure to follow here!