Hello friends! We have another #NoDrinksWasted creation, and this time around we're tackling an ingredient I love but shamefully don't use as often as I should. Thankfully with the Fall Season here, pears will be everywhere on Liquid Culture, including this Pear Eau-de-vie Martini. This martini cocktail is made with Pear Eau-de-vie, Lillet Blanc and Shochu! It's a delicious pear-ing of flavours (pun completely intended). Curious how this martini is built? Head down below for details!
Jump to Recipe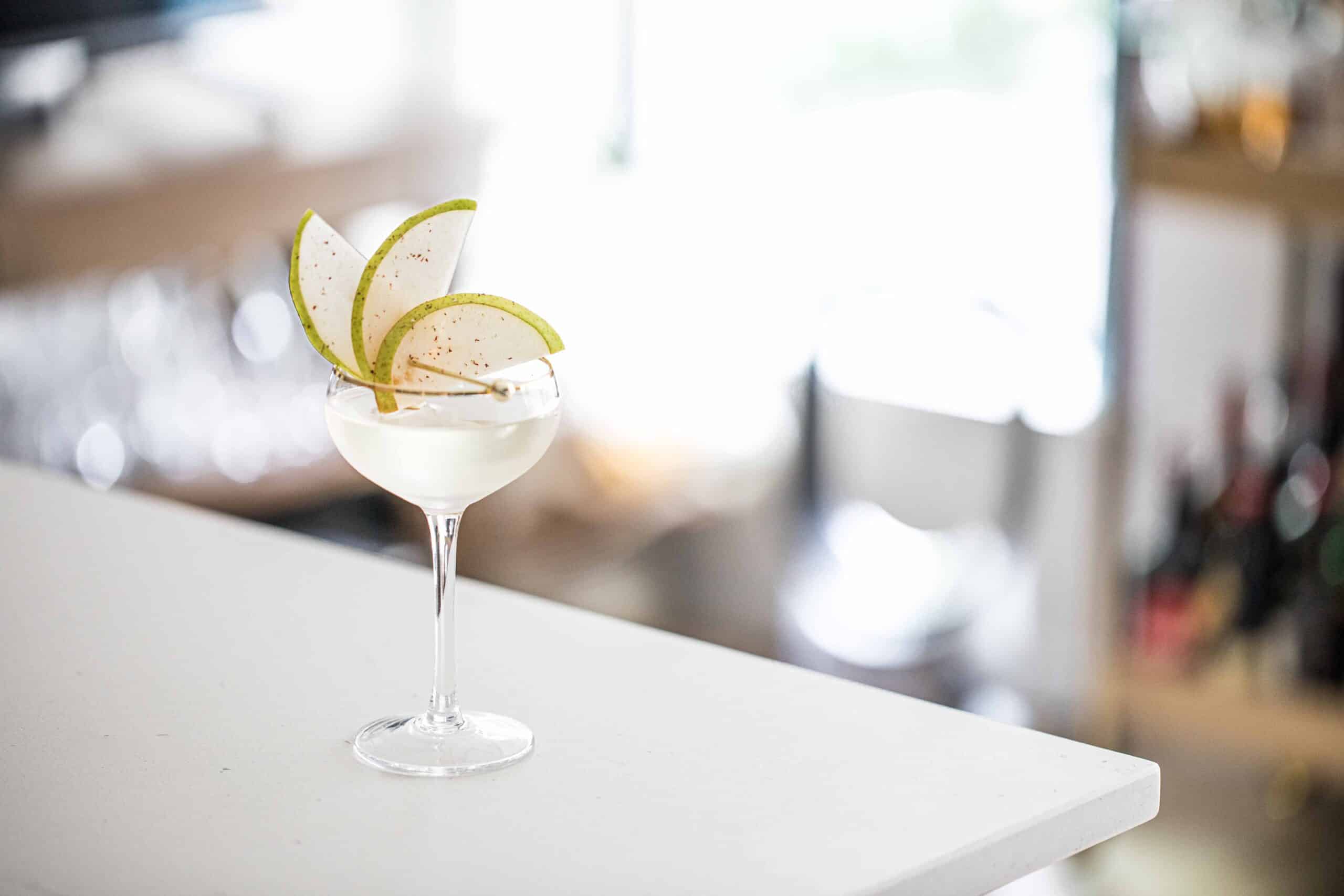 What's #NoDrinksWasted?
After a fun year of #DrinkYourGram on my social platforms, I wanted to create cocktails with you in mind. Many of you likely have random bottles or ingredients around the house that you don't want to go to waste, so why not use them in a cocktail?
With Fall officially here, it was hard to resist the request of creating something with Pear Eau-de-vie. It's also an ingredient I find I don't use as often as I should. Well, I absolutely loved this Pear Eau-de-vie martini concept, and hopefully you will too!
Building this Pear Eau-de-vie Martini
Pear Eau-de-vie is one of those ingredients that can really morph with a ton of wonderful spirits. This can include cachaca, Pisco, Vodka, Gin and even tequila. But one that sticks out to me is the influence of Sake and Shochu. It's already a palate that can allow the delicate nature of the pear flavour to shine brilliantly through. PLUS, it's rare I use Shochu in my cocktails lately so I thought this was the perfect time.
Once I knew the base, I knew I wanted to keep this martini clean and simple. And that's how the Pear Eau-de-vie Martini was born! A martini offers a ton of flexibility, and the structure is typically the same. You've got your Wine Aperitif or Vermouth, with the base spirit. That's it!
Now I use Lillet Blanc for this martini, but you can easily use a Dry Vermouth as well. Don't have Shochu in the house? Gravitate towards a sake, just pour a heavier amount of the sake in the ratio. So instead of 1 oz Shochu, I'd do 1.5 oz Sake and reduce the Lillet Blanc. The point is, you want to have this Pear Eau-de-vie Martini to be around the 3oz mark. Getting thirsty? So am I, so let's get stirring!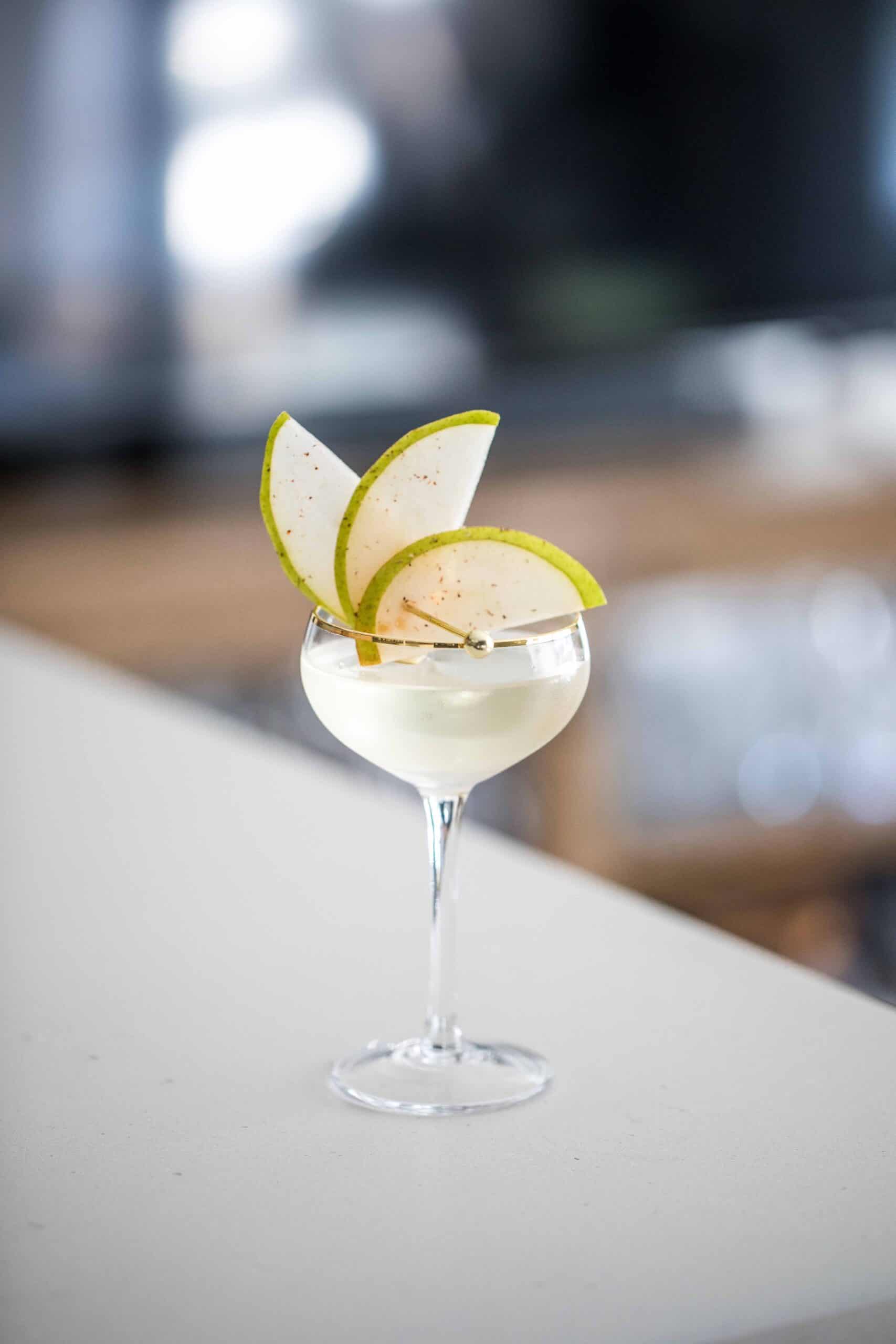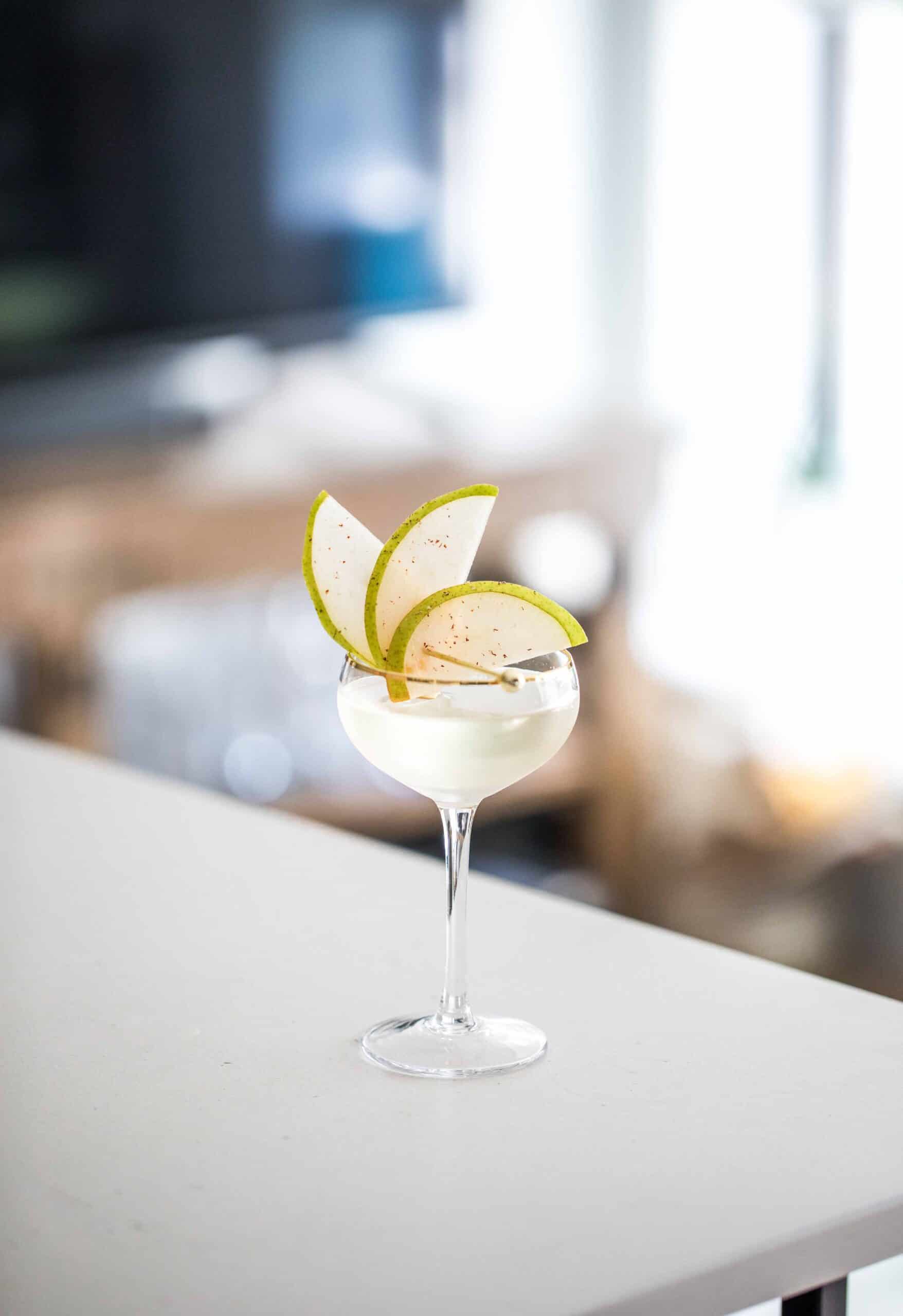 Distinctive Pear
Featuring a Pear Eau-De-Vie Martini that uses Shochu, Lillet Blanc and a dash of nutmeg.
– Difficulty: Intermediate
Ingredients
1

oz

Shochu (Barley Based)

3/4

oz

Pear Eau-de-vie

3/4

oz

Lillet Blanc

1

barspoon

Simple Syrup

(1:1)

Pear Slices for Garnish

Freshly grated Nutmeg
Instructions
In a mixing glass, add you shochu, lillet blanc, simple syrup and Pear Eau-de-vie with ice and give this a good stir.

Garnish with pear fan and nutmeg