I can't tell you how many terrible beer cocktails I've had in the past, and I find that it's an area in 'mixology' that's rarely utilized. Well, I have to say that it's something I'm extremely passionate about mixing with, and todays Halloween feature is a great example of how Dunkels, Coffee and Cognac can come together. I call this the Double Trouble because it's a booze forward cocktail that hides it extremely well. This Plum, Cognac and Coffee Brew keeps things festive for Halloween but can definitely be enjoyed all year round!
I usually like to describe my cocktails as a variation of some classic, but I can't do that here. This combination is unique to Liquid Culture, and it first came about when I created a Cranberry Bourbon Stout cocktail last Winter. I can tell you right now, this was done all by fluke. I trusted my palate and let it guide the drink that was created that fateful day. Since then, I've been combining aged spirits, with vermouth and a form of stout for some time now. It's incredible. Whether you enjoy it on its own, or as a dessert, creating dark ale cocktails has been a favourite of mine!
Obviously with Halloween here, I wanted to create a black/dark themed cocktail, and I immediately thought of my variations with stout. This time around I decided to opt out of the stout beer and use a Dunkel instead. When it comes to Dunkels, I always lean towards the trusted Erdinger Brand. This German variety is without a doubt my favourite Dunkel on the market, and I challenge breweries to bring me something better. Until then, I will continue to mix with Erdinger, and it definitely plays a defining and harmonious role in this beverage. Dunkels aren't as sweet as a stout, and it carries a bit more acidity than a typical stout. I needed the acidity here to balance, since I wasn't using a ton of citrus in this cocktail. Plus it keeps the cocktail more fresh and vibrant, than being paired with a heavier brew.
---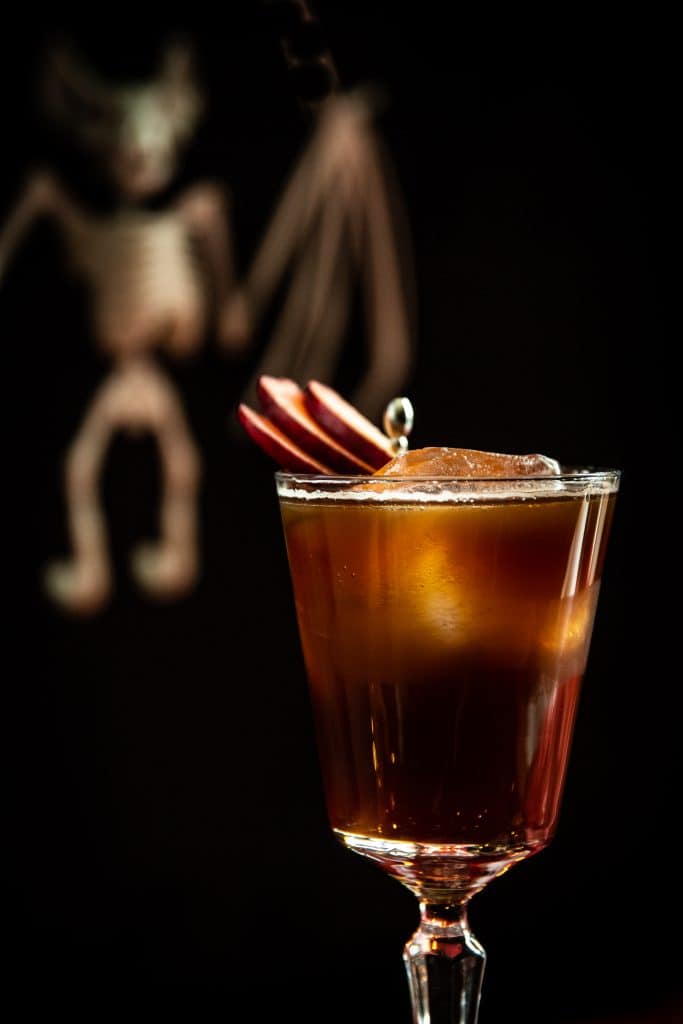 ---
Now let's talk about the other components of this cocktail, which includes the H by Hine Cognac, Antica Formula Vermouth and Brewer's Cold Hard Coffee. I've mentioned it before, and I'll bring it up again, but when it comes to mixing cocktail, I'll always use the H by Hine Cognac over anything else. It's an outstanding product, at an incredible value. To be honest, every single ingredient in this cocktail I proudly stand by. Antica Formula has been a love affair of mine for some time now, and the Brewer's Cold Hard Coffee…well, you don't know what you're missing.
I've tasted a lot of cold hard coffee beverages recently, and I can honestly say, 9 out of 10 times I hate them. I don't know what it is that they're missing, or if it's too watered down, but nothing in the market seemed to satisfy me. I worked with the All or Nothing brand a while back on my TV segment in August, and they had gifted a hard coffee brew for me to try. I'll be honest, I had left it in the fridge for a while before finally opening up a can, and my hopes and dreams were reached. THIS. PRODUCT. IS. UNBELIEVABLE. It's a boozy cold coffee that finally hits the mark! It's not a very popular beverage in Canada at the moment, but I know it will grow, especially when you have this delicious option in the market. This product IS available at an LCBO, plus if you're ever in Oakville, stop by the All or Nothing Brewery yourself to check it out. YOU WILL NOT REGRET THIS. The only thing you mayyyy regret, is the hangover you feel from a few of these cocktails. Happy and Safe imbibing!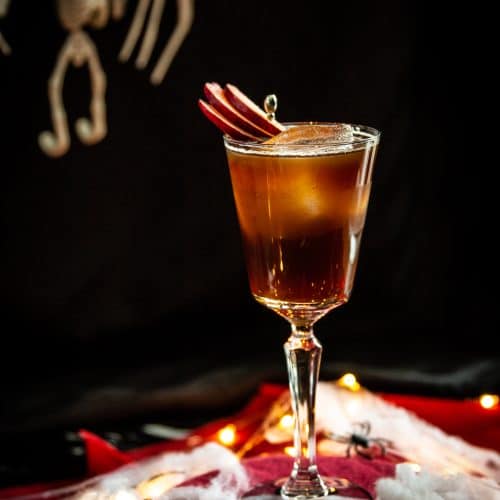 Double Trouble - A Plum, Cognac and Coffee Brew
We have a unique blend of ingredients for the most delicious black cocktail you'll ever taste. Combining H by Hine Cognac, with Antica Formula Vermouth, Brewer's Cold Hard Coffee and Erdinger's Dunkel.
Difficulty: Intermediate
Ingredients
1

oz

Cognac

H by Hine Cognac Used Here

2/3

oz

Antica Formula Vermouth

1.5

oz

Brewer's Cold Hard Coffee

1.5

oz

Erdinger Dunkel

1

Brown Sugar Cube

1/2

Red Plum
Instructions
In a shaker, muddle fresh plum and sugar cube until well dissolved.

Add the cognac, vermouth, and hard coffee with ice and give a short shake.

Strain into Nick and Nora glass and top with Erdinger Dunkel. Garnish with Plum slices.