That's right. For all my Pisco fans out there, start drooling, because this riff on a classic Pisco Sour is everything you want and more. I'll forever be grateful for this spirit, because I had one of my top distillery experiences in Peru to date! I'm sure my Peruvians would be very proud of this riff, because this infusion of pumpkin is the perfect holiday compliment. You'll love this Pumpkin Pisco Sour just like you get the basic feels for Pumpkin Spiced Lattes. 
For those of you that have never tried Pisco, this is a spirit that's unique to Peru and Chile, although the origins of Pisco is highly debated between the two countries. The easiest way for me to describe Pisco, is that it's the vodka of the south. Instead of grain being the base of the spirit, it's made from grapes, which technically makes this a BRANDY. Just a reminder that a Brandy is a distilled spirit from a fermented fruit, for more info check out my Terms of Cocktail-ment article. The classic Pisco Sour is enjoyed throughout all parts of these two countries, with the Pisco Sour being the national drink of Peru. If you've never had a chance to try this classic cocktail, then make sure to do so on your next trip to the bar!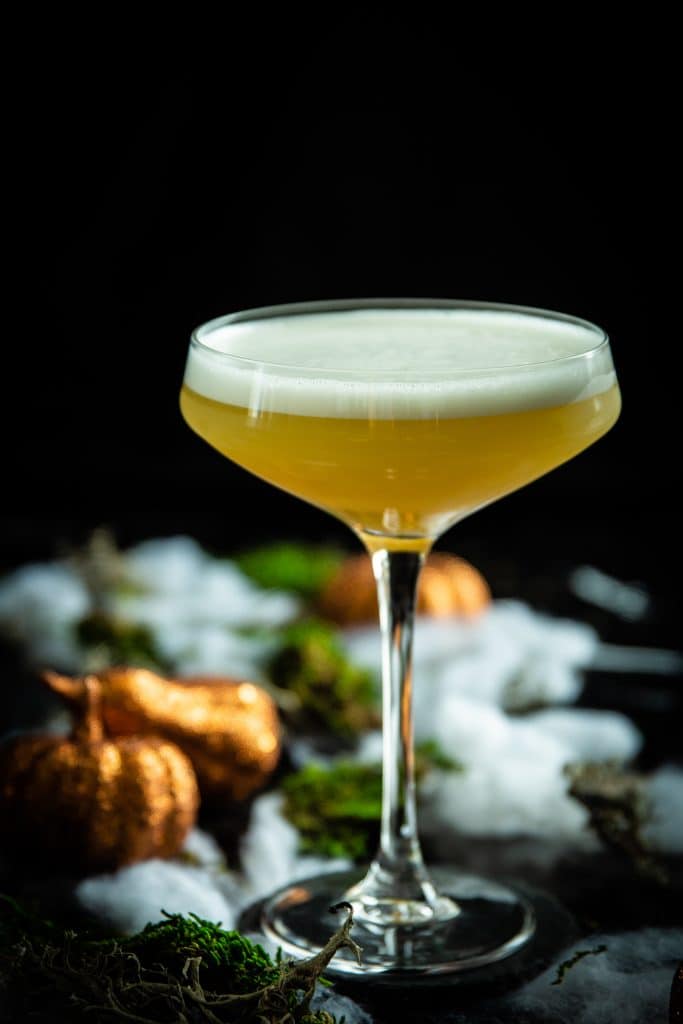 Since I'm very fond of the Pisco Sour, I wanted to incorporate it into the Halloween Series featured this week, and today I'm using a juice that I mentioned earlier last week! This Pisco Sour uses some of the Pumpkin and Mango Juice I created last week as a delicious imbibe on its own, but today we get to see it live and in action for this amazing cocktail! Trust me, just make the juice on it's own and you'll understand why this would work perfectly in this cocktail. You can almost say this is a healthy imbibe for the start of the week…almost.
Pumpkin and Mango Pisco Sour
A delicious Halloween riff on the Classic Peruvian Pisco Sour infusing pumpkin and mangos!
Difficulty: Intermediate
Ingredients
1.5

oz

Pisco

Pisco Porton Recommended

1

oz

Pumpkin and Mango Juice

3/4

oz

Simple Syrup

1/4

oz

Lemon Juice

freshly squeezed

1

Egg White

3

dashes

Angostura Bitters
Instructions
In a shaker, combine all ingredients except bitters and DRY shake the cocktail (without ice) for at least 15 seconds.

Add ice to the shaker and shake for an additional 30 seconds (until shaker is cold to the touch) and strain into your favourite coupe.

Add drops of Angostura bitters on top of the foam.
Recipe Notes
Just a reminder that all simple syrup recipes use a ratio of 1:1 (1 part water to 1 part sugar)
To find the recipe for the Pumpkin and Mango juice, follow the link attached!