You read that title correctly, I'm talking about Cotton Candy flavoured Grapes. The second I tasted these grapes, I KNEW I had to create a cocktail with it, but I had no idea when or how. I didn't know it was a thing until a recent trip to the supermarket, but I'm happy I got a taste because it truly blew my mind. With Halloween around the corner, the idea finally came together to create a Vodka-based martini with Cotton Candy Grapes, and I'm here to show you how.
This cocktail is actually very simple on its own, and I created it in a way so that you'll have the flexibility of modifying this cocktail yourself. I mention in my recipe notes that if you happen to have the Orange and Cinnamon, Clove infused Dry Vermouth, that would work WONDERS here. Also the addition of spice, perhaps infusing the vodka with some thai peppers, or shredding some ginger in the shaker can add that spice element if you'd like to adjust. That's right, I'm not going to be mad at all if you deviate from this recipe, it's encouraged so that you can create a cocktail that YOU love.
---
---
Now something I completely forgot to do and I'm so upset about it, ok not THAT upset, but I forgot to add a rim of Pop Rocks to the glass! This cocktail is all about the carnival and what better way to showcase that then with some additional candy in the mix. There really is not much else to say but get your butt to your bar and start shaking!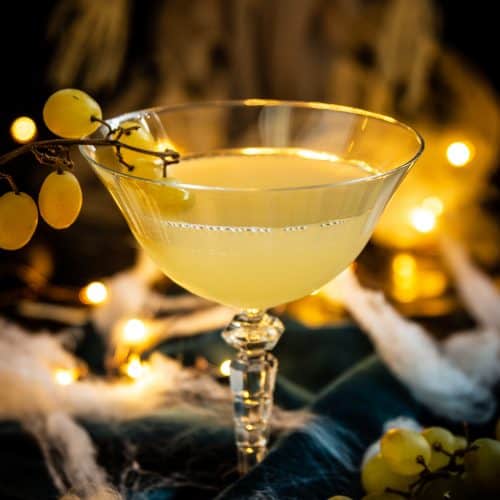 Sweet and Spicy Carnival - Cotton Candy Grape Vodka Martini
A deliciously deceptive beverage that uses Cotton Candy Grapes, Vodka, Thai pepper Syrup and vermouth. Can you handle the heat?
Difficulty: Easy
Ingredients
1.5

oz

Vodka

1/2

oz

Dry Vermouth

1

oz

White Cranberry

1/3

oz

Freshly Squeezed Lemon

1/3

oz

Thai Pepper Simple Syrup

6

Cotton Candy Grapes

plus extra for garnish (or eating)
Instructions
In a shaker, muddle the cotton candy grapes (destemmed) and add the rest of the ingredients.

Fill the shaker with ice and shake well before double straining in coupe glass.
Recipe Notes
To find the Thai-infused Simple Syrup, click on the link attached. Of course, if you don't like spice you can easily omit this from the recipe and use regular simple syrup (1:1 ratio of water and granulated sugar).
In addition, if you have any of the Orange and Cinnamon-infused Dry Vermouth left over, I highly recommend picking up this bottle and using it in this cocktail!