I have to admit, this punch took a bit of trial and error to come together. It took about 4 batches until I was happy with the ratio and with what I've created for you today. Point is, I bet a bunch of witches didn't get their poison right the first time, but when it's delicious, it's a symphony of crackling laughs and joy (okay maybe not crackling laughs). This punch is meant to be simple so that you can ENJOY the Halloween party you've been prepping for all day. I love punches just for this reason, as I'm sure you will love how this Strawberry, Cherry and Pimm's Punch tastes.
As I stated before, nobody wants to actually be shaking behind a bar the entire night, unless your Tom Cruise, or getting paid to be there. This is why I love my punch cocktails because you can pretty much set it and forget it! In terms of flavours, there's really nothing spooky about them. The only thing that may spook you and your guests, is that this punch is boozy and hides it well. I'm somewhat notorious for this factor, especially for my Sangrias at parties, but I promise that it's tamed, and you and your guests will love it.
Now this punch uses a product that I've been meaning to utilize for some time now. If you are from Ontario, and happen to visit Niagara on the occasion, then you MUST visit Dillon's Distillery. This unique distillery is one of a kind in Beamsville, and they are always coming up with new and exciting products to their lineup. They are most recognized for their gin, but they also carry a line up of rye's, absinthe, liqueurs and the occasional seasonal items. You may even remember that delicious PEACH SCHNAPPS I mentioned a while back. Anyway, the product I'm using today is their Cherry Gin Liqueur. I would read that word liqueur very loosely, because it's only slightly sweetened and a perfect companion for a Gin and Tonic.
---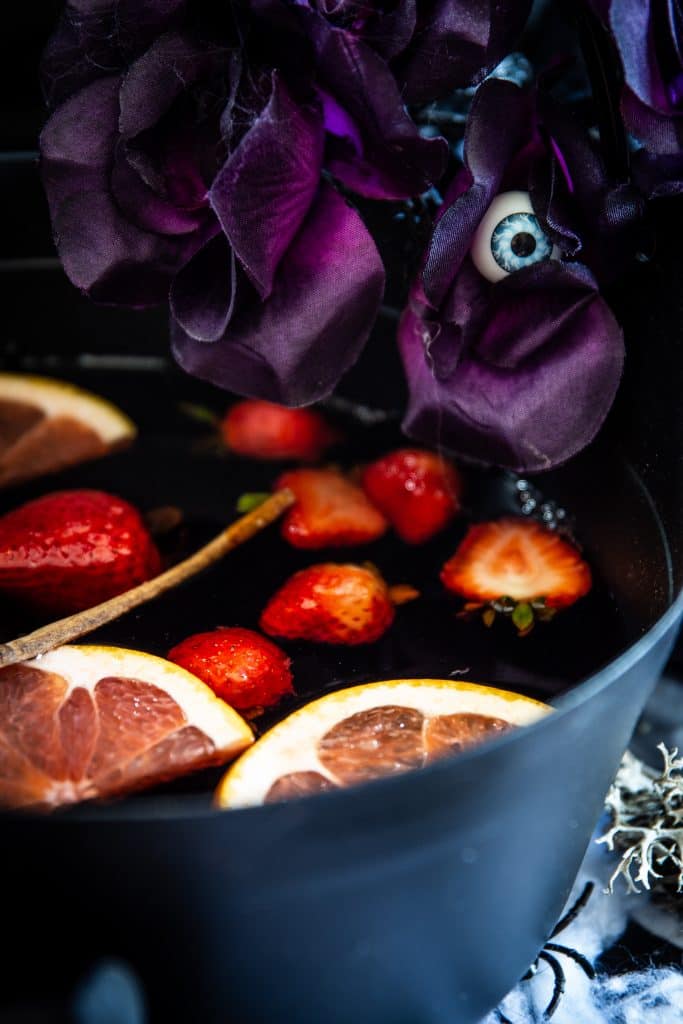 ---
What I've done with this cocktail is pair it with something that I knew would naturally compliment Gin, and that's the infamous Pimm's. Strawberry and Pimms go together like Peanut Butter and Jam, it just works and that's how the rest of the punch fell into place. Fresh grapefruit and strawberries are used as the citrus component, while I use cinnamon sticks for the spice element. With all components of a technical punch in place, you have this delicious imbibe here.
Something I completely forgot to do with this cocktail is…create funky ice blocks. Do it. Your party will LOVE IT. Place some strawberries in the large ice cubes, or a lychee eyeball, anything that will start to melt and creep out your guests this Halloween. They'll love it. You'll love it, and you'll be the talk of the town because people are going to call you the mixologist in the group. Happy Halloween Folks!
---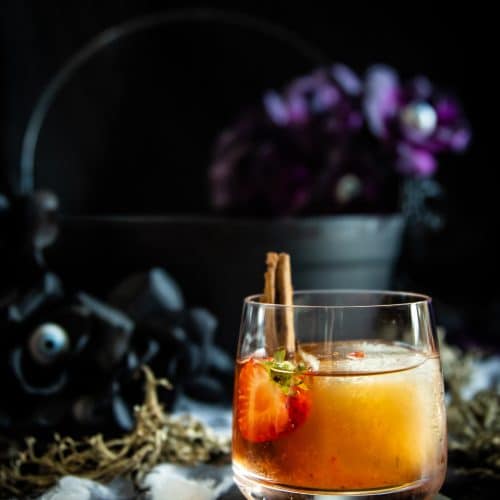 A Halloween Themed Cocktail Punch that comprises of Dillon's Cherry Gin, Pimms with fresh citrus and spices. Easy and approachable for all guests to enjoy!
Difficulty: Easy
Ingredients
8

oz

Dillon's Cherry Gin

8

oz

Pimm's

4

oz

Sweet Vermouth

5

oz

Grapefruit Juice

freshly squeezed preferred

16

Strawberries

plus extra for garnish

16

dashes

Angostura Bitters

6

Granulated Sugar Cubes

8

oz

Club Soda

2

Cinnamon Sticks

plus extra for garnish
Instructions
In a pitcher, combine 4 oz soda with sugar cubes and bitters. Thoroughly dissolve before adding the rest of the ingredients (except cinnamon sticks)

Fill pitcher half way with ice and stir until well chilled.

Strain into empty punch bowl. Add cinnamon sticks to the punch as well as extra strawberry slices and grapefruit slices. Note, too much of grapefruit, in particular the rinds can completely alter the cocktail because of the bitter rind. Moral of the story, don't add too much.

For individual pours, have glassware with single large ice cubes ready and pour over top.
Recipe Notes
Note, if you end up using an Ice Block to keep in the punch, reduce your stir time and use less ice during prep. Infused ice blocks will really make a statement at the party!
Also, for added spice, switch out the club soda with a spicy ginger beer! Be mindful of the sugar levels, reduce the amount of sugar cubes used in case the ginger beer has a bit of sweetness to it.