If there's one thing that's consistent with my night out, is that I'll be starting off with a Negroni or a delicious Manhattan. With this Halloween Weekend looming, I'm using this opportunity to sit down, have a drink, so that I can sit through a scary movie (I don't do well with scary movies, if you haven't guessed). THANKFULLY, this rum-based manhattan is here to save my life, and it's mixing with some of my favourite products PERIOD on my bar, starting with this delicious Rum-based liqueur coming out of Quebec called Barista. 
Now let's talk about the star of this feature, which is the Barista Coffee Liqueur.
THIS. IS. NOT. YOUR. NORMAL. KAHLUA.
That's right folks, I had to put it in bold, because that's what happens when you fall in love. You want the whole world to know about your new found partner, one that will be by your side (a.k.a BAR) at a moments notice (a.k.a SHAKE). Now I'm a sucker for Canadian products, and I love showing this community what this country has to offer, especially something as delicious as this coming out of Quebec Canada. They are not here to provide you with a cloying, or artificially tasting liqueur, instead they are using the natural sugars of rums, combined with Kona Coffee to come up with this delicious imbibe. In terms of tasting notes, the espresso is elegant and silky, while I get a ton of toffee, chocolate and maple notes to compliment. Drooling yet? I thought so.
---
---
Since I wanted the Barista flavour to be the star of the cocktail, I knew I had to pair with items that won't overwhelm its palate. For this Halloween special, I decided to keep things simple, and make it easy to re-create this cocktail. I know what my community must be thinking, that for sure I have a hidden syrup somewhere, or a fresh juice that needs to be created, but I swear to you, it's as easy as buying the ingredients and stirring it together.
If you're a fan of Manhattans, or coffee, or spirit-forward cocktails, or Liquid Culture, than you can definitely get on this boat here. It's a Rum-based Manhattan-ish cocktail. The reason I say "ish" is due to the fact that there is no vermouth. Instead that's been replaced with the Bigallet's China China Liqueur. The product itself is far from a liqueur, but more of a cross between a Sweet Vermouth and Fernet Branca. It has an abundances of bitters and herbs to remind you of Fernet, while carrying a touch of sweetness, plus orange peel that feels like a sweet vermouth. With the bitters and orange peels, and being a French Liqueur (that's right, it is not based in China, so please ignore the name), I knew it would pair perfectly with Barista's product.
---
---
That's when the rest of the cocktail fell into place. I picked up some El Dorado 3 year Old Rum, I added a dash of Leyenda Mezcal for some smoke, with Angostura Bitters and an Orange Peel to garnish. Because the Barista Liqueur and China China product is already heavily spiced, I wanted to go with a clear-styled rum. You don't have to stick to El Dorado, I'm also a big fan of Havana Club's 3 year Rum, or a Rhum Agricole would work WONDERS here, especially mixed with Mezcal. The skies the limit, but make sure you have the Barista Coffee Liqueur close at hand. Did I also mention it's very easy to throw together at a moments notice, even say for a halloween party this weekend? Happy Halloween my home bartenders and enjoy of few of these for me!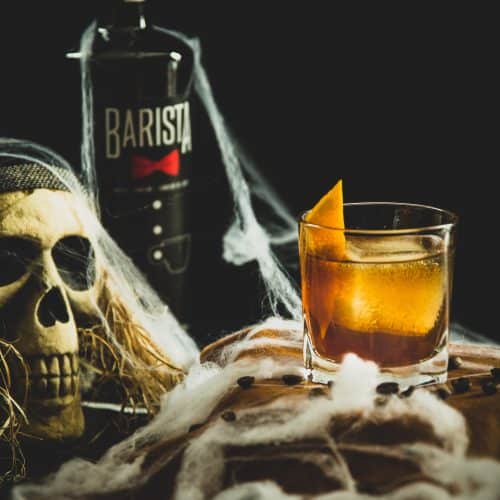 Smoked Rumhattan
A delicious rum-based Manhattan that features Barista's Coffee Rum Liqueur. Perfect for your Halloween get together.
Difficulty: Easy
Ingredients
1

oz

El Dorado 3 yr Rum

1

oz

Barista Coffee Liqueur

1/2

oz

China China Liqueur

1/4

oz

Mezcal

Leyenda used here

2

dashes

Angostura Bitters

1

Orange Zest
Instructions
In a mixing jar, combine all ingredients (except orange zest) with ice and stir until well chilled.

Place into a rocks glass with 1 large ice cube. Garnish with orange zest.
Recipe Notes
Want to learn more about Barista, follow the link attached!