It has been a while since I dropped a non-alcoholic beverage, but the reality is, it's pretty much all I drink during the week and I thought I'd feature one of my favourite new creations. This health-conscious beverage uses fresh, raw pumpkins, real mangos, orange and coconut for a tropical mocktail imbibe.
I can't believe that we are nearing the end of October and I haven't dropped a pumpkin recipe yet. I dabbled with a few ideas, including a delicious Pumpkin Spice Latte, but that was it. Since I love to feature healthy or easy recipes during the beginning of the week, there's no better time to drop some delicious pumpkin imbibes than the present.
Now in truth, I had some really ripe mangos that I didn't want to go to waste, so I thought, why not make a tropical infused Fall beverage. This led me to my decision to use Coconut Water for this juice. Mind you, you don't HAVE to use coconut water, especially if you're not a big fan, but I love anything and everything coconuts, and pumpkin and coconuts pair surprisingly well. Mangos also played a vital role in bringing this juice together, but I didn't use a ton of it since I wanted to make sure that the Pumpkin flavour was still very present.
---
---
Whenever Pumpkin is involved, if I'm not using a touch of cinnamon, cloves and/or allspice, then I always feel as if something is missing. I added a pinch of allspice to the mix, just to subtly compliment the pumpkin flavour and it did the trick. If you really want to go extra, use a cinnamon syrup and omit the honey, that's of course if you have the time or have something similar lying around the house.
Another idea I had been debating with this juice, was whether or not I should roast the pumpkin or use it raw. To be honest, I didn't want to wait. In addition, I'm so used to recipes that roast their pumpkins prior, that I had no confidence in how it would taste in raw form. So with my impatience and curiosity eating at me, I just decided to risk it and blend. I sound like a true dare devil right here (I'm joking, I'm giving myself a hard eye roll), but I'm truly happy I did it because all the flavours came out just as I wanted it too. You'll DEFINITELY be seeing this juice during the Halloween Series later this week, but until then, you can enjoy this delicious Fall cleanse right at home!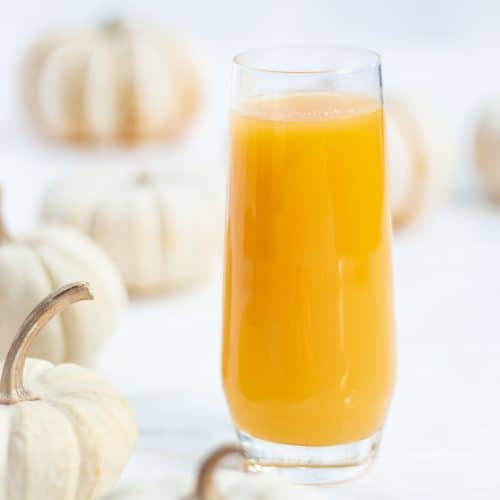 Tropical Pumpkin and Mango Juice
A delicious mocktail infusing some fall flavours, including pumpkin, orange, coconut and mango
Difficulty: Easy
Ingredients
1

Small/Medium Sized Pumpkin

Typically used for Pumpkin Pie

1

Ripe Mango

Peeled and centre removed

2

Mutsu Apple

Stem and core removed

1

Orange

Skin Removed

1

cup

Coconut Water

1/2

Lemon

Freshly Squeezed

1

tbsp

Honey

1

pinch

Allspice
Instructions
Peel pumpkin skin and removed insides. Roughly chop into 2-3 inch cubes.

In a blender, combine the rest of the ingredients and puree for 1 minute before straining through a fine mesh strainer.

Can hold in fridge for a maximum of 4 days.
Recipe Notes
If you're having trouble finding Mutsu Apples, then it can easily be replaced with Honeycrisp or the Royal Gala Variety. See why I love Mutsu Apples in this read here.