It's the final day of the Apple Series and I'm surprising you with a Spiced Apple and Pear Rum Cake! It's moist, it's boozy and filled with all the fall spices that we know and love. For our last apple featured this week, the iconic Royal Gala Apple is brilliantly showcased in this upgraded recipe.
Lets start with the reason I chose the Royal Gala. For one, I know it's an apple that people know and understands its flavours, plus easily accessible throughout all seasons (although best around October, at least in Ontario). It leans more on the sweeter end with a ton of juice coming out of this fruit. It's one of the reasons why it's a popular apple used for pressing apple cider, and with that in mind, I knew it would be the perfect fit for a cake. I also didn't want an apple that will overwhelm and hide the flavours of the bartlett pear, because I needed the two working side by side here, so I kept both fruits fairly 'delicate' and 'un-obstructive' in nature.

I am still VERY novice when it comes to booze and dessert. I'm not a baker by trade, nor do I have a ton of patience, so developing recipes for boozy desserts comes with a bit of trial and error. There also doesn't seem to be a ton of knowledge out there when it comes to mixing cake and alcohol, so I feel I've had little to reference to. But that's what this journey is all about, stepping out of your comfort zone. IF YOU DO KNOW or HAVE a book in mind that might help me with all this, by all means comment below!
Soon, I will branch out from the rum when it comes to desserts, but for now, it just seemed to work perfectly together. For today's mix, I used a Barbadian rum called R. L. Seale's, that has the most unique, funky bottle. I took out all the nutmeg and cloves that would typically be put into this cake because I knew this rum would bring out those flavours itself. I couldn't be more happy with how this cake turned out! The apple really shined, you have this tart and subtle cream cheese glaze over top, and the rum kept this cake extremely moist. This is officially a cake I'll be making time and time again, and I think the perfect way to end the Apple Series Week! Bon Appetit!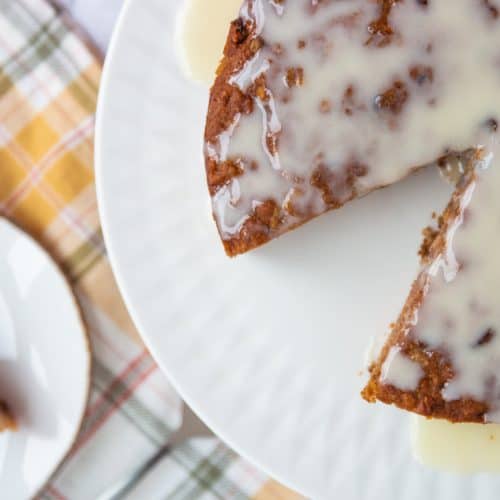 Spiced Apple and Pear Rum Cake
A delicious boozy Fall cake that will soon need to be added in the family recipe book!
Difficulty: Intermediate
Ingredients
2

cups

shredded Royal Gala Apples

2

cups

shredded Bartlett Pears

1

cup

Granulated Sugar

1/3

cup

Brown Sugar

1/2

cup

Canola oil

1

cup

Raisins

2/3

cup

Chopped Pecans

2

Eggs

large

1/2

tsp

Vanilla Extract

1/3

cup

R. L. Seale's Rum

3

cups

All-purpose Flour

1.5

tsp

Cinnamon

2

tsp

Baking Soda

1/4

tsp

Salt
Cream Cheese Rum Glaze
1

tsp

R.L. Seales Rum

2

tbsp

Softened Cream Cheese

1.5

cups

Confectioner's Sugar

1/2

Orange Zest

1

tbsp

Milk

1

tbsp

Softened Salt Butter
Instructions
Preheat oven to 325 degrees and grease a 13 inch round or bundt container.

In a large bowl, combine first 10 ingredients. In a separate bowl, combine the rest of the dry ingredients, ensure to sift the flour.

Combine the fruit/wet mixture with dry ingredients, making sure not to over mix.

Bake in the oven for 1 hour or until toothpick comes out clean when inserted in the middle of the cake. Cool on wire rack.
Cream Cheese Rum Glaze
Beat cream cheese, sugar and melted butter until smooth

Add the rest of the ingredients and beat until desired consistency. Add more cream cheese and sugar for thicker consistency