Today marks the 4th day of the Apple Series and it's going to highlight an apple that has replaced my original OG love for the Honeycrisp Apple. Trust me, I didn't think this could happen either but it did, with a unique variety called the Mutsu. I'll be highlighting this apple and its characteristics with a spirit forward cocktail that combines H by Hine Rare Cognac, Amaro Montenegro, Bar Keep's Apple bitters, fresh Ginger and a Fino Sherry infused with Mutsu Apple. 
Lets first talk about the apple that I've chosen for this creation. As I mentioned earlier, this turned out to be my favourite apple amongst the lineup for this week. As much as I LOVE a Honeycrisp apple, this Mutsu variety had a touch less of acidity which made it a pure joy to consume on its own. Originally created in the Mutsu region in Japan, with the intent to cross breed a Golden Delicious with an Indo Apple, it's one of the most perfectly balanced apple I have found to date. Don't believe me? Well take a look at the chart and see where it rates!

Because of its ideal balance, I decided to infuse a Fino Sherry with the Mutsu apple. I wanted to infuse this apple with something that would be delicate enough to let the fruit shine through, but still hold it's own unique style and presence. That's where the Dry Fino Sherry came in. I don't typically bring out the Sherry because of its short-shelf life, but I have to admit, it brings such an elegance to a cocktail that you don't find in a lot of spirits.
---
---
Then we have the Amaro Montenegro. Most Italian Apertifs or Digestifs take a bit of time for me to adjust too. But as my cocktail knowledge expands, so does my intrigue for new and exciting flavour combinations (we're talking about my little cocktail bubble, that's right, I don't know everything when it comes to cocktails, FAR from it!). Since I'm never afraid to try new things or flavours I discarded in the past, I finally had my hands on some Montenegro to experiment with. It wasn't as bad as I had anticipated and I'm pretty certain I'll be dropping a lot more recipes with Montenegro as I get more comfortable with the product. But YES, I am very happy how it came together and what it brought to this creation!
---
---
Now, we can't forget the reason for the Cognac. Both the Sherry and the Amaro can be a bit bitter on the palate. Since I knew I wanted a booze forward cocktail, I thought the rich and sweet textures of a cognac would balance out the cocktail. You have a ton of options here. Technically a Bourbon would work wonders, or you can attempt a spice forward Rye, but in the end I went with this Cognac because it has a delicate floral palate that I knew would compliment the sherry, but still offer that rich velvet texture we love with a Cognac. Reminder, H by Hine Cognac is the only way to go here!
When it came to deciding an apple bitter, Bar Keep is the only brand I trust. I've been using this product for years and there's truly nothing like this Organic Apple Bitter in the market (or none that I've tasted yet). It's my go-to and that's all I have to say about the matter. Since I had wanted to combine Ginger and Apple together for this series, this is lightly introduced through a garnish. Let it just sit there and your cocktail will get that gentle heat. I love it, and ginger is good for you, so what do you have to lose? HIGHLY recommend picking up a Jamaican ginger or something from Peru because those are the REAL deal when it comes to ginger.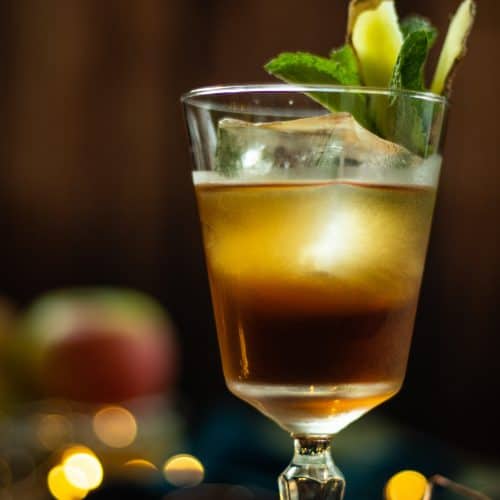 Amaro Ginger Mutsu
A spirit forward cocktail containing H by Hine Cognac, Amaro Montenegro, Mutsu Apple Infused Sherry with fresh ginger and mint!
Difficulty: Intermediate
Ingredients
1.5

oz

Fino Sherry Infused Mutsu Apple

1/3

oz

Amaro Montenegro

2/3

oz

H by Hine Rare Cognac

2

dashes

Bar Keep's Organic Apple Bitters

2

thin

slices of Fresh Ginger

1

sprig

Mint
Instructions
In a mixing jar, fill with ice and stir infused sherry, amaro, cognac and bitters. Do this until well chilled.

Strain into Nick and Nora glass (large ice cube optional) with fresh ginger and mint garnish
Recipe Notes
For details on the Mutsu infused Sherry, follow the recipe here!