It's finally Halloween and it lands on my favourite day of the week! Naturally you know that this beauty is going to have the hump day peach vibes, with a bit of a spooktacular flare. But do you want to know what makes this cocktail great? It's simple and easy to create this classic riff, and if you haven't already tried a caipirinha, well now is definitely the time to get festive with the Blackberry and Peach Caipirinha!

First off, for those of you that may not know what a Caipirinha is, it's a classic cocktail that traditional combines lime, sugar and Cachaca. Cachaca is native to Brazil, distilled from fermented sugarcane juice, so think of it as the Rum of Brazil. In terms of flavour profile, this classic cocktail is very similar to a margarita, but Cachaca adds a rich, vanilla flavour that you wouldn't typically find in a margarita made with Blanco Tequila. I find that Cachaca is very similar in profile to a Rhum Agricole, which has a ton of vegetal notes while being savory and sweet at the same time. It's truly unique, and I've had a ton of fun with Cachaca on Liquid Culture for some time now. You can find recipes such as the Snap Pea Manhattan and the Cachaca and Sherry Peach Sour on the website for more amazing Cachaca recipes!
Obviously with the theme of Halloween, keeping to the dark fruits helps elevate the experience and that's where the blackberries came in. I knew they would pair wonderfully with the Peaches and would act as the acidic component to the cocktail. Now these blackberries weren't tart enough for my preference so I added a touch of lemon to adjust. Typically the Caipirinha would use lime, but lemons pair extremely well with blackberries and peaches instead. Another adjustment I had to make with this cocktail, is that I needed a ton of blackberries to compensate for the acidity, which can somewhat mask the subtle flavours of peaches. To bring out the peach, you can use a number of methods. You can throw in a dash of Dillon's Peach Schnapps, or if you had the peach syrup on hand, put in 1 oz to substitute the simple syrup in the recipe. In this case since I wanted it to be very easy, I put in a few dashes of peach bitters and I use the Fee Brothers here.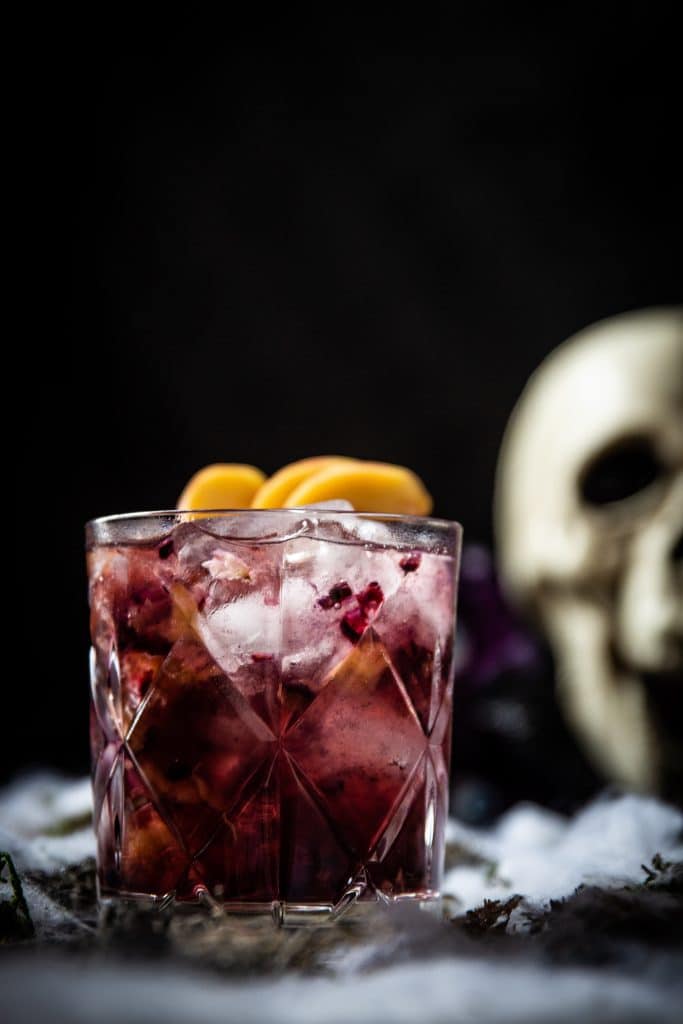 I also did something different with this cocktail and I adapted my ratio when it came to the simple syrup. Typically I always use a 1:1 ratio of sugar and water, but because I didn't want the drink to be too watered down and to keep the volume low, I used 2 parts sugar to 1 part water. The sugar goes a long way, without taking a large percentage of volume in your glass. I know that may sound silly, but it makes a difference, especially in drinks such as a margarita and the caipirinha which are typically served in a rocks glass. Once you have all that ice in place, you have little room for the cocktail, hence volume and space is an essential concern. You will never hear me say less ice, because the importance of dilution for the drink is crucial to the cocktails balance. REMEMBER. GLASS SHOULD ALWAYS BE FILLED TO THE TOP. I'm very serious when it comes to ice, and you can read why in my educational segment on the Importance of Ice here.
Anyway, I'm sure you're probably very thirsty by this point, so lets get to the recipe! Happy Halloween everyone!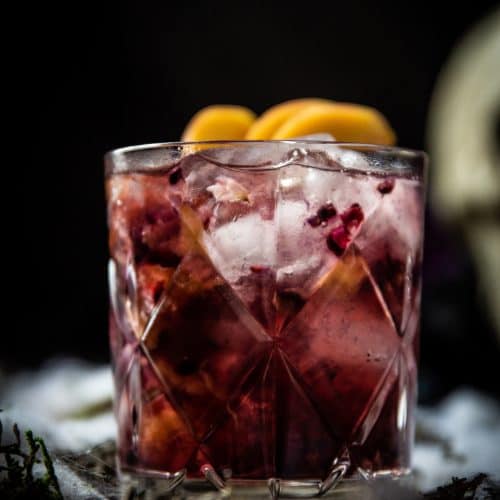 Blackberry and Peach Caipirinha
This classic riff on a Caipirinha includes some fresh blackberries and peaches for a spooktacular Halloween Night.
Difficulty: Easy
Ingredients
5

Blackberries

1/4

Yellow Peach

coarsely chopped

1/4

oz

Lemon

Freshly Squeezed

2

oz

Cachaca

Leblon used here

3/4

oz

Simple Syrup

3

dashes

Peach Bitters
Instructions
In a shaker, muddle blackberries and peaches to a pulp before adding the rest of the ingredients.

Fill shaker 1/3 with ice and shake. Dump all contents into double rocks glass.
Recipe Notes
This simple syrup recipe uses a 2:1 ratio (2 parts sugar to 1 part water)