This was probably my toughest recipe to put together, because in all honestly, I have never been a big fan of Creme de Violette. That has never stopped me though, and instead I use that as motivation to find new and unique ways to pair with this product! I even created one of my favourite boozy gelato treats to date and that was the delicious Strawberry and Lavender boozy float back in July.
For this 3 series addition, I used Creme de Violette, mixed with Vodka and some Bottle Green's Pomegranate and Elderflower Sparkling Water. I really enjoy the line up from Bottle Green because they aren't overly sweet, and easily accessible in Toronto. Of course, you could always experiment with other brands to see how they compare. Let me know by commenting below! For this and more of the 3 Series Rainbow Collection, follow the link attached.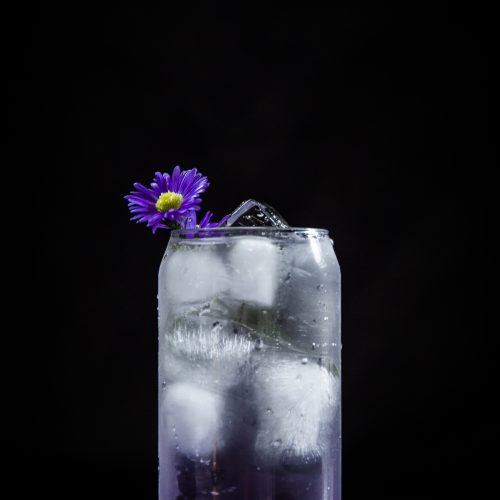 Violette Sparkle
A simple combination of Vodka, Creme de Violette and Bottle Greens Sparkling Pomegranate and Elderflower water for a refreshing and floral imbibe. Part of the 3 Series Rainbow Collection.
Difficulty: Easy
Ingredients
1.25

oz

Vodka

1/2

oz

Creme de Violette

4

oz

Bottle Greens Sparkling Pomegranate and Elderflower Soda

2

Lemon Wheels or Edible Purple Flower

Optional for garnish
Instructions
Fill the Tossware 12 oz Can with ice, and pour all ingredients and garnish. Make sure to stir before enjoying!
Recipe Notes
If you don't have the Tossware 12 oz Can, a Double Rocks Glass would suffice. Exclusively for my Liquid Culture Community, Tossware is offering a 15% off discount for a 12 pack and/or 48 pack of their 12 oz Can Design. Purchase through the Tossware website and enter code CLASSIC.