This special humpday cocktail has some surprise guest appearances! I've been dying to bring out these cute tiki cup monkeys the moment I got them. But I couldn't just put any old cocktail in there, no way. It had to be something special, something unique, and something just as playful as these guys. So I threw together a Rum, Peach and Fernet Branca cocktail that will have you (Insert lame dad joke about monkeys here). You'll love it! That's all that matters.
Instead of a Dominican Rum, which is what I'm trying to stick to all week, I went with this Grenada Rum that I found in the LCBO which was definitely a unique find. It's not overly sweet, while having a ton of different spices and heat with this bottle. I wanted something that was a bit more sharp, without a massive molasses influence. Hence why I chose the Six Saints Grenada Rum.
This recipe calls for my Simple Peach Syrup, which more times than not, it's always lying around my fridge. It's one of my favourite syrups to use and it's extremely simple to put it together. For directions, make sure to follow the link here to the recipe!
I decided to put a touch of Fernet Branca in this cocktail because just like these monkeys, they can surprise you. It's bitter yet herbaceous taste really shines through in this Julep styled beverage, and I love how it compliments the mint. But please make sure to be careful with these measures. Fernet is one of those unforgiving bottles that can quickly overwhelm a cocktail when not measured properly. So make sure to be careful with this one!
I'm sure you're getting tired of the explanations, so let's get to the reason you're all here and that's for a peachy Rum-Julep Cocktail!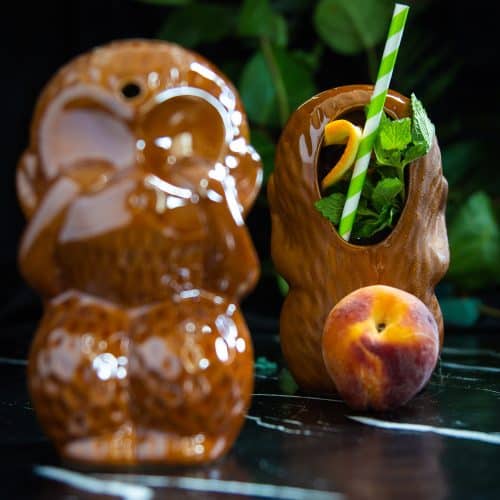 Drink No Evil
A delicious Rum-based cocktail that combines fernet, mint, bitters, orange and HUMP DAY PEACHES
Difficulty: Intermediate
Ingredients
1.5

oz

Caribbean Rum

Six Saints from Grenada was used here

1/3

oz

Fernet Branca

1

oz

Peach Syrup

1/2

oz

Orange Juice

1/3

oz

Lemon Juice

1/4

oz

Homemade Grenadine

REAL grenadine (very important)

3

dashes

Angostura Bitters

3

Sprigs

Mint

1 for Garnishing
Instructions
In a cocktail shaker, combine all the ingredients (leave one sprig of mint for garnishing) with ice and shake.

Strain over crushed ice in your favourite Tiki Mug and Garnish with Mint and Orange Slice
Recipe Notes
I can't stress the IMPORTANCE of using REAL grenadine. Do not bother to buy the neon red stuff at the market. Pick up some that you trust that uses real pomegranate juices. If you can't find any, then just substitute it with a touch of pomegranate juice, or CREATE your own!
For details on the Peach Syrup used here, follow the instructions here. For the homemade Grenadine recipe, make sure to follow here.