Hola from the Dominican! You can bet that I'm enjoying this last day to its fullest, and I plan on being that annoying guest who directs the bartender on how to make this beauty right here. Not sure how they will feel about using a whole watermelon though…
You can pretty much sell me on anything Watermelon. It's one of my favourite summer fruits, as long as it doesn't stain my whites. So when I was trying to think of a flavour to pair with Watermelon, I was pleasantly surprised with this combination. I decided to use FENNEL! I've never been the biggest fan of Anise, but I'm trying to turn a new leaf and also provide you with cocktails you'll enjoy. Not everyone has my taste preferences, but I know a few Italians that will eat this up (totally assuming every Italian drinks Sambuca, my bad).
So with that combination, some fresh mint was an essential to bringing these flavours together, with Blanco Tequila, Cocchi Americano White Vermouth and a touch of pernod and lemon. It almost tastes like a Watermelon and Anise Lemonade, that has beautiful layers of spices. This punch will definitely be a highlight to your summer, even if you don't care for Anise! Bottoms Up!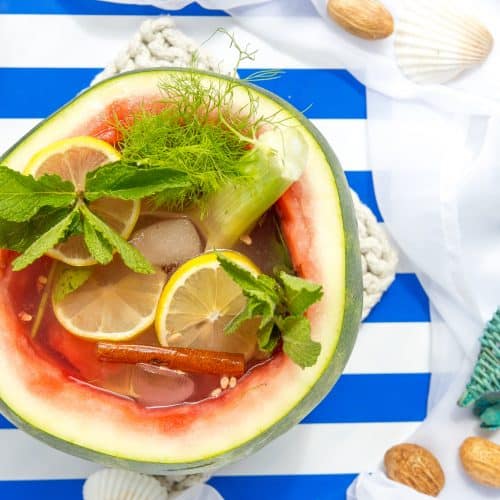 Watermelon and Anise Punch Bowl
A refreshing watermelon and anise punch bowl that can be shared with you and the gang all summer long!
Difficulty: Intermediate
Ingredients
3

oz

Blanco Tequila

2

oz

Cocchi Americano White Vermouth

1

oz

Pernod

8

White Sugar Cubes

2/3

cup

Club Soda

1

cup

Watermelon Juice

2

Cinnamon Sticks

4

Whole Cloves

20

Mint Leaves

Set aside 5 for garnishes

2

Lemons

1 lemon for garnish wheels, 1 for juicing
Instructions
In a pitcher, place sugar and half the club soda and allow this to dissolve.

Place all ingredients and one juiced lemon (except Soda) in pitcher and fill 3/4 of the pitcher with ice. Give this a stir until well chilled.

Strain into Watermelon Bowl over 1 large ice cube, topped with the rest of the soda.

Garnish with rest of mint, lemon wheels and cinnamon