If this doesn't make your mouth water, I don't know what else will. Just because summer is gone, it doesn't mean I can't make some fall-inspired tiki styled drinks, and that's exactly what I'm dropping for you today. This cocktail brings together a combination of rums, calvados, apple cider and citrus for the ultimate fall swizzle and my favourite way to celebrate the new season!
I've been thinking about this swizzle since the beginning of summer. Every season brings on a new obsession, and I found with this summer it was creating swizzle cocktails. Maybe I didn't get enough beach time or tiki this summer, so instead I brought the tropics home and into my bar. I associate swizzles with summer vibes, but I kept thinking how refreshing this would be with Fall flavours. This is probably very much a thing and I need to get out of my little bubble at home and hit up more tiki joints, but we have to start somewhere.
So what's in this beauty? Well we have a combination of aged rums, calvados, cinnamon bitters and fresh citrus. I top this off with Tonic because I love the bitter contrast it brings to this cocktail. Now finding a good apple cider is far and few. Most I find too sweet, and they just taste so artificial. To me, apple ciders are meant to be bright and fresh with compliments of spices, not the other way around. That's why I wanted to briefly mention my obsession with Pine Farm's Sweet Apple Cider. It was only a few years ago when I discovered this orchard in King city, but I've been in love with it since day 1. For someone who lives in the Toronto, heading up to King City is a real trek, especially when I don't have a vehicle. So I try and take advantage of my trips to this farm, and this year included some apple picking. I'm definitely going to visit again as I look to launch an apple series week, but if you're ever in the area, this is a must!
---
I'm also going to talk about the Calvados I use in this cocktail. If you've never heard of Calvados, it's an apple or pear based brandy, distilled from cider out of the Normandy region of France. I find we are somewhat limited in Calvados options in Ontario, but I was lucky to get my hands on a vintage Pays d'Auge Calvados Boulard. Calvados can make or break a cocktail, so splurging on a quality product makes ALL the difference. I know it can be said about a lot of things in our industry, but this truly has a massive impact on the overall cocktail experience.
And that's about it! I'm sure you've been patiently waiting for the details of this recipe, so check out the instructions below!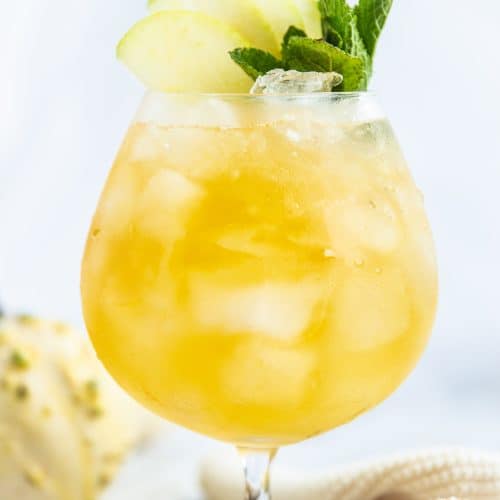 Rum and Apple Swizzle
Featuring a fall inspired swizzle with fresh apple cider, calvados and a bounty of rum!
Difficulty: Intermediate
Ingredients
1

oz

Havana Club 3 yr White Rum

1/2

oz

Havana Club 7 yr Rum

1

oz

Calvados

1.5

oz

Apple Cider

1

oz

Simple Syrup

1/2

oz

Freshly Squeezed Lemon Juice

2

dashes

Cinnamon Bitters

4

Mint Leaves

+ 1 sprig for garnish

1-2

oz

Tonic Water
Instructions
In a shaker, combine all ingredients except tonic water. Fill the shaker with a few small cubes and give a short shake before dumping all contents into glass

Fill the rest of the glass with crushed ice and stir until well combine and top the rest with tonic. Garnish with mint sprig and apple fan.