I've stated this before, and will state again, Sangria's are not difficult. They are a "forgiving" cocktail when modified, and as long as you stick with the right portions, you'll probably be going for seconds. If you are interested in learning my go-to ratio for all Sangria's, make sure to check out this read: How-To for Sangria's. But for those of you looking to make some delicious Fall Sangrias, you've come to the right place!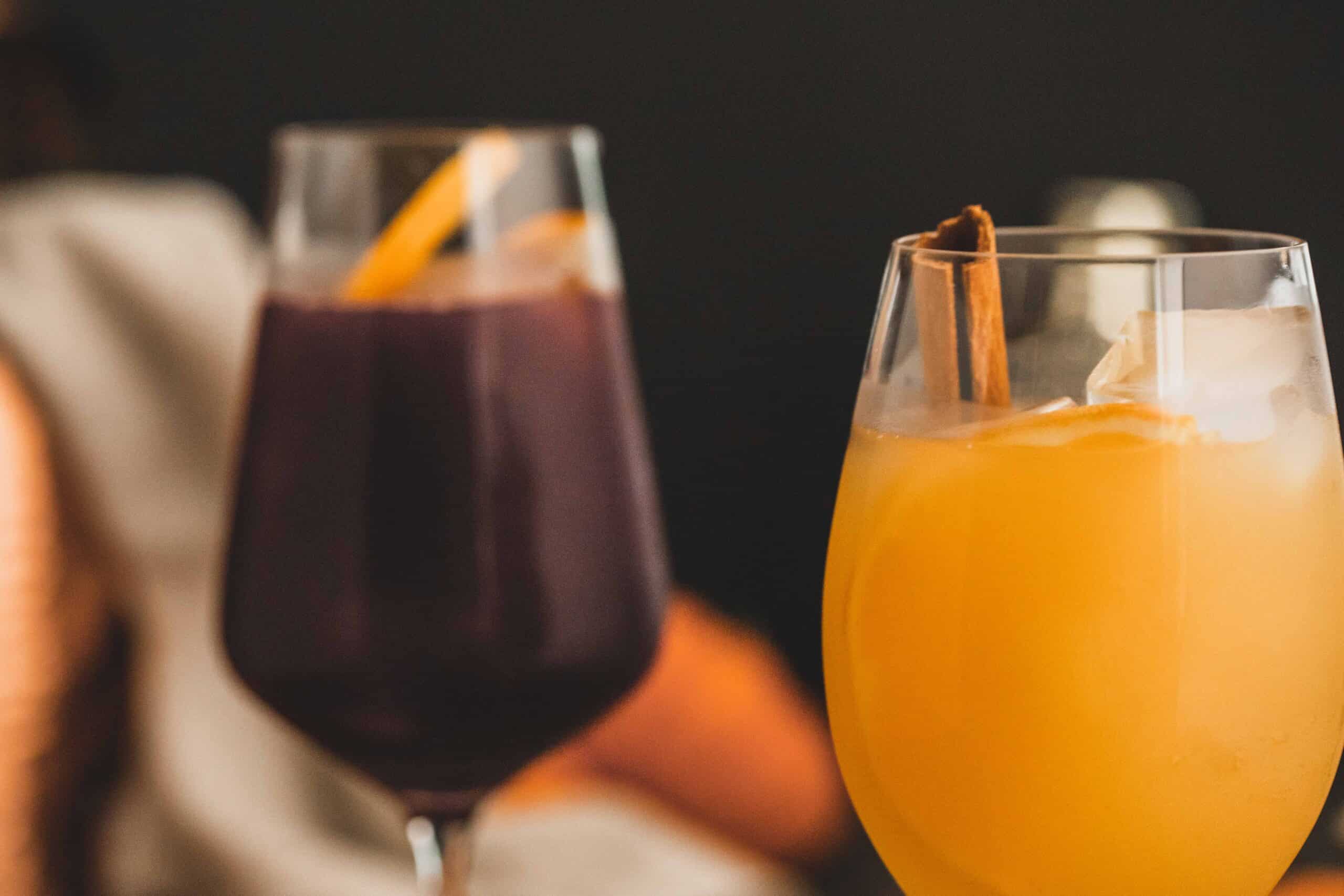 Building your Fall Sangrias with White Wine
Fall always brings some of my favourite flavours. Apples are flooded everywhere, pears are prime, and we've got all the delicious produce to make relevant jams, preserve or something healthy for the table. With Thanksgiving around the corner, I tend to naturally gravitate towards Apple Ciders which are a must in my place. No I don't get the Pumpkin-Spice Fever, but with apples.. I'll load up the car by the gallons.
I ended up using Apple Cider for both Sangria recipes featured here because they are a great way of adding a seasonal touch, spices and volume all in one. Now you may be thinking, who sips on White Wine Sangrias? This girl. This girl LOVES experimenting with Sangrias and using different varietals for the occasion. This White Wine Fall Sangria is definitely a go-to for me. And if you're one that's hesitant towards experimenting with White Wine, I challenge you! Test out both recipes at your next get together and see what you prefer!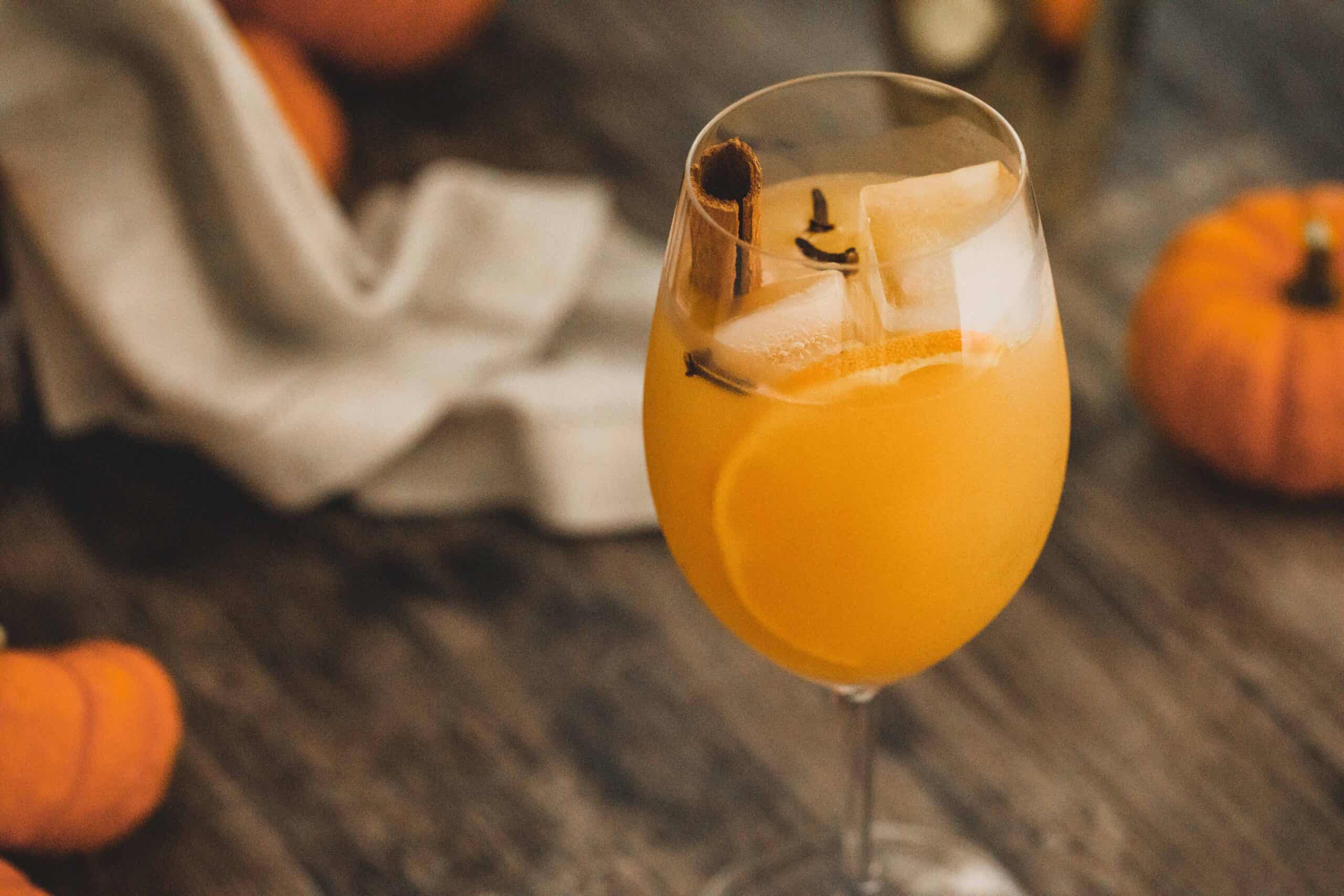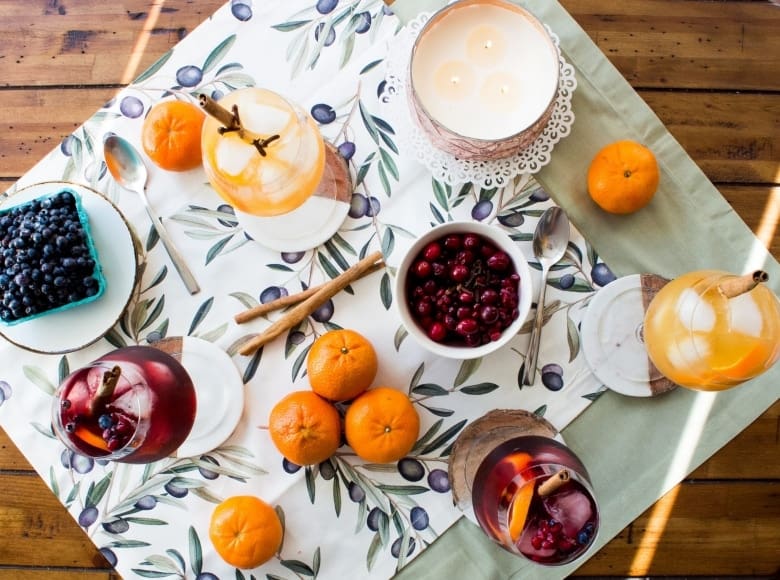 White Wine Fall Sangria
Celebrating Fall flavours in this White Wine Sangria
Difficulty: Easy
Ingredients
4

oz

Chardonnay

oaky

1

oz

Vodka

1/2

oz

Grand Marnier

2

oz

Pear Juice

3

oz

Apple Cider

1

Orange Wheel

1

Cinnamon Stick

2

Cloves
Instructions
Fill a wine glass with ice (3/4 full) and add all the ingredients.

Stir with Cinnamon Stick.
Recipe Notes
If you plan to make a batch of this, DON'T over do it with the spices. Especially if they are going to be sitting around "marinating". Cloves and cinnamon are overwhelming to begin with, so just make sure to keep this in mind when multiplying this recipe!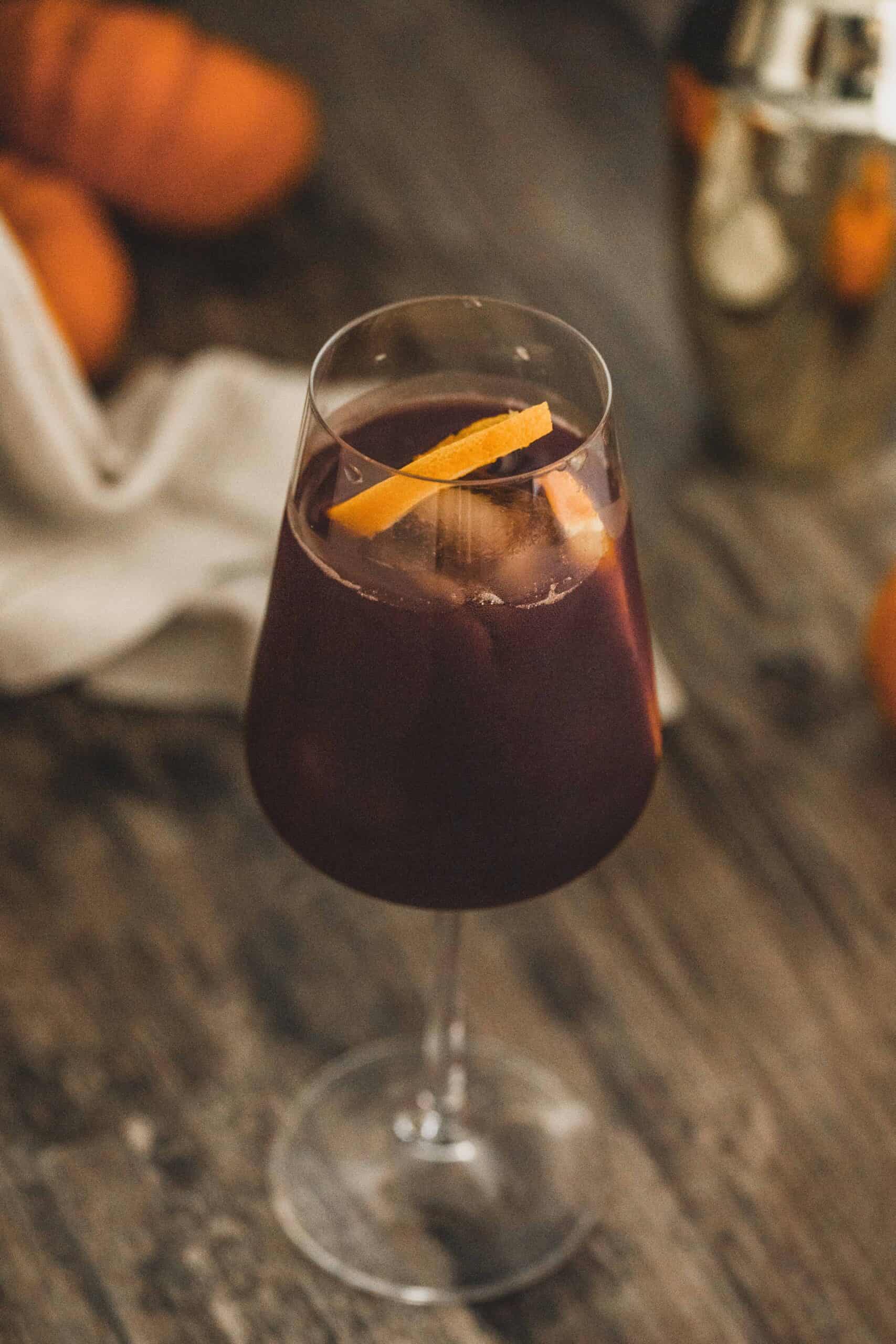 Choosing your Juices and "lengtheners"
When I'm referencing a product that helps "lengthen a cocktail", it's typically a liquid that is lower in alcohol or some sort of juice. This helps to add volume to your cocktail, without affecting too much of the taste or at least compliments the spirits. We can't always add more alcohol to the mix, and making sure you get the right ratio is so, SO important.
So when I'm choosing any juices, sodas or lengtheners, I am very selective to ensure the product isn't loaded with sugar. For example, I always pick up Not from Concentrate Pineapple Juice. Actually, take this advice to heart, limit as much sugar as possible when choosing your juices. The reason this is so important is because the more sugar it has, the less likely we have control of the overall cocktail. I'd rather add a dash of Simple Syrup or Honey so I know exactly how much is in it!
The other note I'd make is being mindful of Nectars vs Fruit Juices or blends. For example, Pear Juice doesn't seem to pack the same punch and flavour like a Nectar does. A little goes a long way, if I really find it too sweet or overwhelming, I can water it down.
With that said, the recipes I have featured here may need to be adjusted to your palate, because the Pear Juice may be too watered down or apple cider too sweet. So be mindful, and remember, Sangria's are very forgiving. You may even want to squeeze in some citrus to balance everything out if the components are too sweet. In this case, I would add orange wheels to the Sangria since it has some acidity, and will balance out the flavours of cinnamon and cloves.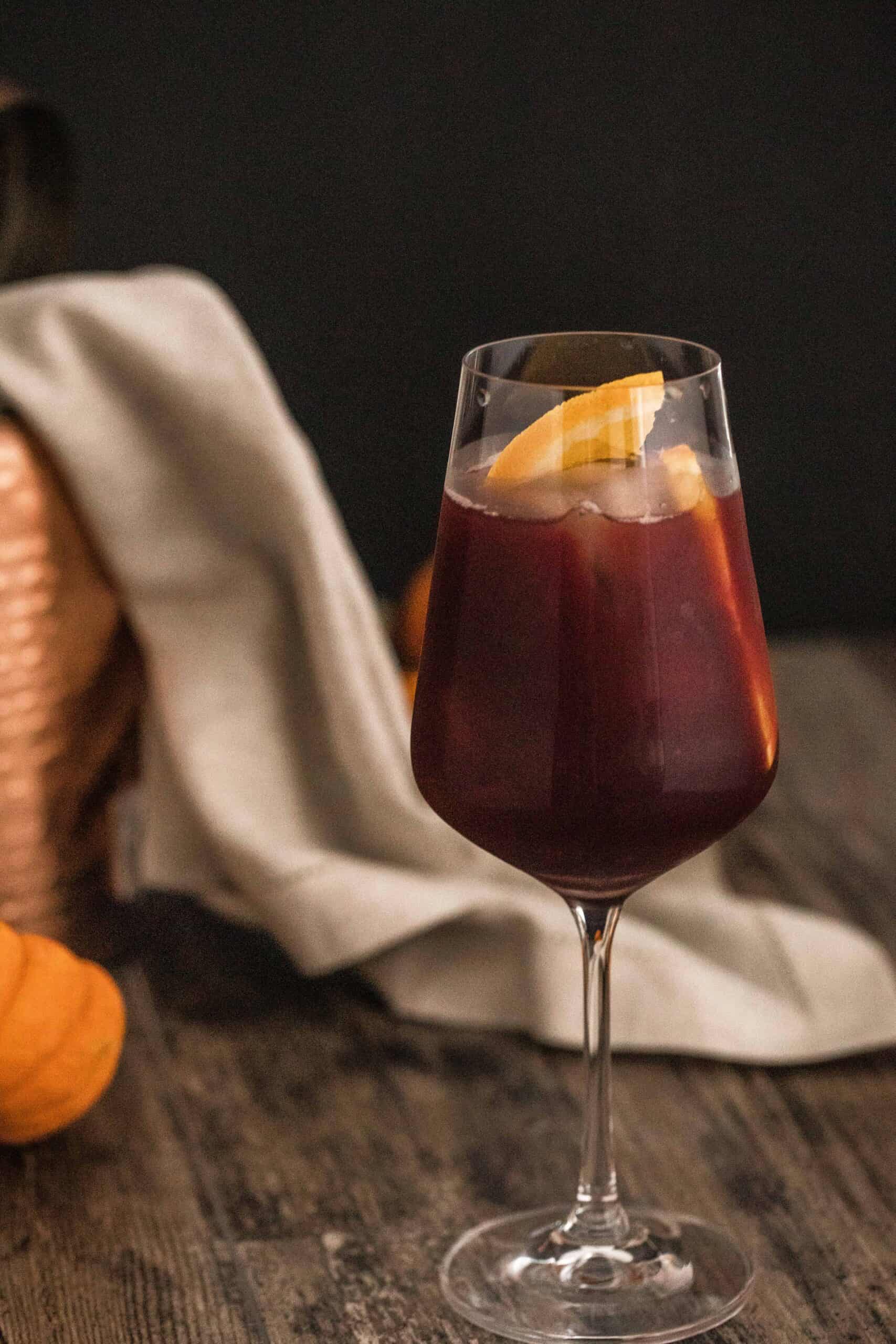 Building your Fall Sangrias with Red Wine
I made the Red Sangria a bit more acidic than the White Sangria. This is just to have a bit of variety which is always important for hosting Thanksgiving, and offers different palates for your guests. But believe me, I think everyone can enjoy the recipes I've shared here.
Naturally with Red Wine, you can challenge the Red Wine with more bold flavours. That's why you see Brandy used here and some Pomegranate Juice as well. Other flavours that can work are the 100% Cranberry Juices, or some of the amazing berry juices I find at Metro. Note, 100% Cranberry juice is not Cranberry Splash. It's going to be more pricey, but your body is a temple and you treat it right.
If you are batching this, the Orange wheels and Lemon juice can go a long way, so don't add too much of it. Same goes with the Cinnamon and Cloves. Especially if you are doing this ahead of time, you don't want the cinnamon and cloves to "marinate" too long and overwhelm the other flavours in the sangria. So if you are throwing this in a pitcher, just add a couple sticks, and few cloves and let it rest.
Fall Sangria with Red Wine
Celebrating Fall Flavours in this delicious Red Wine Sangria!
Difficulty: Easy
Ingredients
4

oz

Cabernet/Merlot or Blend of Both

1

oz

Brandy

1/2

oz

Grand Marnier

3

oz

Pomegranate Juice

2

oz

Apple Cider

1

Cinnamon Stick
Instructions
Fill a wine glass with ice (3/4 full) and add all ingredients