And we're back! I had the honour of building a few delicious cocktails with the ladies on CTV's The Social. This time around, we're honouring the Farmers Market and all the sections we love to explore. Our first stop is one of my favourites, where we visit the Florals. I'll be teaching you how to use florals in your cocktail game. Plus demonstrate how to build this delicious Floral Melon Gin Cocktail made with Scapegrace Gin.
If you'd like to watch this cocktail stirred up on camera, make sure to check out the link here as we build it on CTV's The Social.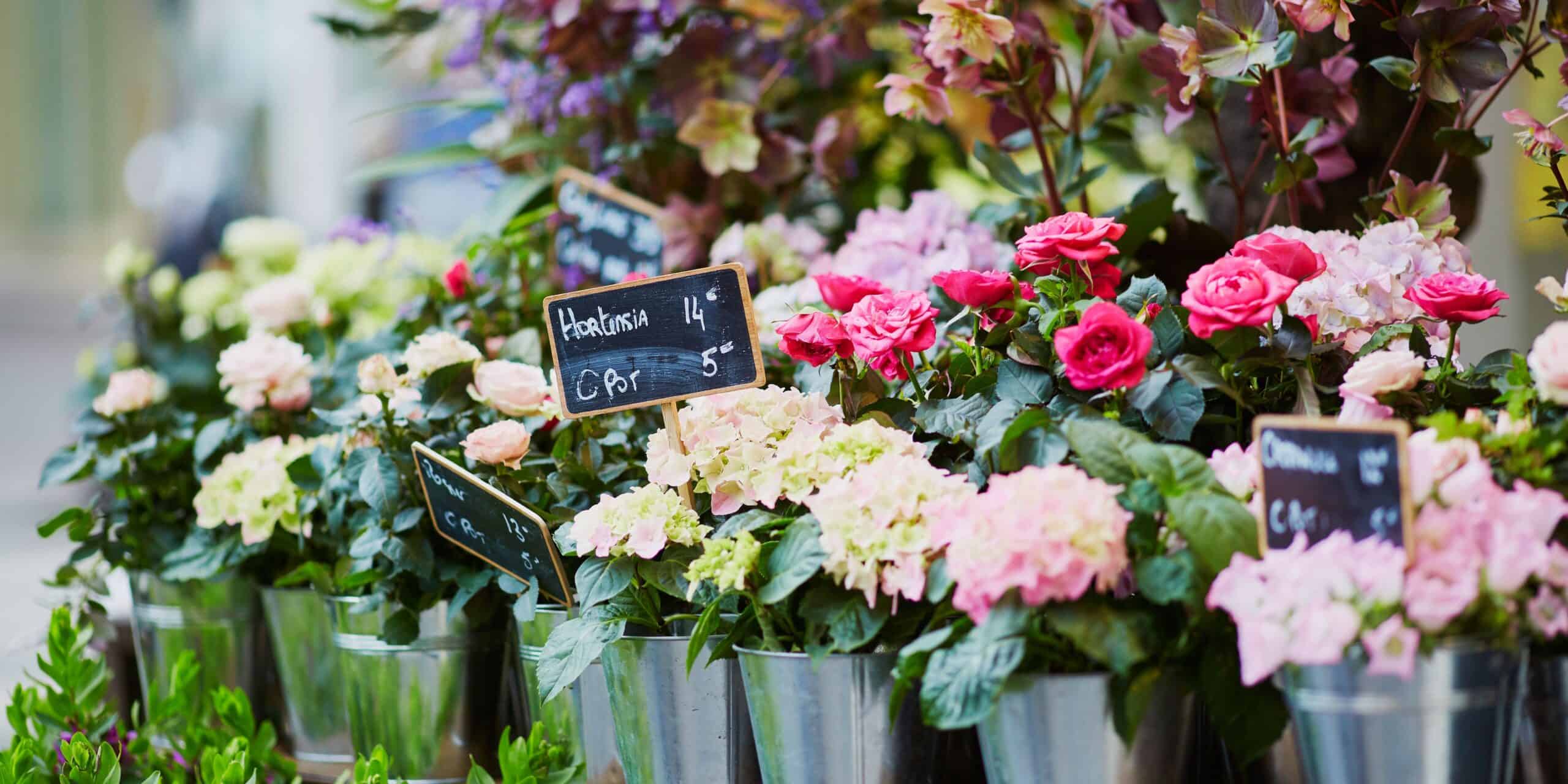 Why Florals?
I think the bigger question here is why not? Florals can lend a delicate or dominant hand in cocktails, and it's all about knowing how to use them. And you can in a few number of ways:
Creating Floral Ice Cubes – This is a simple, yet dramatic way to dress up your glassware. Ensure you give it a good rinse and remove some of the petals from your florals, pour your water and freeze!
Making an Infused Syrup – I like to work with Lavender here or those really aromatic offerings to allow them to shine. The important note here is to make your Simple Syrup base (1 part boiled water with 1 part sugar) and stir in your florals. Let them sit in this bath until it reaches room temperature before you strain it out and use it in your alcohol or alcohol free imbibes!
Infusing your Spirit – Want to do something different with your spirits? Instead of infusing them with the typical fruits and veg, think about florals next time! Depending on the florals, will determine how long you keep it in the bath of Spirit. I do recommend Clear spirits like Cachaca, Sake, Agave, Vodka and Gin here. You could also explore the vibrant wine based aperitivo (preferably not liqueurs and wine based like dry vermouths).
The important thing to note, is to pick up florals that haven't been sprayed with pesticides or chemicals. Giving them a cold rinse and working through the petals delicately will help clean them up. In addition, you can order "Edible Flowers" at some of your local markets. I know I've done this in the past and it's an easy ask!
Exploring Scapegrace Gin
It's easy to get overwhelmed by all the different Gin expressions available at your local liquor store. There's so many options, varying price points, that it can be hard to figure out which style best suits your needs. So here is what I'm going to tell you about Scapegrace. If you're an avid Gin Martini fan looking for that distiller that offers that perfect balance of Juniper, Citrus and Spices, YOU'LL LOVE THIS GIN! I recommend this to my people looking for something different. I'm talking about those that traditionally gravitate towards the Tanqueray 10 (mind you, I love Tanqueray 10, but sometimes a girl is looking for something new!).
It comes to us from New Zealand, honouring tradition with its Modern take on its Genever-style bottle, crafted with traditional methods and style. They want to allow nature to do all the work. Which is the result of this gin and also the reason for their MANY awards, which you can check out here.
Building this Floral Melon Gin Cocktail
I like to keep the cocktails simple for The Social, so with this I wanted to offer an elevated Gin and Tonic seeing as I was using an elevated Gin. I went very seasonal by putting together watermelon, lavender and grapefruit together.
Could you make this with another spirit? Of course, I would aim towards using clear spirits when substituting this cocktail. But remember, this is an elevated Gin and Tonic, and it's almost hard to picture it without Gin. So I'll leave this option up to you! Ready to make this Floral Melon Gin Cocktail? Head below for recipe details!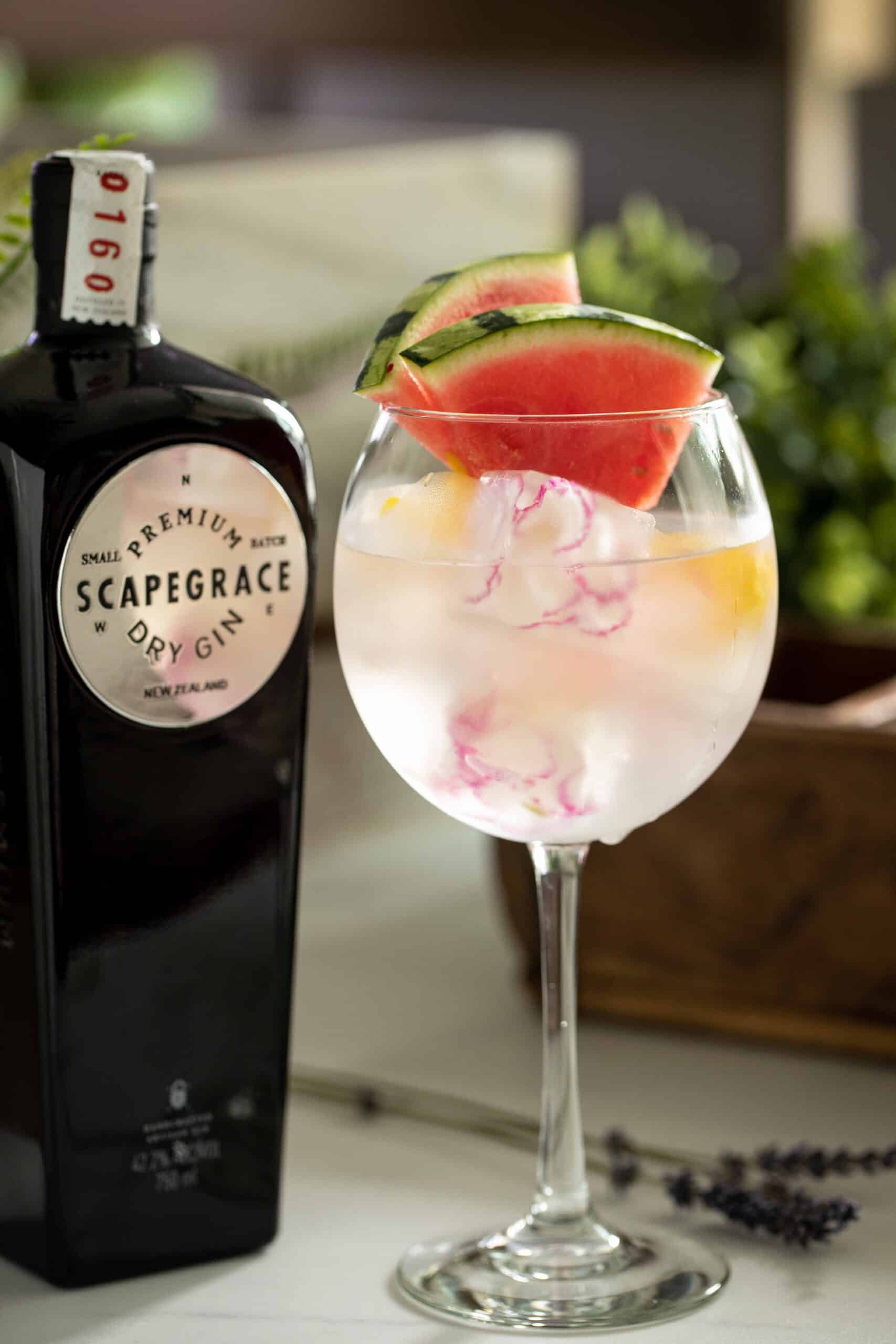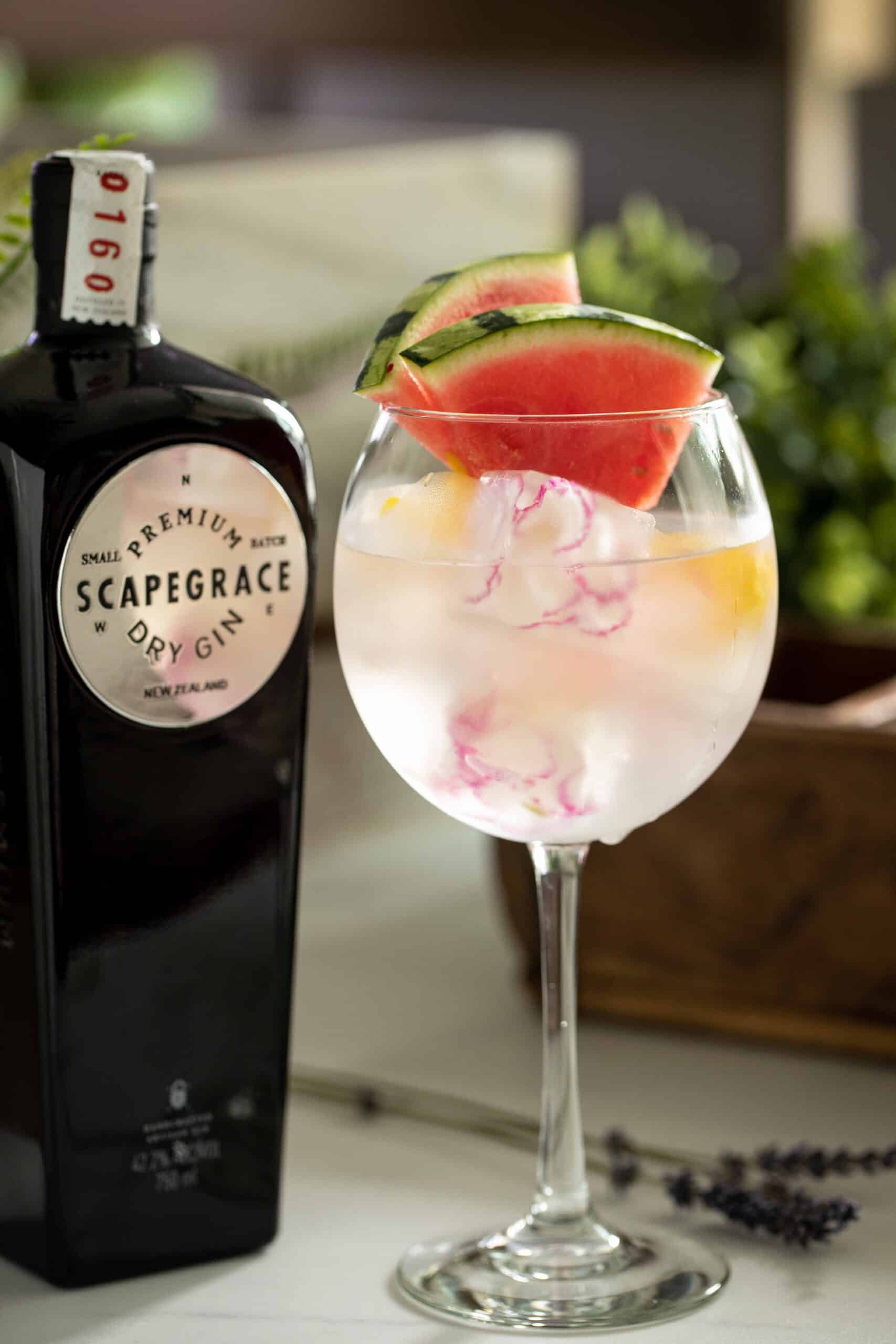 Floral Melon Summer
A Watermelon and Floral Gin cocktail that uses Lavender, Scapegrace Gin and premium tonic water.
– Difficulty: Easy
Ingredients
1.5

oz

Scapegrace Gin

3

Thin Slices of Watermelon

1/3

oz

Lavender Syrup

0.5

oz

Grapefruit Juice

2

oz

Tonic Water
Instructions
Fill your Balloon Glass (or wine glass) with Ice and Watermelon Slices. Add your Gin, Lavender Syrup, Grapefruit Juice and top with Tonic Water. Give this a good stir and enjoy. For that extra floral influence, add Roses to your Ice Cubes.
Recipe Notes
To make the Lavender Syrup, combine 1 cup granulated sugar and 1 cup of boiled water and give this a stir. Place your two sprigs of Lavender inside the syrup and let this come to room temperature before use. Strain and this can hold in the fridge for up to 2 weeks.