In this special episode on CTV's The Social, we explore the Fruit section of the market and embrace all it has to offer. I love me some peach in the summer time, so I decided to compliment those notes with an outstanding Rum. What's the most iconic rum cocktail for me? A GOOD daiquiri, and I can't wait to share how to put this Spiced Peach Daiquiri together.
If you'd like to watch this Spiced Peach Daiquiri is shaken up on camera, make sure to check out the link here as we build it on CTV's The Social.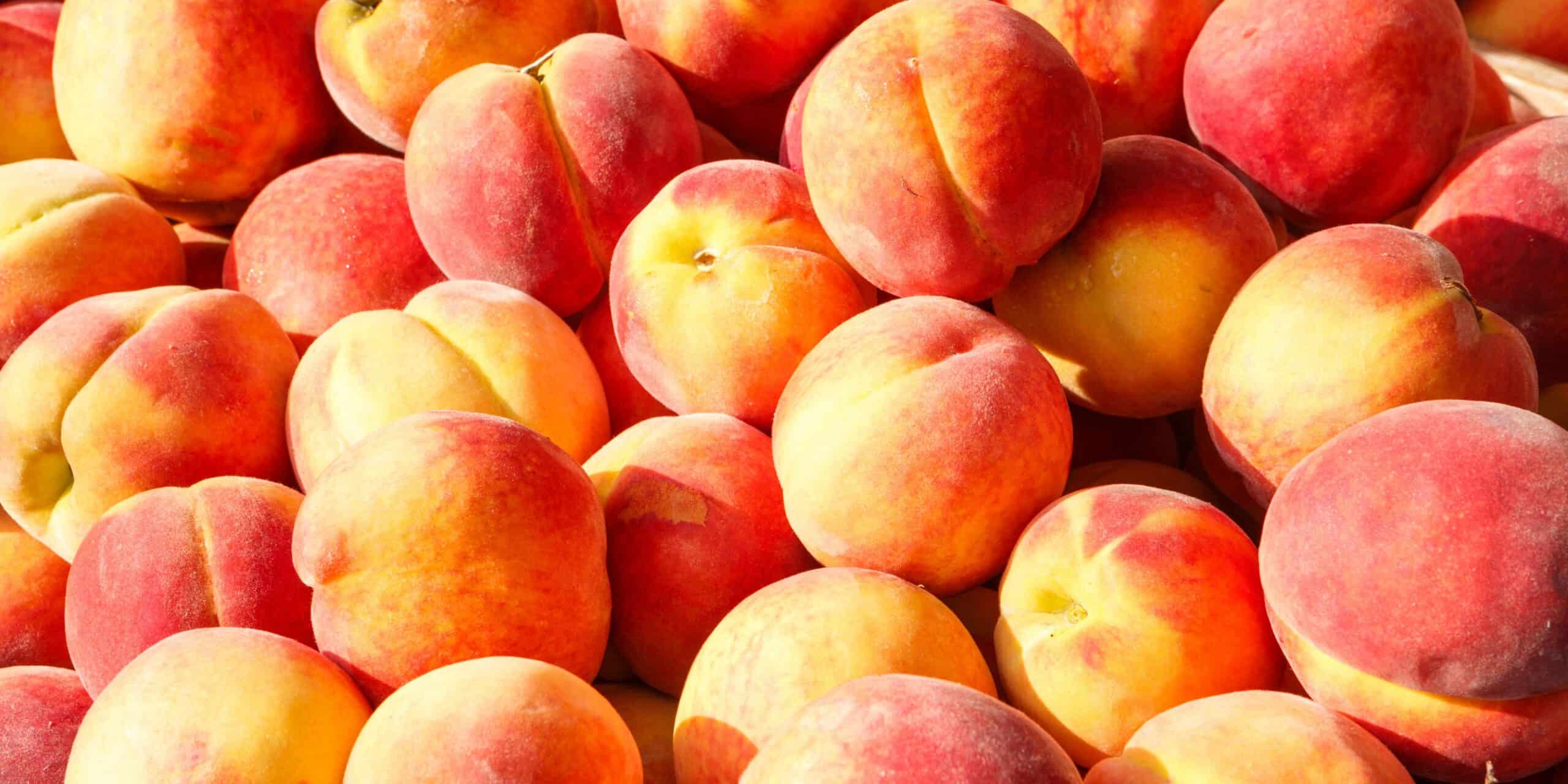 Choosing your Rum
So when it comes to Rum, if you're unfamiliar, it can be intimidating walking through those liquor aisles. I have to say, it's not easy to know quality simply by the bottle. I've spent quite a bit of time getting to understand the Rum game, and I do recommend Rum Revelations whenever you want to go deep dive into reviews. Also picking up the Smuggler's Cove book to get a breakdown of each category and what the professionals recommend is a must for me.
Chairman's Reserve Rum Original is one of my favourite rums coming out of St Lucia. Plus with the spice notes that's coming out of this rum naturally, I KNEW it would pair well with the peaches. Think about it. Peach pies come with the cinnamon and nutmeg, and when you have a rum that naturally gives that, WE'RE WINNING!
Building your Spiced Peach Daiquiri
Now there is one other ingredient that really pulls this cocktail together. That's the use of Demerara Sugar! So a lot of times on Liquid Culture, you'll find that I shake up with Simple Syrup. I love it because it's simple, doesn't distract from any of the flavours but instead heightens. The thing about Demerara Sugar is its molasses component. It offers such a richer syrup with all the spices that compliment the flavours I mentioned above.
Don't have access to Demerara Sugar? You can use Brown Sugar in that case, but I highly recommend seeking out some Demerara the next time you're at the market!
Now I did add Pineapple Juice to this Daiquiri, which isn't typically traditional of me. But the thing is, I wanted this daiquiri to appeal to the masses, and I knew something heavy in rum can deter people away. Therefore, pineapple juice was simply added to lengthen the cocktail. That's really just it. Plus I knew pineapple would work well with the demerara and peaches. Ready to make this Spiced Peach Daiquiri? Recipe is below!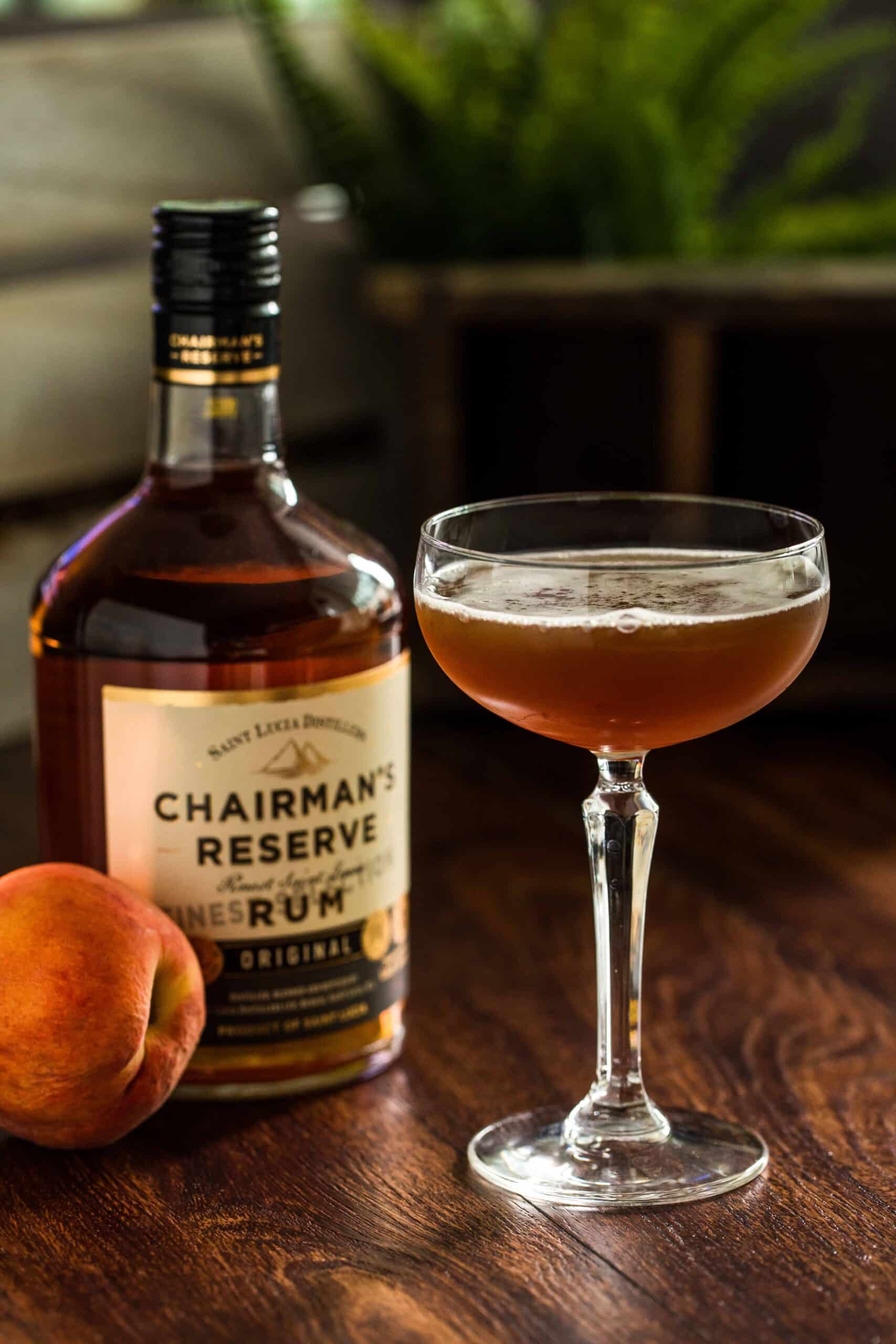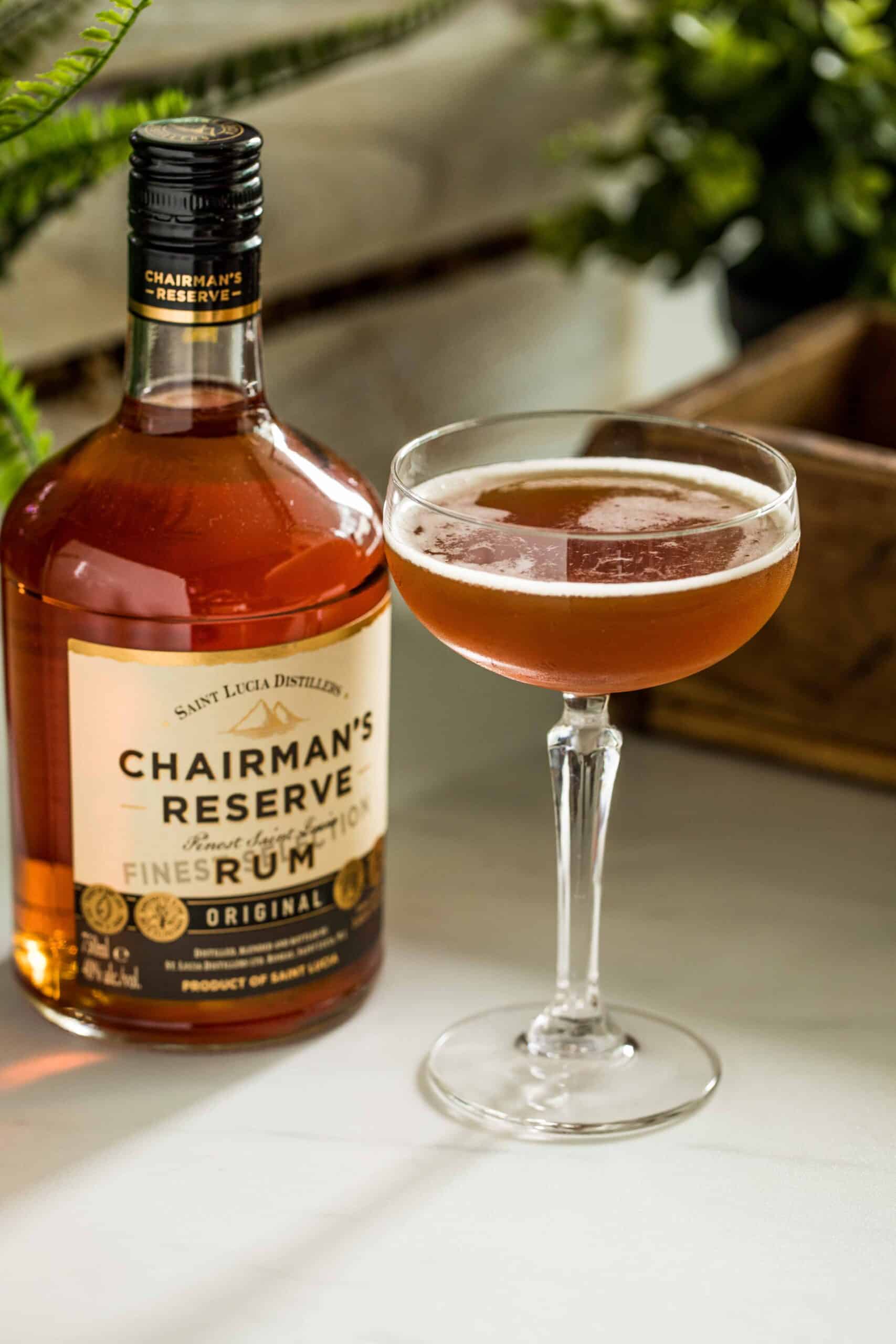 Spiced Peach Daiquiri
The classic Daiquiri gets some Summer Canadian vibes with fresh peaches, demerara sugar, fresh pineapple and of course Chairman's Reserve Original Rum.
– Difficulty: Intermediate
Ingredients
1.5

oz

Chairman's Reserve Rum

1/4

of a Peach

sliced

1/3

oz

Pineapple Juice

1

oz

Lime Juice

1

oz

Demerara Syrup

1 part Demerara Sugar to 1 part Water
Instructions
In a shaker, muddle your peaches.

Add the rest of your ingredients into the shaker, fill with ice and give this a vigorous shake (at least 30 seconds).

Strain (recommend double strain if you have the tools) into your favourite coupe glass.