With this new obsession with French Pressed Cocktails, I've been pretty busy in the kitchen experimenting with a ton of new flavours, including this delicious blends of spirits here! It combines some Bastille, H by Hine Cognac, Dry Vermouth, Verjus and Jack Honey!
The idea of using the French Press stems from my experience at Chicago's Aviary Bar. They have something called the Porthole Infuser, and I'm telling you, it's life changing. But the problem is, to get this device into Toronto was either VERY EXPENSIVE, or I couldn't get it shipped in. Then I had to remember the reason I started Liquid Culture in the first place, which was to make cocktails APPROACHABLE! So with a French Press more likely to be in your home, I'm happy to share some of the cocktails I've created with it!
There are so many layers of spirits used that help compliment this cocktail. This time around, I finally brought out the Bastille Whisky. I've been wanting to use this spirit for some time, and I knew it would come in handy for all it's delicious spiced and honey notes. Believe me, if you don't love whisky, this is a great product to slowly ease yourself into the spirit.
---
---
When it comes to the french pressed cocktails, I try to always welcome spices. It's the best time to utilize them, and it creates a massive window of opportunities when it comes to cocktails. With that said, I jumped on the chance to use some green cardamom pods. Cardamom is my jam. It's a flavour profile that can mix with SO MUCH, including my secret ginger syrup recipe (taking that recipe to the grave #sorrynotsorry). That, combined with Basil, Orange and Cloves, we had a serious winner on our hands.
To add to the honey profile, I threw in some Jack Daniel's Honey. For the longest time, I never took the Jack Daniel's brand seriously as a "whiskey", or something to use in a quality cocktail. This was because I had this perceived notion that something as popular and as big as Jack Daniel's couldn't POSSIBLY have a rich history and quality product with the volume it sells. Well….I AM SO SO SO VERY WRONG. Since having worked with Jack Daniels, and meeting the team behind the brand, it's an unbelievable product with an unparalleled attention to detail. I was wrong in my perception, and I'm happy I got to learn and understand the true face of Jack.
---
---
Went on a little rant there, but I thinks it's important not to dismiss the products we know, or at least "think" we know. Now I want to quickly chat about the other products used here. This is a heavy spirited cocktail but it's balanced with some lighter aperitifs, such as Dry Vermouth. I also added Verjus as a non-alcoholic component but it has a ton of spices and acidity to compliment the flavours. Then we have the Bittered Sling Lem-Marrakech, which offers this unique blend of citrus, floral, coriander and cinnamon spice. I told you, spice is the name of the game when it comes to the french press and you won't regret picking up this amazing Canadian bitters!
Moving on, I'm sure you're getting thirsty and want to know how to throw this cocktail together. Well the concept is fairly simple. Stir the cocktail before placing into the french press, add all your fruits, spices and infusion to your french press, then ADD your cocktail and let that chill out in your fridge before serving! Since there's a ton of honey notes in this cocktail, I had to bring out my Honey Bear glass! I've layered it with a basil leaf, ice and apple slices, and I can't tell you how REFRESHING and warming this cocktail is! I love it, as I'm sure you will as well.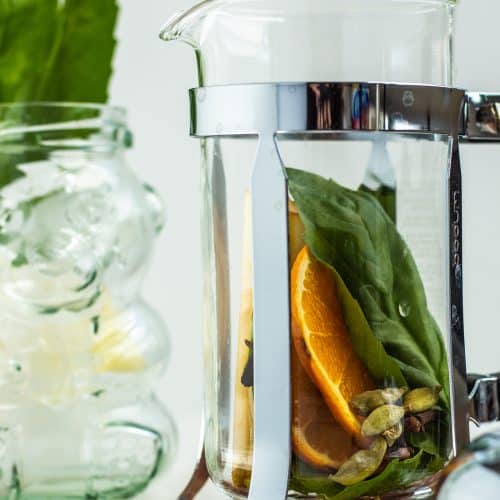 French Press – Honey Pot
Infusing a blend of spirits, herbs and spices into this incredible sip. Combining Bastille Whisky, Jack Honey, Fresh Basil, Orange, Cardamom and Apple Slices.
– Difficulty: Intermediate
Ingredients
Cocktail Ingredients
2

oz

Bastille Whisky

1.5

oz

H by Hine Cognac

1

oz

Jack Daniel's Honey

2

oz

Dolin's Dry Vermouth

1

oz

Verjus

Featherstone Used Here

6

dashes

Bittered Sling Lem Marrakech Bitters

1/2

oz

Water

1/2

tsp

Honey
Spices and Infusions
3

Basil Leaves

1/2

tsp

Toasted Cardamom Pods

3

Whole Cloves

2

slices

Orange Wheels

1/4

Honey Crisp Apple

Thinly Sliced
Instructions
Prep your French Press. Remove it's top and place all ingredients listed under Spices and Infusions into your French Press.

In a mixing Jar, stir all the cocktail ingredients over a handful of ice. Stir briefly (only about 10 full rotations) before straining into French Pressed filled with dry spices and fruit.

Cover french press and place into the fridge for approximately 15 minutes.

For the cocktail, layer your glassware with ice (Kold Draft if you have), apple slices and basil leaves, and pour the cocktail over.