For someone who LOVES tequila, I can't believe it has taken me this long to whip up a twist of the OG classic Old Fashioned. So I want to thank Mili of @thecityismineto for reminding me how far my love for agave goes <3
This was a no brainer when it came to choosing this week's #LCFeature. If you're new to the whole #LCFeature game, it's an initiative I started to shine the spotlight unto my community. Simple tag Liquid Culture in any cocktail recipe, or bottle you have at home that you have NO idea what to do with, and I'll choose my favourite and feature you and the inspired cocktail here!
This time around, Mili tagged me in a post of an Old Fashioned in our wonderful home we call Toronto. This isn't any Old Fashioned stirred up with Bourbon or Whiskey. Instead it is made with my favourite spirit TEQUILA! I've done a Tequila Negroni, but why it's taken me so long to make an Old Fashioned is beyond me. Well I'm here to correct my misfortunes, and hook up this SPICY little number.
---
---
At first, I made this Old Fashioned without jalapeño, but the truth is, I missed a bit of that bite and heat. With a couple slices stirred into the cocktail, we have a real winner, and it's SO SIMPLE. YA, ya, I know I say that all the time, but I'm serious. There is no syrups you have to make ahead of time, and you most likely have all the ingredients in your house now! It's stirred with a bit of Fresh Grapefruit, Agave Syrup, a couple slices of jalapeño and to tie in our home of Toronto, I used Bittered Sling's Kensington Market Bitters. If you don't have access to Bittered Sling's, that's okay, it's their substitute for Angostura Bitters, which is an obvious choice. But since I wanted to represent our home town with this #LCFeature, I knew I had to bring out this AWARD WINNING product.
This also explains why I chose Tromba Tequila because you may not know this but Tromba is a Canadian based company! I've always loved them for their outstanding value and quality, and if you're living in Toronto then you know how expensive real tequila gets with our taxes. Now you want to go for a Reposado or Anejo with Tequila because of its aged properties. What we love about the Old Fashioned is that whiskey and oak traits we get from the cocktail, and the Reposado and Anejo do just that! Of course, you can spoil yourself by using a premium Anejo, but the Reposado is just as effective.
If you're unsure of where to pick up agave syrups, I believe David's Tea has a line up of products, or you can likely find it in your local markets. I switched this from regular granulated sugar because of the matching agave notes. But if push comes to shove and you can't get your hands on it, substitute the agave syrup with 1 white sugar cube.
Thanks to Mili for inspiring this outstanding sipper. I tend to have periods where I'm only drinking Manhattans or maybe Negroni's the next month, but looks like my heart is all about the Old Fashioned. Cheers!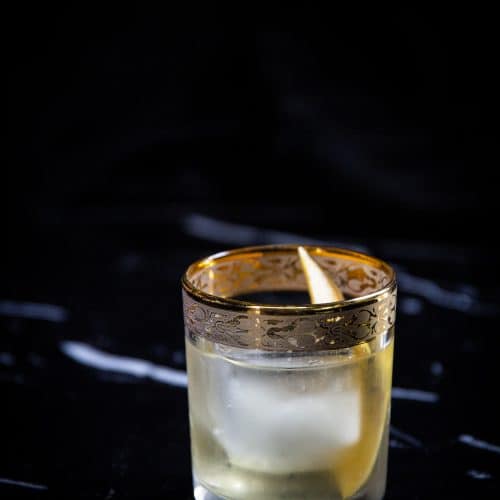 Spicy Tequila Old Fashioned
A simple riff on an Old Fashioned using Reposado Tequila, Agave Syrup, Grapefruit, Jalapeño and Bittered Sling's Kensington Market Bitters
Ingredients
2

oz

Reposado Tequila

Tromba Used Here

1

tsp

Agave Syrup

1/2

inch

Fresh Grapefruit Slice

2

slices

Hot Jalapeño

3

dashes

Bittered Sling's Kensington Market Bitters

1

Grapefruit Zest

for Garnish
Instructions
Cut a small slice of Grapefruit (about 1/2 inch) and add it to your Mixing Glass, along with the rest of the ingredients.

Fill the Mixing Glass 3/4 of the way with ice, and stir until well chilled (approximately 45 seconds)

Double Strain over 1 large ice cube and garnish with Grapefruit Zest.
Recipe Notes
Remember, if you don't have Bittered Sling's Bitter, substitute this with Angostura bitters. 
Also when it comes to spice, adjust it to your preferences. I start off with two thin slices so it doesn't overwhelm the cocktail, but if you like a ton of heat, you can always add more.