In honour of World Whisky Day, I decided to stir up a classic that best represents the place I call home. Encompassing all Canadian products, I'm proud to share a riff on the famous Toronto Cocktail…even if you've never heard of it.
First off, do you realize how difficult it is to choose a whisk(e)y cocktail for World Whisky Day? Much like Rum, Whisk(e)y offers a wide variety of spirits and categories that fit under its umbrella. From Blended Scotch Whisky, Irish Whiskey, Bourbon Whiskey, Japanese Whisky, Single Malts, Canadian Rye Whisky and more! So how on earth can one choose?
For me, I decided to bring this cocktail as close to home as possible, and what a lot of people don't know is that the city of Toronto actually has an official cocktail. Yup, we finally made it in the spirits world, we have a namesake cocktail, alongside iconic cocktails such as the Manhattan and the Singapore Sling. The unfortunate part is that very few of us have ever heard of this cocktail!
I'll admit, I was initially shocked that I had never heard of our namesake cocktail before, but I quickly understood why. I'm going to say it and don't judge me but I was never the biggest fan of Fernet Branca until recently and it is a MAIN component to the Toronto Cocktail. Fernet Branca is one of those bitter liqueurs you either love or hate. With a very young and developing cocktail culture in Ontario, Fernet Branca can seem a bit abrasive for those new to the spirit. I know I didn't like it for the longest time, until I understood its place in a cocktail and how it can be appropriately balanced.
If you love Fernet Branca, well I have some good and bad news. You'll love this cocktail for its bitter components, but it won't have any Fernet. The reason I did this was because I wanted to create an All Canadian Produced Cocktail, highlighting some of the amazing and talented work of our Nation's Distilleries. So sit back while I explain my choices.
---
---
First, lets start with the STAR of the cocktail, which is the Canadian Whisky used here. Because of our more relaxed restrictions, you'll find that we offer a ton of unique styles and techniques when it comes to whisky production in Canada. Our reputation for whisky production continues to be recognized at a global scale, and with brands like Signal Hill Whisky featured here, they continue to uphold that standard! This whisky is crafted, blended and bottled in St. John's, Newfoundland. This province has been on my bucket list for years now, especially with summer coming and bringing in the most outstanding seafood. With that, the province and distiller is exposed to some pristine waters which truly impacts the product you're tasting here. This Whisky is aged in 3 DIFFERENT CASKS! You read that right, THREE! The New White Oak Casks give the Whisky notes of vanilla, caramel and toffee. The First-Run Bourbon Casks bring out flavours of dried raisins and plums, while the Canadian Whisky Casks bring out the characteristics of the grain. It's sweet, with a touch of spice, it's incredibly smooth and for the value, it's OUTSTANDING. Can you tell I love the product and you need to try it?
Next, I decided to switch out Fernet Branca (having an Italian Origin), for the Canadian product Alpenbitter No. 7. It's funny, never in a million years did I think this product was Canadian. The logo lends itself to a more European feel, until I did my research and found out it was a Canadian digestif! This does the trick when it comes to hitting those savoury and warm bitters notes you need for this classic.
Then I replaced the traditional Angostura Bitters with Bittered Sling's Kensington Market Bitters. If it wasn't obvious enough, I'm a bit addicted to this bitter. They created this award winning product as a substitute for Angostura, and it represents the cultural hub known as Kensington Market that I know and love. Although the bitter company stems from Vancouver, they bring a bit of Toronto to their mix, which made it an obvious choice for this cocktail.
You may be starting to think that this has a structure of a Manhattan cocktail. Well you're right. So if you're down for a delicious bitter Manhattan, then you'll want to get your hands on this riff on the Toronto Cocktail. Are you thirsty yet? I know I sure am, so lets get to the recipe!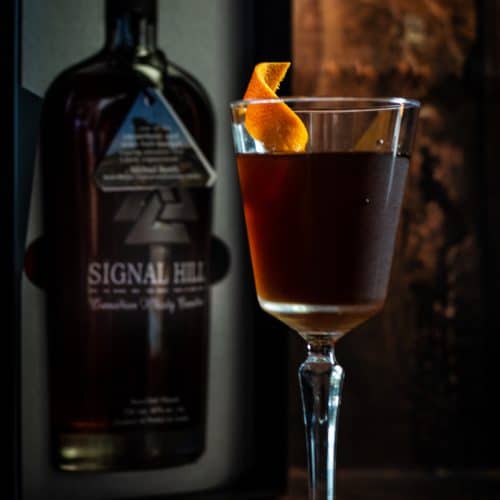 All Canadian Toronto Classic Cocktail
A slight riff to the traditional Toronto Cocktail, using all Canadian products such as Signal Hill Whisky, Alpenbitter No. 7 and Bittered Sling's Kensington Aromatics.
– Difficulty: Intermediate
Ingredients
2

oz

Signal Hill Whisky

1/3

oz

Alpenbitter No. 7

¼

oz

Simple Syrup

2

dashes Bittered Sling Kensington Aromatic Bitters

1

Orange Peel

for garnish
Instructions
In a Mixing Glass, add all ingredients (except orange peeinto the glass and fill ¾ of the way with ice.

Stir until well chilled (approximately 45 secondand strain over a chilled coupe or Nick and Nora Glass.

Garnish with Orange Peel
Recipe Notes
Reminder all Simple Syrup recipes on Liquid Culture are a 1:1 ratio of water and sugar (unless otherwise specified)