This cocktail was constructed with one concept in mind; make an elaborate cocktail garnish…that actually makes sense. By that I mean I tried to create something that would be of zero waste and wouldn't be thrown out for its irrelevancy. Spun sugar came to mind, and its what lead to this Granny Smith Apple & Caramel creation here!
First off, I have to thank Amy of @moodymixologist for organizing the #GarnishWeek Initiative. We all know she's an OG, and an EXTREMELY talented photographer, writer and mixologist. So whenever I'm doing anything with her, I know I have to step up my game to make her proud.
The concept of this was simple and it entails sharing some insight on the importance of garnishes and how they compliment a cocktail. I wanted to do something a bit lavish, while the garnish itself plays a relevant role to the cocktail. Sure we can put a bouquet of edible flowers on top, or create a boat made with citrus peel, but I wanted something that would be of zero waste, fun and directly impacts the flavours of the cocktail. Since I had Spun sugar in mind, I thought about the most classic flavour combination we all love…Candied Apples! The rest of the cocktail just fell into place, and the only real struggle was figuring out how to make spun sugar.
---
---
Due to previous experiences, Caramel and I don't get along (I got burned…bad). So I was a bit hesitant to work with it again, but if I wanted the results, I just had to suck it up! I surprisingly got this on my first trial, and for someone who isn't an expert with baking or working with sugar, this was simple, SO BELIEVE ME YOU CAN DO IT.
I referred to a ton of recipes on Pinterest and I found that The Beautiful Plate did an outstanding job describing how to Spin Sugar. I followed her recipe, with a few extra tweaks, which I've added to the instructions below.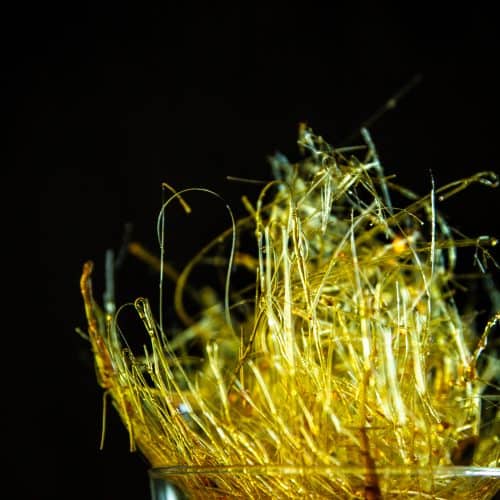 Caramel Spun Sugar Top
Timing is key to nailing this recipe and creating an eye catching cocktail!
– Difficulty: Intermediate
Ingredients
2

tbsp

Water

1/2

cup

Granulated Sugar
Instructions
Before starting the caramel, make sure you are prepped first with the following:

1) Have an Ice Bath ready, so you can place your small saucepan into the bath for immediate chilling.

2) Set up your kitchen so that your rolling pin and ladle is clean and sprayed lightly with oil (for easy removal). Have your rolling pin slightly off the edge of your kitchen counter, with newspapers or paper towel lined on the floor so you don't have to scrap caramel from your kitchen floor.

Once everything is prepped, you can start

At low heat in a heavy bottom, small saucepan, add your sugar and water and stir until it dissolves

Leave it untouched, and adjust the temperature to medium heat. You want to wait for the sugar to caramelize and reach a light amber colour (approximately 3-5 minutes).

Once it does, remove it immediately from the stove and place into your ice water bath.

Grab a fork and repeatably dip into the caramel sauce until it isn't very runny. Swing back and forth over the rolling pin (sprayed section), do this slowly, especially as it starts to cool and won't drip as fast.

Using the back of the ladle to create your sphere, repeat the same motion over the ladle. You may have to warm up the caramel to get it back to a moldable temperature. I did this once during the process, by putting it back on the stove over low heat for 1 minute

Don't wait too long as it will harden quickly. If it has, that's okay, use the humidity and heat from your hands to gently mold the spun sugar to your desired shape. This product is very susceptible to heat and humidity, but if you want to make it ahead of time, you can, just keep it in an air tight container.
---
With the Caramel dressed on top, I had to create the Apple Based Cocktail. This was a no brainer when it came to flavours. Using a juicer, I pressed Granny Smith Apples, mixed it up with Caorunn Gin for its Apple notes, Calvados, Verjus and Orgeat Syrup. The reason I chose Orgeat Syrup is because I love my Candied Apples covered in some form of walnuts, almonds, pecans or hazelnuts. It adds another depth and dimension that I absolutely love and it works so well with the Granny Smith apple!
When it came to imbibing this cocktail, I would take off little strands of the caramel top. But later on, I simply pushed the caramel into the cocktail, and it was DELICIOUS. This is the perfect way to enjoy a dessert and cocktail all in one glass. I'm obsessed, as I'm sure anyone will who has a soft spot for Caramel Candied Apples!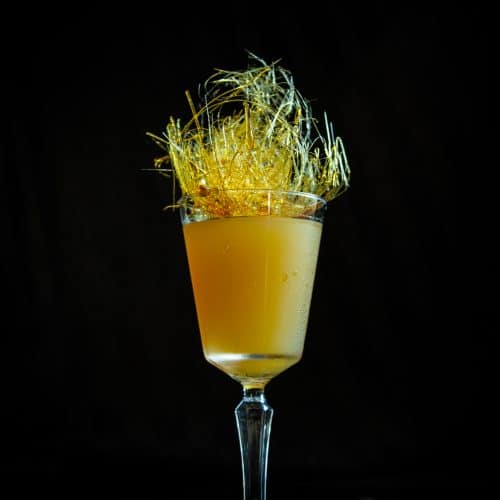 Caramel Apple Cocktail
A refreshing cocktail inspired by the carnival's Candied Apples, made with Caorunn Gin, Calvados, freshly pressed Granny Smith Apples and Caramelized Spun Sugar on top.
Ingredients
1.25

oz

Caorunn Gin

1/3

oz

Calvados

G.E. Massenez Vieux Calvados Used Here

1/2

oz

Verjus

Featherstone Used Here

2/3

oz

Fresh Pressed Granny Smith Apple Juice

1/3

oz

Orgeat Syrup

2

dashes

Peychaud Bitter

1

Ball of Spun Sugar
Instructions
In a shaker, add all the ingredients (except Spun Sugar), fill the shaker half way with ice and shake well.

Strain into chilled Coupe or Nick and Nora Glass.

Garnish with Spun Sugar Ball on top
Recipe Notes
For the Orgeat Syrup recipe used here, make sure to follow the link attached.