Today's #TBThirsty comes with a ton of history, discussing the origins and debates around the controversial Sazerac cocktail. This cocktail dates all the way back to 1897 in New Orleans, but it's still highly debated and adapted. Thanks to David Wondrich, author of Imbibe, he clears it up for us…or at least tries with an in depth look at Tom Handy's Classic Sazerac Cocktail.
It only took 5 years before the Sazerac, born out of New Orleans, was published as the new "it" cocktail all over the country. It's a cocktail that isn't for the faint of heart, as it mixes with a stiff whiskey and a dash of absinthe. These two spirits can be quite intrusive if not mixed properly. This is a very technically driven cocktail. One step not taken, or not given enough time to chill, will NOT give you the Sazerac experience you truly deserve. So make sure to follow the instructions closely!
When it comes to the history, there is a bit of controversy when it comes to WHAT BITTERS TO USE. Long have bartenders fought over Peychaud vs. Angostura bitters, but the truth of the matter is…it's both. The original recipe, passed down from generation to generation, states that O'Reilly, who ran the Sazerac Company business used both Peychaud and Angostura Bitters. The Sazerac was so popular that is was amongst the staple premix cocktail bottles sold in "grocery stores". Now one thing it raises to question is the use of Absinthe. Technically, absinthe isn't written in the recipe. But it was also during a time when Absinthe was banned and the dark cloud of Prohibition was closing in. Printing it would cause controversy, plus the true Sazerac enthusiast know not to mix the Absinthe INTO the cocktail, but simply rinse the glass with it.
Then their is the point of the Whiskey. The original recipe calls for Maryland Rye. We've now been able to translate that to the Bottled in Bond Rye (or at least it's fairly close). That's where the Rittenhouse Rye comes in with its amazing blend of spices and heat from the Rye grain. So when it comes to this cocktail, I'd pick up some Rittenhouse Rye, but if that isn't around, try Sazerac Rye instead. Just don't assume you can replace a bourbon in this classic, it will be entirely different. Now you have to remember, this cocktail was created during the rise of American Whiskey. Brandy was officially "out of fashion" and the people in New Orleans wanted to support the spirits made locally. Brandy was out, and with Whiskey taking charge, the Sazerac couldn't have come at a better time to be one of the most sought after cocktail.
So who were the masterminds behind the Sazerac? Well, we have two faces to thank when it comes to this cocktail; Billy Wilkinson and Vincent Miret. Both tended the Sazerac bar between 1882 to 1899. They were the spokesperson of this outstanding cocktail, and it was recognized in 1895 as "the best mixer of whisky cocktails in the City of New Orleans". The energy and charisma these gentlemen brought to the Sazerac cocktail is what brought the cocktail to its fame and glory. Think of them as Dos Equis 'Most Interesting Man in the World' approach, but instead THEY were the Interesting Men.
Now I know I talked about how both bitters were used, but in the recipe shared in the Imbibe book, we have Tom Handy's version (ex-manager of the world renowned Sazerac Bar) who uses simply Peychaud. I know. It adds to the confusion, and I kept going back and forth trying to read why there is only Peychaud. But I'm going to trust in David Wondrich and his research, and share with you the recipe created here!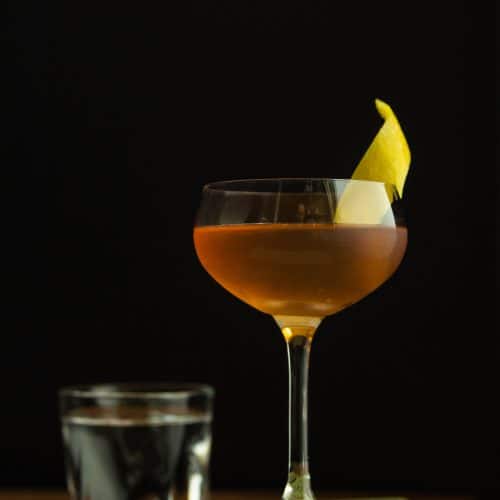 Tom Handy's Classic Sazerac Cocktail
A look into a historical cocktail dating back to 1895 in New Orleans. Mixing Rittenhouse Rye, sugar, bitters, water and absinthe!
– Difficulty: Intermediate
Ingredients
2

oz

Rye Whiskey

Rittenhouse Rye Bottled in Bond used here

1

Sugar Cube

1/3

oz

Filtered, Chilled Water

2

dashes

Peychaud Bitters

2

dashes

Absinthe

1

twist

Lemon Peel
Instructions
Chill your coupe glass by adding crushed ice into the glass. Let that sit while you create the cocktail.

In a Mixing Glass, combine sugar and water, muddle until combined.

Add the Whiskey and bitters, fill the mixing glass 3/4 full of ice and give this a good stir. At least 45 seconds.

Toss out the ice in your coupe glass and add 2 dashes of Absinthe. Swirl it to get it all over the inside of the glass.

Strain your cocktail into the rinsed glass. Garnish with lemon peel.

Serve with glass of Ice cold water
Recipe Notes
The traditional recipe mentions to serve a glass of ice cold water with this cocktail, so I'll just listen to the experts with this one.
---
If you want to learn more, make sure to pick up David Wondrich's Imbibe book. It's an outstanding read and for those who love a bit of history and story telling, you'll love it. All information was gathered from his book.