You have NOOOOOO idea how excited I am for this week's "The Office" Inspired Cocktails. It was a great excuse to have The Office playing in the background while I was working, and no day should be without laughing at Michael Scott, or Jim and Dwight's Jabs with each other. So without further ado, I bring you the First Christmas.
We all know when it comes to relationships, we all secretly want (or maybe you're loud about it) that Jim and Pam love. They have the ultimate television #RelationshipGoals. It's not Ross and Rachel, or Ted and Robin, or Jerry and Elaine. It's the Jim and Pam love that's so genuine and real, and kept a lot of us connected with the show…amongst other characters.
So this first cocktail was inspired by the second season when the gang celebrate Christmas with a fun Secret Santa gift exchange. A few note worthy points to this episode. Michael seems to think 15 bottles of vodka is good for 22 people. We learn of Michaels true feelings for Ryan, and little appreciation for a knitted glove. Most importantly, Jim had Pam for Secret Santa and almost confessed his love for her. Well that happens a few times on the show, but this entailed a letter he had written to Pam, hidden in the teapot he bought her.
Being as it's the first Christmas celebrated on the shows history, I thought it was an appropriate episode to highlight and I decided to have this cocktail served out of the teapot Jim bought for Pam. It's not exactly the same teapot as Jim, because your girl here doesn't have that much room for props, but you get the idea.
With the episode heavily influenced with vodka, I had to make a Vodka Tea Based Punch. This punch is no ordinary punch though, because it has a bit of heat. If you recall, one of the little "gifts" inside the teapot was a packet of hot sauce, so I decided to infuse this cocktail with just that! Okay maybe not an actual hot sauce packet, but I threw in some chili pepper to infuse in the mix.
---
---
Another ingredient I loved using in this punch bowl was the Cider from Collective Arts! Now I have to admit, this Cider has been sitting in my counter for a while, as I was trying to find the perfect opportunity to mix with. So I'm not sure if this product is still available to my fellow Canadians, but introducing those Honey and Lavender notes can be very easy! Brickworks Cider has some of my favourite ciders in the city, so I would definitely use that if you can't find Collective Arts. Avoid a dry style cider for this cocktail, as it needs to be a bit more delicate on the palate for this cocktail.
Thirsty yet? I know I am…so let's get this week STARTEDDD!!!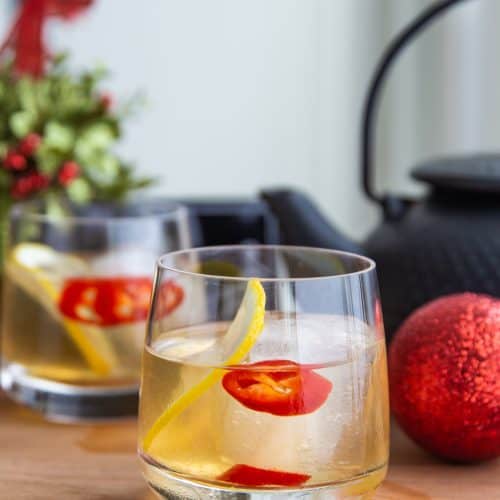 First Christmas – Spicy Honey Lavender Tea Punch
Launching The Office Series Cocktails this week with a Spicy Tea infused punch that uses Vodka, Nutty Solera, Lillet Blanc and a delicious cider from Collective Arts!
– Difficulty: Intermediate
Ingredients
2

oz

Vodka

Tito's Used Here

2

oz

Lillet Blanc

2

oz

Gonzales Nutty Solera (Medium) Sherry

2/3

oz

Freshly Squeezed Lemon Juice

2

White Sugar Cubes

2

tbsp

Orange Pekoe

Loose Leaves preferred

1/2

Thai Chili Pepper

Adjust this to your preference heat

4

oz

Honey & Lavender Cider

Collective Arts Brewery

4

slices

Lemon Wheels

for Garnish
Instructions
In a small pitcher, add sugar cubes and lemon juice and muddle

Add the rest of the cocktail ingredients (except lemon wheels for garnish), fill the pitcher 1/2 way with ice and give this a stir until well chilled (at least a good 45 seconds of stirring)

When serving this punch, have 4 rocks glasses filled with 1 large ice cube, garnished with lemon wheels, and pour your cocktail from the teapot.
Recipe Notes
An Orange Pekoe infused Sherry would work WONDERS here, but since I was in a bit of a rush, I increased the amount of Orange Pekoe while stirring for a quick infusion.